By Jodee Weiland
During the winter holidays, everyone looks forward to all the special treats usually associated with that time of year. Apple pies with cranberries and cranberry sauce are two that come to mind during the holidays for my family. Cranberries add such a unique flavor to any recipe and are well-loved by many, so why not use some of that homemade cranberry sauce in a frozen yogurt. Frozen yogurt tastes good any time of year. I love both homemade cranberry sauce and frozen yogurt. That's why I decided to find another tasty way to use some of that homemade cranberry sauce I love by making my Holiday Cranberry Vanilla Frozen Yogurt with it!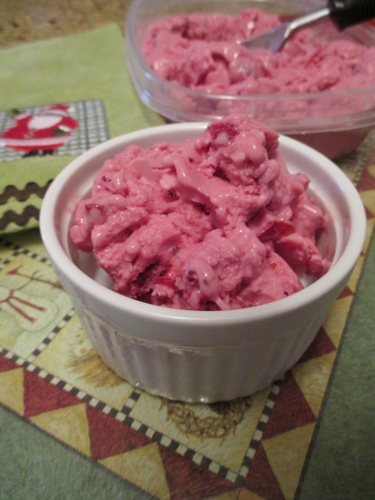 Some folks can't even begin to imagine having turkey without cranberry sauce. Later, when making sandwiches with the leftover turkey, cranberry sauce will be added. I used to love doing that when I was a little girl growing up. Now that I have my own recipe for fresh homemade cranberry sauce and know how easy it is to make, I decided that the sweet tart taste in this side for turkey would be awesome in frozen yogurt as well. The pieces of cranberry from the cranberry sauce add a delicious taste and texture to this awesome frozen yogurt.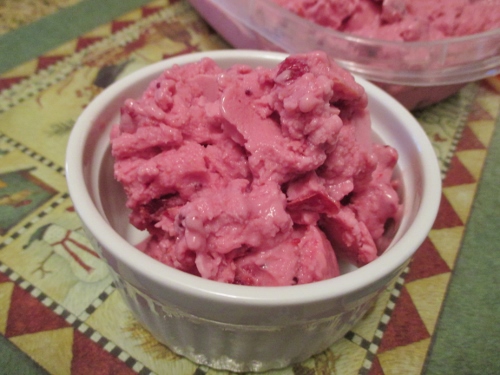 Holiday Cranberry Vanilla Frozen Yogurt 
2 cups nonfat Greek yogurt
1/4 cup sugar (or the appropriate equivalent of non sugar sweetener)
1 tablespoon pure vanilla extract
1/2 cup almond milk
1 cup fresh homemade cranberry sauce (made with whole cranberries)
Miniature dark chocolate chips and chopped walnuts to sprinkle on top (optional)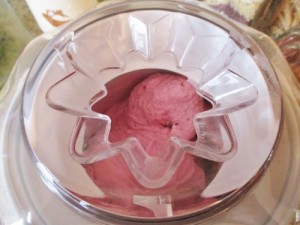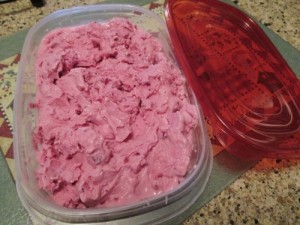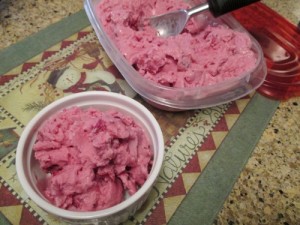 Either make or use leftover fresh homemade cranberry sauce. Then blend together the yogurt, sugar, vanilla, and skim milk in a mixing bowl with a hand mixer on medium speed until the sugar is dissolved, about one to two minutes. Once done, blend the fresh homemade cranberry sauce into the yogurt mixture with the hand mixer on low for about one minute. Following the directions of your yogurt/ice cream maker, turn it on and slowly pour in the blended yogurt and cranberry sauce mixture. Once it is all in the yogurt maker, let the mixture thicken into your creamy yogurt as the machine works its magic, usually about thirty minutes. When ready, scoop the frozen yogurt into serving dishes, putting any leftover frozen yogurt into a freezer storage container and freeze for later.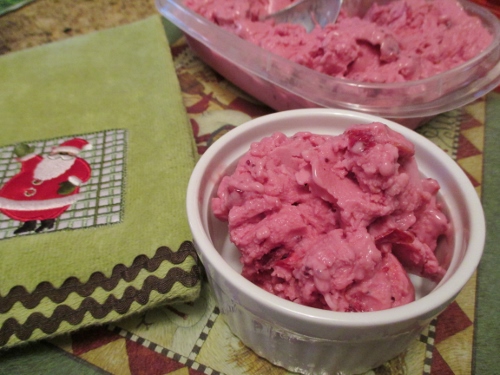 My Holiday Cranberry Vanilla Frozen Yogurt is absolutely delicious with its rich sweet tart taste! Serve it with miniature dark chocolate chips and chopped walnuts to sprinkle on top if desired, but it is delicious with or without these toppings. This would also be great served with a slice of my Apple Cranberry Walnut Pie or for those who don't want walnuts, my Sweet Juicy Homemade Apple Pie. However you decide to serve this delicious frozen yogurt, it is a wonderful dessert option for anyone, and your guests will love it. In fact, they will be asking for more. So if you're looking for something that says "Happy Holiday" to your guests, this would be a great choice. So enjoy!