By Jodee Weiland
Homemade pizza is the best! One reason for this is because you choose your own toppings and exactly how much of each you want. In our home, homemade pizza is a crusty pizza. It is not really thin slice, but it isn't over thick either. You get to decide that as well when you make your own homemade pizza…thick or thin! So why order out? Well, sometimes it's quicker, especially if you have a pizza seller you like, but why order out when time isn't a factor? You probably think it's really hard to do, but it isn't really. Take a look at how I make my Fresh Homemade Margherita Pizza!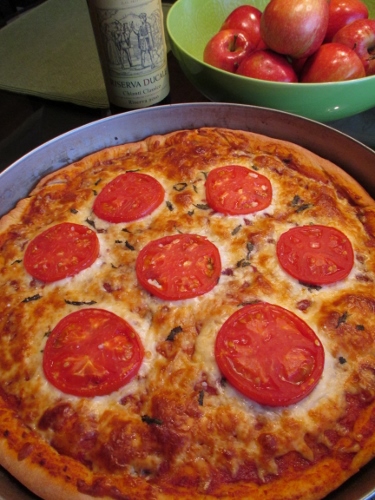 The ingredients for homemade pizza aren't all that complicated and even the ingredients can be flexed some according to individual taste. The time is a matter of mixing the dough for the crust and kneading until smooth, about 15 to 20 minutes total, and then letting it sit covered to rise for about sixty minutes or longer. Once it rises, just knead again and roll it out to the size you want. My recipe can either make two smaller pizzas or one larger one. If you make two, freeze half for some time in the next two weeks.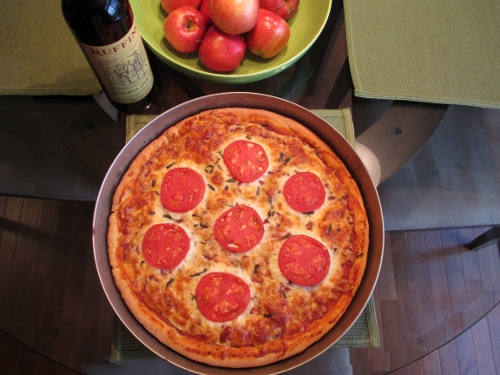 Again, shape is your choice, but I like to make one larger round pizza with a pressed to the side crusty edge on it. There are so many choices for you to make, but still so little effort to make homemade pizza. As for ingredients, you can make the sauce or buy it prepared. Mine is my tomato basil sauce, only a small portion of the actual recipe. The rest can be frozen in small batches for other pizzas. Then you add cheese and whatever other ingredients you want for toppings. How easy is that? We love my Fresh Homemade Margherita Pizza!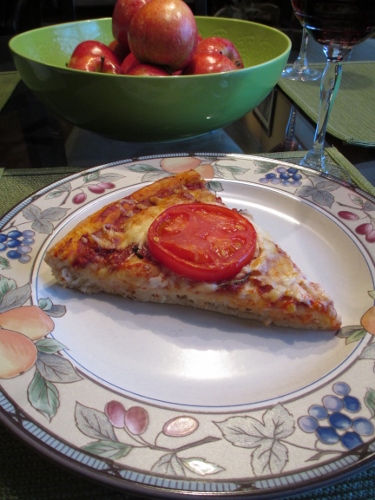 Fresh Homemade Margherita Pizza 
For pizza dough:
2 and 1/4 teaspoons dry yeast (with a pinch of salt)
1 cup very warm water (about 110 degrees but not too hot)
3 cups bread flour (plus a little extra for rolling out dough or if needed)
1 teaspoon salt
1 tablespoon sugar
2 tablespoons extra-virgin olive oil (plus some for bowl, dough surface, pan)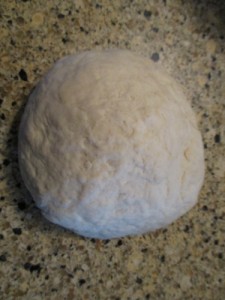 Put the dry yeast with a pinch of salt in the hot water. Let it sit for at least ten minutes. Combine all the dry ingredients in a bowl and stir together. Then add the yeast and water mixture and the olive oil. Stir and blend in well. This may be done in a mixer, but I like to keep it simple, so I do it by hand. As it comes together begin to work and knead it with your hands for about ten minutes or until you can form a smooth round ball out of the dough. Once done, put olive oil lightly over the surface of the ball and on the surface of your bowl. Place the ball of dough in the bowl, cover it with a clean kitchen towel and let it sit for sixty minutes or longer. The ball of dough should double in size when it is ready. I let mine sit for about ninety minutes.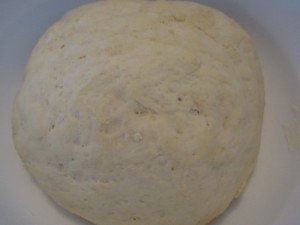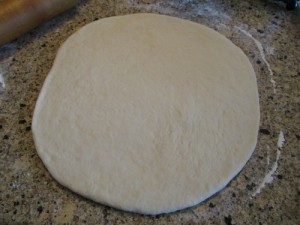 Once ready, knead the ball of dough down and then start to roll it out on a clean flour dusted surface. If you are making two smaller pizzas, cut in half and put half in a Ziploc bag and refrigerate or freeze. If making one larger pizza, this is not necessary. I make one, so I rolled the dough out so it was about an inch wider than my pan. Put olive oil all over your baking pan. Then fold your dough in half and move to the pizza baking pan. I use a fourteen inch deep dish pizza pan, so I can push a raised edge around the entire pizza. After the pizza is set in the pan and ready, brush the whole pizza dough surface lightly with olive oil. Now you can add your sauce, cheese, and any other ingredients you like. If adding sausage, I would brown it first so it will be cooked completely when the pizza is done.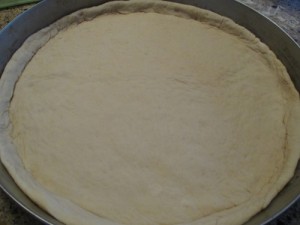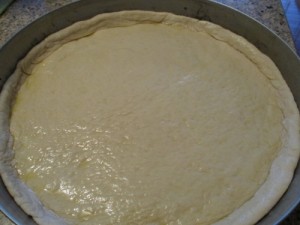 For Margherita Pizza:
About 1 cup tomato basil sauce or prepared pizza sauce (less or more to taste)
1 and 1/2 cups or more to taste shredded mozzarella cheese (I use reduced fat)
4 fresh basil leaves or more washed, sliced and cut up
1 to 2 tomatoes sliced thinly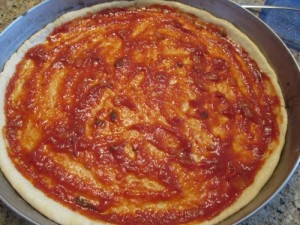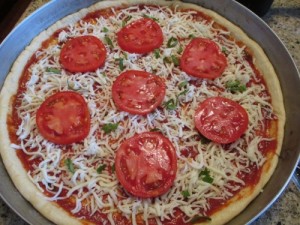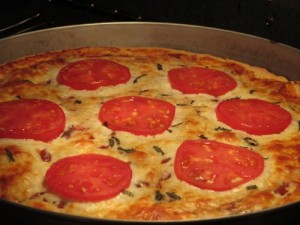 Preheat oven to 400 degrees. For my sauce, I use my tomato basil sauce. Make it ahead and you will use about 1 cup for the pizza surface, more or less, depending on your preference. The rest can be frozen in small portions for later pizzas. Then sprinkle shredded mozzarella cheese across the sauce. Sprinkle the cut up basil leaves across the top and then lay out sliced tomatoes across the top. When done, put it in the oven and bake at 400 degrees for 20 to 25 minutes or until the cheese and crust are lightly browned. My pizza took about 23 minutes to cook. When the pizza is ready, let it sit for a few minutes before cutting into pieces.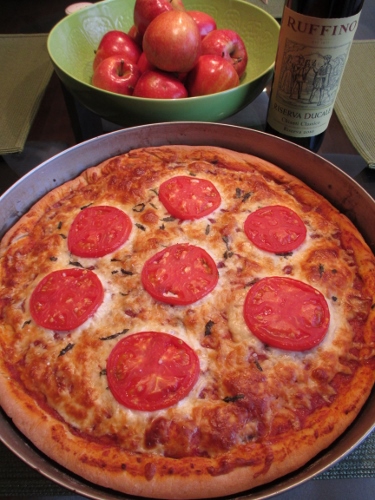 My Fresh Homemade Margherita Pizza is delicious, and we love it! Serve it with grated Parmesan Reggiano cheese and crushed red pepper for those who want it. This pizza is so worth the amount of time and effort it will take to make it for your family. What's great is choosing what you want and how much of each ingredient you want on your pizza. The children will love helping you choose. Or just make a Magherita Pizza like I made. Whatever you choose, once done, sit down with a glass of red wine or your drink of choice, your pizza, and enjoy!