By Jodee Weiland
Every year at Christmas time, baking and eating Italian Biscotti cookies were a favorite part of the Christmas tradition in my family. When I was a child, I would watch my mother prepare and bake her slices, as we called them, with care.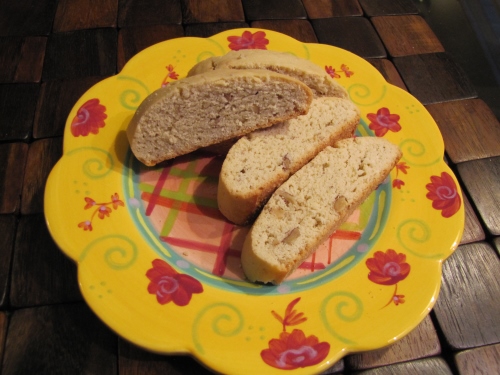 The anticipation of biting into that first slice once done kept me and my sisters very attentive through the whole process. When we finally were able to eat our first biscotti, it was always a piece of heaven as I remember it, filled with the delicious flavor of our Italian Christmas!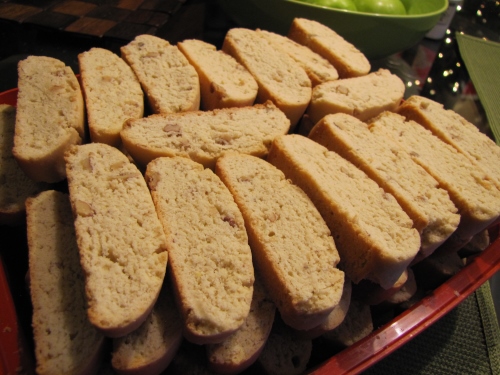 Once I had children of my own, I continued the family tradition every Christmas. Italian Biscotti was one of many family cookies baked, but it was always a favorite. We would bake the biscotti slices and enjoy them throughout the entire Christmas holiday, savoring each bite! During those years I had a friend, who also grew up in an Italian family, so I tasted her family recipe as well. They were very much like ours, except for a few things.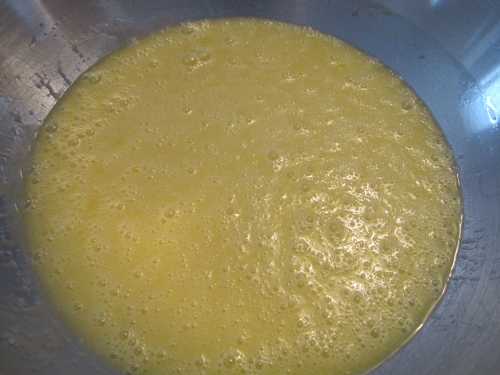 My family always used vanilla extract, while my friend's family used anise.  It was good as well, but I never stopped using vanilla because that tasted like home to me.  Strangely enough, when people eat my slices, they love them, and they still claim to taste the anise which I do not use.  Anise certainly can be substituted for the vanilla.  It's really just a matter of personal preference. Besides the use of anise in my friend's family, they also used a little more baking powder, so their slices were a little larger and more airy.  I liked this effect, so I increased the amount of baking powder in our family recipe and added the one more egg and a little more vegetable oil, sugar, and vanilla.  With these slight adaptations to amounts, not ingredients, I was able to make my Italian Biscotti larger and more airy as well. My mom tasted them when I first tried this and assured me that she approved! I know we all love them, so I'm sure you will, too.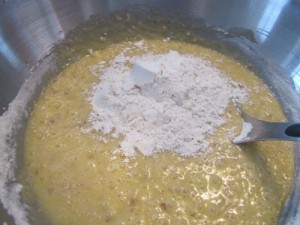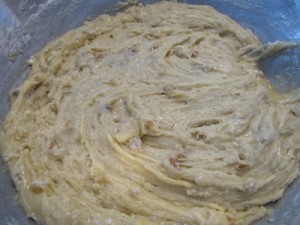 Italian Biscotti…An Italian Cookie and Family Favorite!
8 eggs
2 cups sugar
2 cups vegetable oil
2 teaspoons natural vanilla extract
4 teaspoons baking powder
1 cup chopped walnuts
8 to 9 cups all-purpose flour (I used 8 1/2 cups)
With a hand mixer in a large bowl, blend together the eggs, sugar, vegetable oil, vanilla, and baking powder.  Stir in with a spoon the chopped walnuts next.  Once done, begin adding flour one to two cups at a time.  At some point, you will need to mix this with clean hands because it will become too thick to stir with a spoon.  Make sure you have the flour measured and ready to add in gradually at this point because your hands will be sticky with dough.  Mix the dough together adding flour gradually until it becomes a workable dough and slightly sticky.  Divide the dough into four sections, one for each loaf (two long loafs to a pan). The cookie loafs will be flat and about 1/2 inch thick at most unlike bread before cooking them.  This recipe will make four loafs that will be sliced warm from the oven.
Bake the cookie loafs at 350 degrees for 20 to 25 minutes or until done but not overly done.  These cookies are twice baked.  When done remove from the oven and slice immediately while still warm. Take each slice and turn it on its side on the cookie sheet. Return to the oven and bake 5 to 7 minutes longer until lightly toasted on sides.  You do not need to turn them.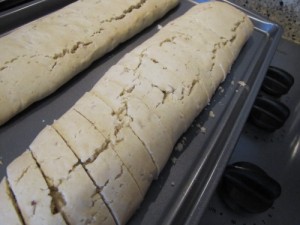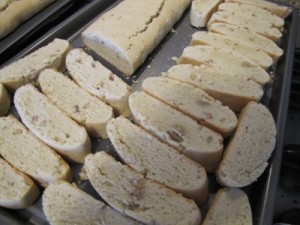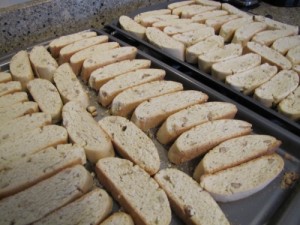 Italian Biscotti is an Italian cookie and a family favorite in our home! In Prato, Italy, where they originated, Biscotti is an Italian word that means twice cooked or in this case, baked.  They are also known as cantuccini or coffee bread. Originally, these "biscuits" were twice baked to make them dry and crunchy and consequently, able to be stored for longer periods of time. When served, Italians here and abroad, love to dunk Italian Biscotti in their coffee or even wine.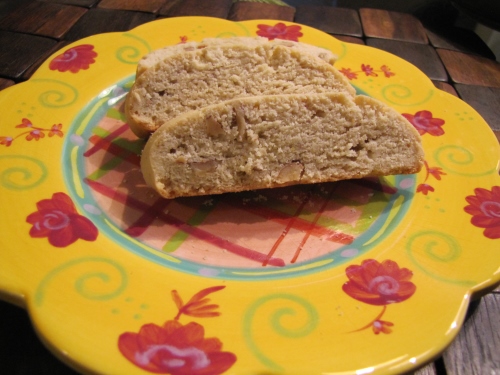 My father loved to dunk them in either, as did most of our family.  The children would dunk them in milk unless Poppy, my father and a lovable character, decided to introduce the grandchildren to the wonders of a little coffee in a lot of milk with plenty of sugar. He did this with my sisters and me when we were little as well.  It certainly didn't kill any of us, although I would not recommend it.  Still, before you upbraid him for this lovable gesture, you should know both he and my mother lived to be ninety.  My father's mother and his grandmother lived to be 100 and 103 years old. So I guess the fact that they all were avid coffee drinkers didn't kill them, but that said, give the children milk.  They'll love these cookies with their milk for sure! You'll love them with whatever you choose to drink as well, so enjoy!