By Jodee Weiland
We just returned from Myrtle Beach, South Carolina, after spending ten wonderful days there!  We love to go in September after things slow down a little, but not totally.  We spend our days on the beach enjoying the oceanfront, shelling, talking to other people visiting, and touring the area attractions.  But when it comes time for dinner, one of our favorite places to eat is the 2nd Avenue Pier House Restaurant.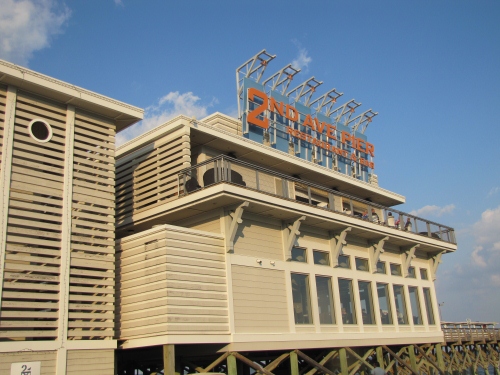 When we first started going to Myrtle Beach, we tried a lot of different restaurants, and 2nd Avenue Pier House Restaurant was where we found some of the best prepared seafood meals. For that reason I decided to share with you why we think this restaurant is so great!
The 2nd Avenue Pier House Restaurant is an oceanfront restaurant with beautiful views from anywhere in the dining area. It is attached to its own pier, where you will see people of all ages fishing or just enjoying the views. There's a full tackle shop as you enter the pier, in case you decide you want to do some fishing. You can sit and watch the ocean from various places on this very long pier that extends out over the ocean. You can also enjoy the open air bar above the restaurant for even more panoramic views of the ocean and coastline.  But even though we love the views, what we love most is the food at the 2nd Avenue Pier House Restaurant.
The owners, the manager, and staff all make you feel welcome when you first walk into the restaurant. They are all very pleasant and helpful when you have any questions about the menu.  Although the dining area is not overly large, it is surrounded by large windows so everyone in the room has a view of the ocean. All of the selections on the menu are great.  My personal favorite, the seafood, is always fresh and deliciously prepared.  The meal portions are generous and presented well.  There are plenty of options to choose from for your meal from appetizers to desserts.  Surrounded by window views of the ocean, while eating delicious seafood expertly prepared, we felt relaxed and enjoyed our meal each time we ate at the 2nd Avenue Pier House Restaurant.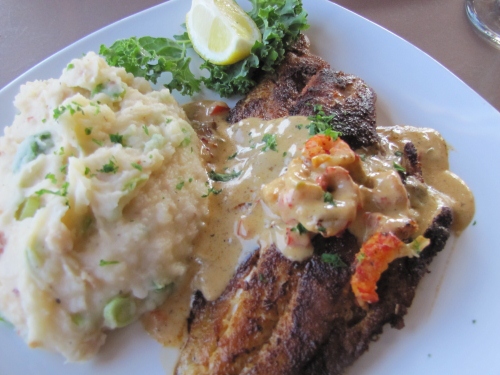 We had the best crab cakes here as an appetizer. Our server told us they used no fillers in their house made crab cakes, just fresh crab meat served pan seared with a remoulade sauce. They were fabulous. They also had crab cakes as a main course or a sandwich on the menu, so it was up to you just how you would have them.  On our numerous visits here, some of the selections we had for our main course that we enjoyed were their blackened grouper with creole crayfish cream, their broiled scallops in lemon butter topped with seasoned breadcrumbs and parsley, and their large, pan-seared shrimps over pepper jack grits with country ham and red eye gravy.  These were just a few of the wonderful dishes we had there.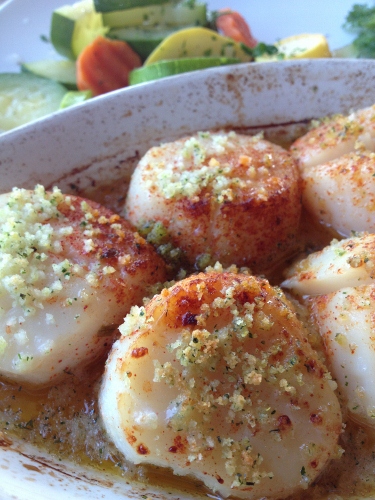 If fish isn't your thing, you can have a twelve ounce hand cut ribeye with garlic shallot butter or two grilled boneless chicken breasts with either barbecue sauce or teriyaki glaze.  Finish off your meal with chocolate lava cake, house made key lime pie, or any of the other dessert choices.  There are so many more options for every part of your meal than just those I've mentioned here, but whatever you choose from the menu, I feel certain, you won't be disappointed. From house made salad dressings to their wonderful house made desserts, 2nd Avenue Pier House Restaurant knows how to treat their guests to a delicious meal.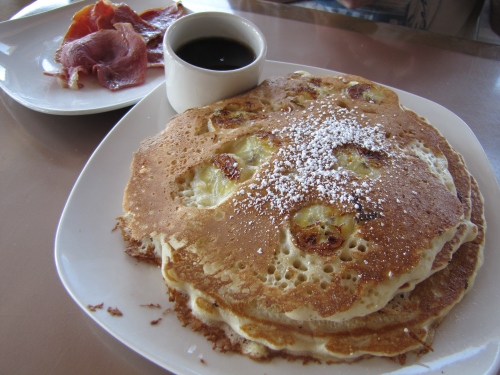 2nd Avenue Pier House Restaurant not only serves dinner, but they have fabulous breakfast and lunch menus as well.  The items on these two menus will surprise and delight you as well. At breakfast, enjoy an omelet, like the Cobia omelet I had with fresh spinach, mushrooms, tomatoes, and parmesan. It was delicious and the veggies were truly fresh. My husband's choice for breakfast was the Bucksport Banana Pancakes, three large banana pancakes with a choice of bacon, sausage, or one side item.  I know it was good because of the smile on his face as he ate every bit of it.  We didn't stop for lunch this time, but if the main plates at lunch are half as good as they sound, I'm sure you wouldn't be disappointed.  All the menus offer so many delicious options for each meal that you'll want to go back just to try something else.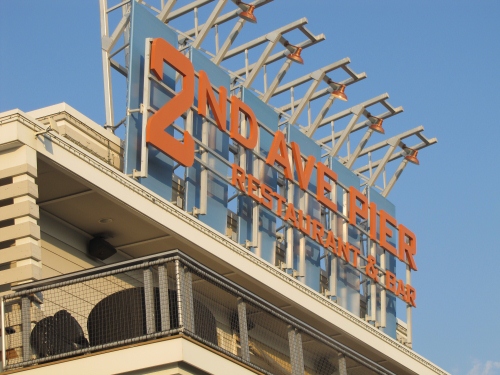 If you go to Myrtle Beach, South Carolina, be sure to visit 2nd Avenue Pier House Restaurant.  You won't be disappointed.  The food and service is excellent.  The views are fantastic.  On top of all that, you can eat, spend time on the pier, and visit the open air bar afterwards, if you like, to get still more panoramic views of the ocean while sipping a glass of wine or a cocktail of your choice.  Whatever you decide, when in Myrtle Beach, South Carolina, don't miss the 2nd Avenue Pier House Restaurant!  You'll be glad you ate at this fabulous restaurant! Enjoy!
My special thanks to Owner Leigh Ann Collins for her help while doing my article. Thanks again, Leigh Ann!