By Jodee Weiland
Myrtle Beach, South Carolina, is a beautiful place to visit and watch the sunrise each day.  Once the sun rises, the day is filled with beautiful views of the oceanfront from morning to night.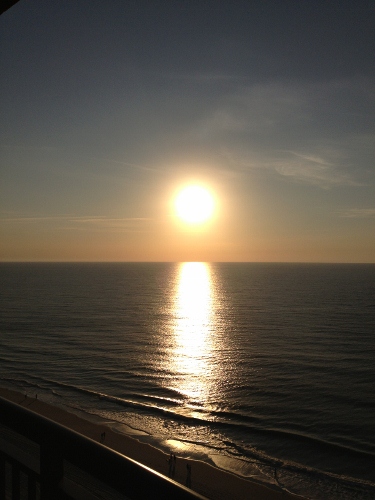 Day or night though, I don't know what it is about the oceanfront, but it calms me to listen to waves as they roll into the shoreline.  The steady beat of nature's voice as the waves hit the shore inevitably lulls me into a state of inner peacefulness as I watch the waves continuously hit the shore over and over again.  Who needs more of a reason than this to want to visit Myrtle Beach? Not me!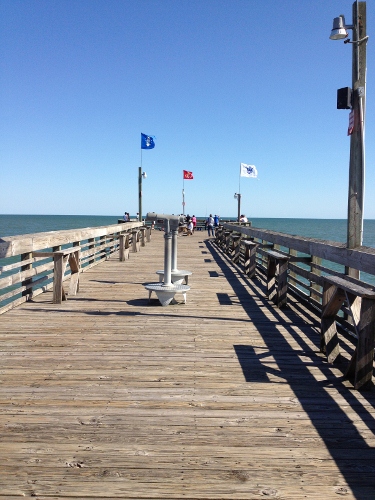 But there is more to Myrtle Beach, South Carolina, than this.  For one thing the access to fresh seafood is wonderful.  All up and down the oceanfront and nearby, visitors can find a multitude of restaurants offering everything from seafood entrees to seafood buffets.  I'm not really a fan of buffets, but I do love a good restaurant that serves fresh seafood entrees done well.  The choices are unlimited from Pawleys Island to Murrells Inlet to the oceanfront Myrtle Beach boardwalk and beyond, the Grand Strand as they call it.  Just look through all the readily available visitor guides and start choosing what appeals to you.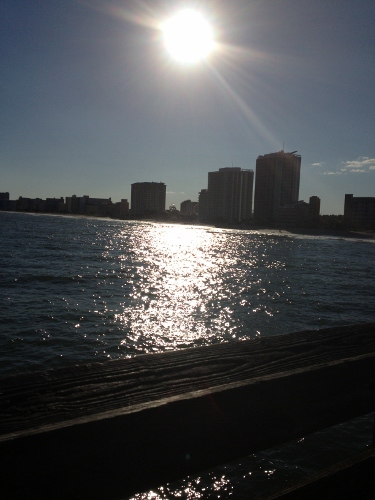 One of our favorites in Myrtle Beach was the 2nd Avenue Pier House Restaurant.  We had the best crab cakes here as an appetizer.  Our server told us they used no fillers in their house made crab cakes, just fresh crabmeat served pan seared with remoulade.  They were fabulous.  They also had crab cakes as a main course or a sandwich on the menu, so it was up to you just how you would have them.  For our main course, we enjoyed their blackened grouper with creole crayfish cream and their broiled scallops in lemon butter topped with seasoned breadcrumbs and parsley.  These were just a few of the wonderful dishes we had there.  After dinner, you could go out on the pier and view the ocean up close.  It really was an enjoyable way to end your meal.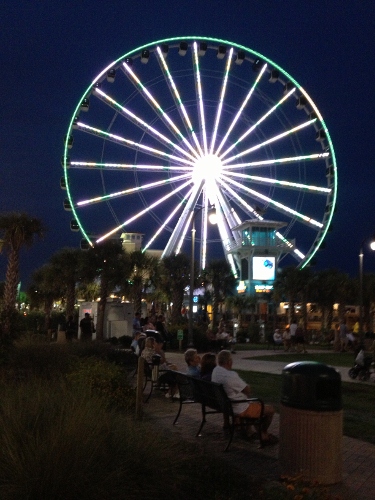 Of course beyond the seafood, you have the obvious, sitting on the beach and relaxing as well as shelling, swimming, dolphin cruises, and all the other oceanfront activities one would expect.  For those interested, there are entertainment venues like "The Carolina Opry" and more. Then there is also plenty of shopping venues and various family oriented attractions, but there is one attraction easily recognized by any Myrtle Beach visitor.  That attraction is on the Myrtle Beach boardwalk and can be seen from long distances up and down the oceanfront, especially at night.  It's the 200 foot high SkyWheel, lighting up the sky at night and has tourists lining up for the ride with a view.  It definitely makes a statement because it is not just any ferris wheel ride.  If you visit, you will find out why.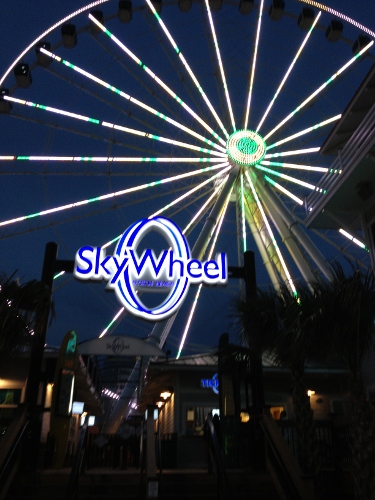 But for me, it's all about relaxing, enjoying the oceanfront, eating wonderful seafood, and well…enjoying life!  So if you ever travel out to South Carolina and you get the chance to visit Myrtle Beach, take the time to explore a little and find out all the wonderful things you can do and see while there.  There is so much more than I can describe in this short post.  But it's a great place to visit and if you're like me, just listening to the sounds of ocean and watching the waves roll in will be enough of a reason to visit.  So if you do visit for whatever reason, enjoy!