By Jodee Weiland
Being Italian, it was hard for me to imagine kale in a pesto.  I've used it to make kale chips, a kale salad, and even a kale and white bean soup. But putting kale in a pesto to use with pasta was something I just couldn't imagine, especially since I love Italian Basil Pesto.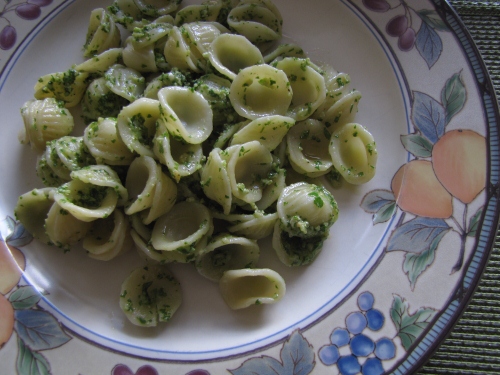 Nevertheless, with all the baby kale I have coming from my garden, I decided I had to do something with it all, and Baby Kale Pesto…Both Healthy and Delicious is what I came up with for dinner tonight,  I was pleasantly surprised when this dinner turned out to be very tasty after all.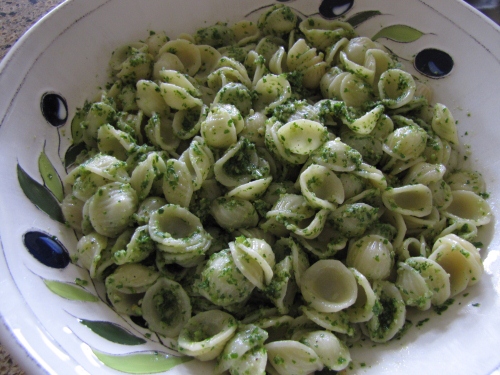 Kale likes to grow in lower temperatures, and with the unusual cooler temperatures we've been having in the Midwest this summer, my kale lasted longer and grew more abundantly than I ever expected when I first planted the seeds last spring.  I have had plenty of kale to use this summer for salads and kale chips, which we love.  I have had so much that I have given some away to people who wanted it.  But today, I used my fresh baby kale to make my pesto, and it turned out great!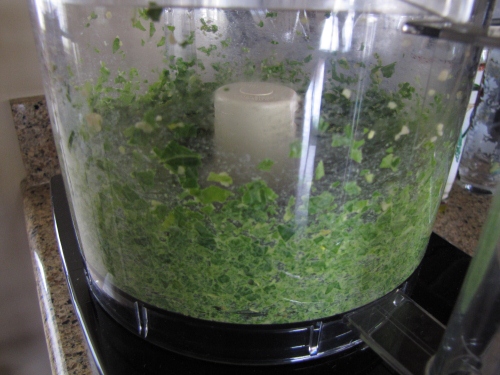 Baby Kale Pesto with Pasta…Both Healthy and Delicious!
2 cups fresh baby kale leaves packed tightly
1/4 cup toasted pine nuts
1 teaspoon chopped garlic clove or to taste
1/2 teaspoon sea salt or to taste
1/4 teaspoon freshly ground black pepper or to taste
2/3 cup extra-virgin olive oil (more or less, depending on desired consistency and thickness)
1/2 cup freshly grated Parmesan Reggiano cheese or more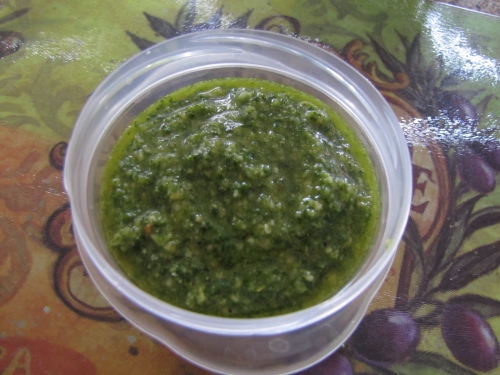 Blend together the kale, pine nuts, garlic, salt, and black pepper until finely chopped in a food processer or blender. Gradually add oil to this mixture to attain a smooth consistency and thickness (your preference). Finally, add the Parmesan cheese into this mixture. You can add more salt and black pepper to taste once it is blended. Kale pesto can be made two days ahead or just before it is needed. If made ahead, cover and refrigerate it. With pesto recipes, I like to double the recipe and freeze some for later.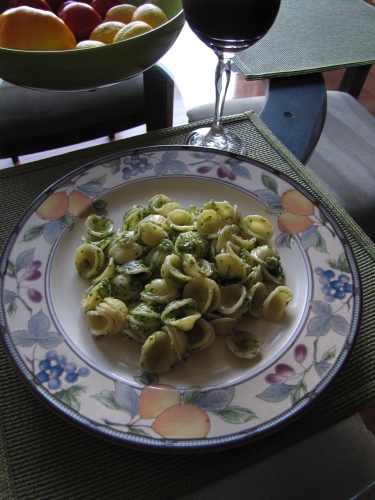 Baby Kale Pesto…Both Healthy and Delicious will quickly become a favorite, especially for those who prefer a milder tasting pesto than what one finds in a basil pesto, although both are good.  Some may think, as I did, that kale would be too bitter for pesto, but the blend of garlic, pine nuts, and Parmesan Reggiano cheese with the kale in an extra virgin olive oil creates a pesto that has no bitterness and plenty of flavor when served with pasta.  Serve it with a nice red wine and a side salad for a very pleasant meal, as well as healthy.  Try it, and enjoy!