By Jodee Weiland
With fresh Roma tomatoes ready to be picked in our garden, I decided to make a pasta dish using our garden Roma tomatoes and spinach.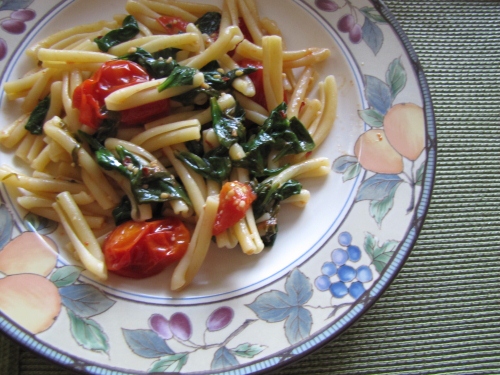 Cooking a pasta dish with fresh garden vegetables is always an easy and delicious way to use an abundance of garden produce.  In our home, a well-made pasta dish is always appreciated.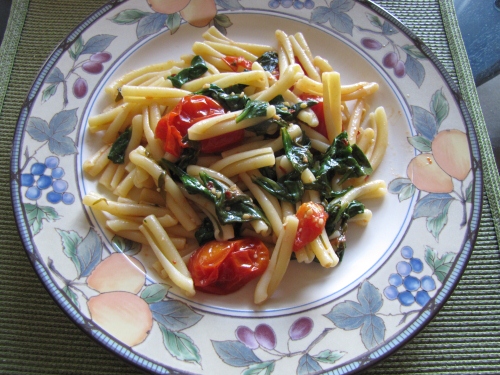 When we went to pick our latest batch of Roma tomatoes, we realized that we had more than we could possibly use.  Having already given bags of tomatoes to friends and relatives, I decided it was time to be creative.  That's when I came up with tonight's dinner selection.  I used the Roma tomatoes in a pasta dish with spinach.  I was also able to use some of the fresh basil from our garden, although I always have a use for the basil.  With the basil, I usually make Italian Pesto and freeze batches for those winter months when my garden is under snow.  But this time, the basil was used in this recipe and added to the flavor of this pasta dish.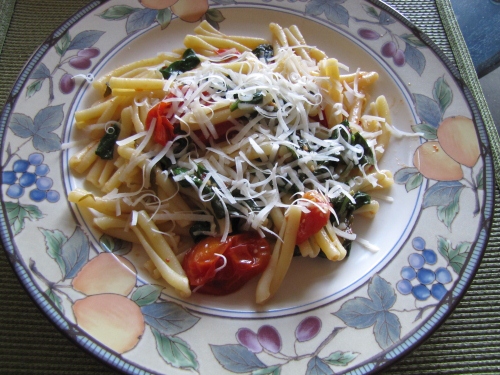 Fresh Roma Tomatoes and Spinach Pasta…With Olive Oil and White Wine
1 pound pasta of your choice
1/3 cup of extra virgin olive oil
1/4 cup of white wine (I used Riesling)
18 or more fresh Roma tomatoes (you can use other tomato types if preferred)
3 chopped garlic cloves
8 to 9 basil leaves sliced
1/4 teaspoon crushed red pepper (optional)
2 cups or more fresh baby spinach
Grated Parmesan Reggiano cheese to taste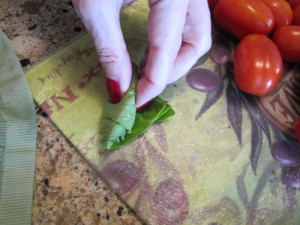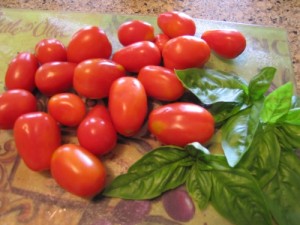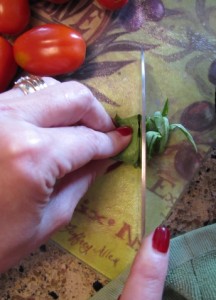 On the stove, heat olive oil and add garlic, fresh basil (roll leaves and then slice), and white wine.  Then add fresh Roma tomatoes whole.  Cook covered over a medium heat until tomatoes cook, then reducing to low heat.  You can add the crushed red pepper at this time.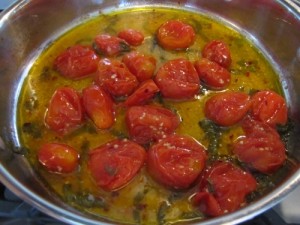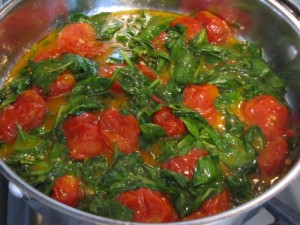 While tomatoes cook, prepare your pasta according to the package instructions.  When the pasta is about 4 minutes from being ready, add spinach leaves to the tomato mixture. Over a medium heat, cook the spinach until it is wilted and ready.  Once the pasta is done cooking, spoon the tomato and spinach mixture over the pasta, stirring it in gently.  Add grated Parmesan Reggiano cheese to each serving or eat it as is.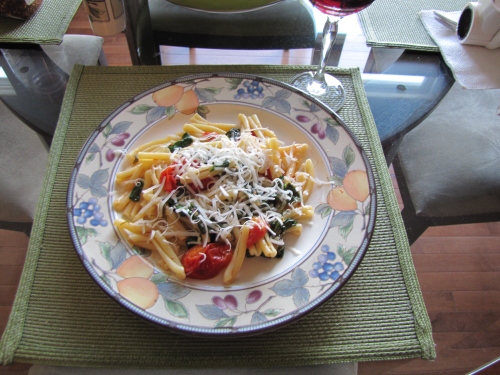 Fresh Roma Tomatoes and Spinach Pasta…With Olive Oil and White Wine is delicious.  The sweet flavor of the tomatoes mixed with spinach makes this dish not only healthy but filled with a distinct flavor enhanced by the olive oil and white wine sauce.  Serve with Chianti and have a meal that not only satisfies, but delights your taste buds.   If you decide to try this dish, I'm sure you will love it, so enjoy!