By Jodee Weiland
When I started my chicken dinner tonight, I wasn't really sure where I would end up. I like to think my father was standing by my side encouraging me to try something new with chicken or challenging me like he used to do to make something better than him. Our little competitions often inspired me to try things in the kitchen I had never tried before. Dad was famous for throwing together a meal that was more than gourmet, just using whatever he had on hand. That's what I did tonight and the result was my delicious Savory Chicken with Tomato, Artichokes, and Beans All in One Pot!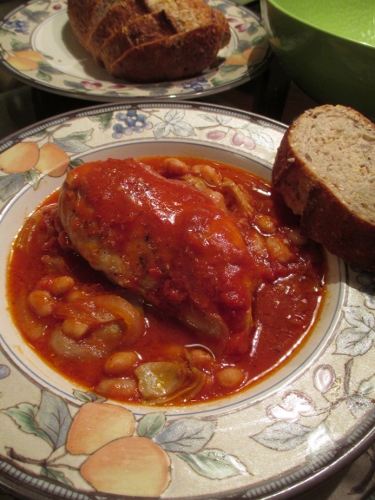 This hearty dish is made all in one pot, which makes it easier to prepare for a weekday meal when things get hectic in most households. It has the hearty white beans of a cassoulet, but most of its rich flavor comes from the onions, garlic, artichokes, and seasonings blended together in simmering tomatoes with a dry white wine. The chicken breasts add their own flavor to the mix, and the result is absolutely delicious!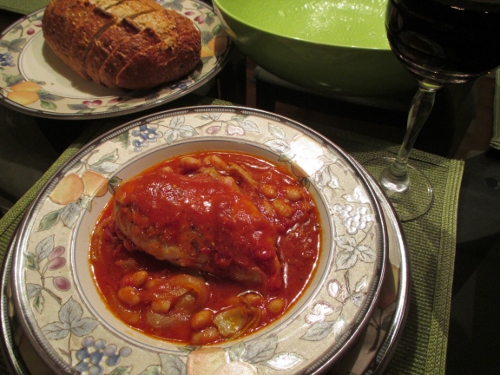 Savory Chicken with Tomato, Artichokes, and Beans All in One Pot
2 boneless chicken breasts without skin
1/4 cup extra-virgin olive oil
1 medium onion sliced thin
2 large garlic cloves sliced thin
1 small jar marinated artichokes drained (usually 4 to 6 ounces)
1/2 teaspoon ground thyme
Sea salt and ground black pepper to taste
One 15 ounce can crushed tomatoes
1/4 cup dry white wine
1 teaspoon sugar
One 15 ounce can Great Northern Beans (reduced sodium)
In a large pan, sauté the onions, garlic, and artichokes. Add thyme, sea salt, and black pepper to this mixture. When onions become translucent, push the vegetables to the sides and brown your chicken breasts on all sides after seasoning lightly with black pepper. Then add the crushed tomatoes, white wine, and sugar. Stir this into your vegetables and spoon over the browned chicken breasts.
Bring this to a low boil, then reduce the heat to simmer, cover, and cook for about 15 minutes. Then add in the white beans, blending them together with the sauce. Cover once more and simmer for 15 to 20 minutes longer or until the chicken is cooked. To thicken the sauce, remove the cover the last 5 to 10 minutes of cooking. When done, serve.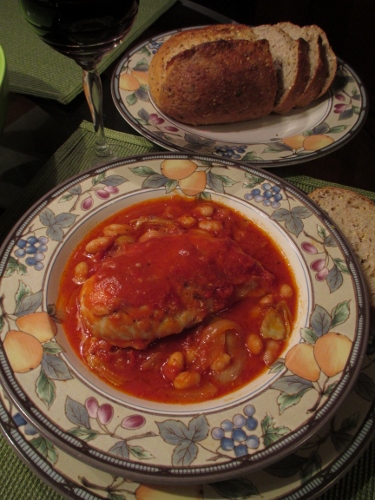 My Savory Chicken with Tomato, Artichokes, and Beans All in One Pot is absolutely delicious! Your family will love the rich flavors blended together in this wonderful dish. Serve this dish with a crusty loaf of multigrain bread and a glass of your favorite Chianti. On these cold winter nights, there is nothing better than a hearty meal that not only tastes great, but is healthy as well. You won't be disappointed if you try this dish, so enjoy!