By Jodee Weiland
We grill all year long no matter what the weather is like.  Winter or summer, it makes no difference to us. So tonight, I thought it would be nice to have a red wine mushroom sauce to spoon over our grilled filet mignon and even over the Parmesan risotto I was preparing for dinner. A red wine mushroom sauce is easy to make and adds such rich flavor to a steak. Filet mignon is great on its own, but when you want to step it up a bit and make your meal a little fancier, my Grilled Filet Mignon with Red Wine Mushroom Sauce is the way to do it!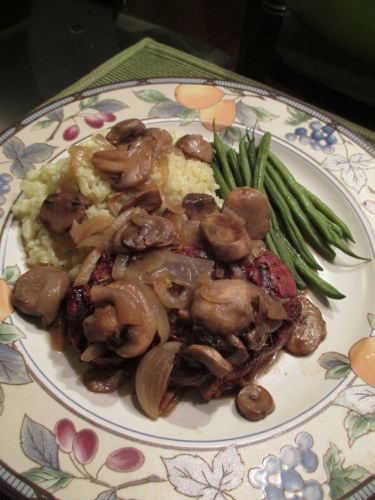 I love the flavor of mushrooms when added to a recipe, but here they are main focus. I usually start most sauce recipes with sauteed onions and and garlic in extra-virgin olive oil. In this recipe for a mushroom sauce, I add a small amount of butter to my olive oil, before adding the the onions and garlic. Once the mushrooms are added, the rich flavor of the mushrooms just blends right in with the onions and garlic. Because we use a pound of mushrooms, the flavor of the mushrooms becomes the focus. Finally, adding the red wine takes this sauce over the top in flavor you will love. This sauce is light and can be used over a side of risotto or mashed potatoes as well as your grilled steaks!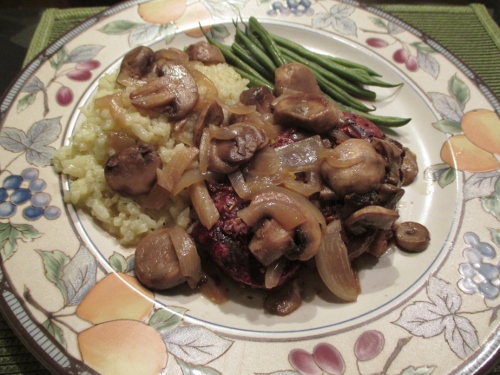 Grilled Filet Mignon with Red Wine Mushroom Sauce
Grilled filet mignon steaks or any steaks of your choice
3 tablespoons extra-virgin olive oil
2 tablespoons unsalted butter
1 medium onion sliced thinly
2 garlic cloves sliced thinly
1 pound sliced mushrooms
1/2 cup dry red wine
Sea salt and black pepper to taste
Heat the olive oil and the butter in a pan over a low to medium heat. Add the onions and garlic to the pan and saute them until the onions become translucent. Then add the mushrooms to the onions and garlic, mixing them in once they cook for a few minutes.  Cover the pan and cook over a low to medium heat until the mushrooms are cooked. Remove the cover, add the red wine, and cook until the wine is reduced and the sauce is your preferred consistency.
My Grilled Filet Mignon with Red Wine Mushroom Sauce is absolutely delicious and will make your grilled steaks feel like a gourmet meal. Serve with a glass of red wine, a vegetable, and either risotto or mashed potatoes. This sauce can be used over the risotto or mashed potatoes as well as your steaks and will add to their flavor. When you try this meal and see how easy it is to take a simple grilled steak to elegant, you will want to have it more often, so enjoy!