By Jodee Weiland
During the winter months when we have chicken, we still grill it more often than not because it's so healthy. Even if there is snow on the ground, we love grilling chicken and other foods in the winter. But I wanted to cook a chicken dish with a little more flair today because it was my husband's birthday this week. I decided chicken with a white wine sauce and mushrooms would be delicious. That's how I came up with my version of Chicken in White Wine Mushroom Sauce!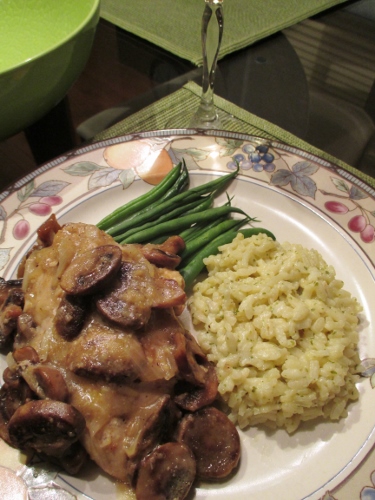 Of course, a white wine mushroom sauce has wine and mushrooms. First, sauté onions, garlic, and a pound of slice mushrooms in extra-virgin olive oil. Next, brown your seasoned chicken breasts, and then add white wine, butter, and a few other ingredients to create a richly delicious sauce for your chicken breasts. Although this meal is not grilled, when you sauté chicken in a rich wine sauce blended with fresh mushrooms correctly, the result is both delicious and can still be healthy!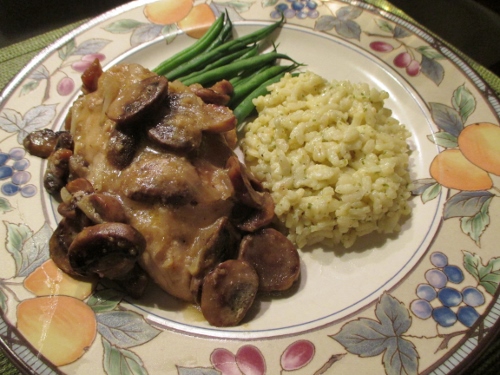 Chicken in White Wine Mushroom Sauce
 4 boneless chicken breasts without skin
1/4 cup extra-virgin olive oil
1 onion sliced thinly
2 to 3 garlic cloves sliced thinly
1 pound sliced mushrooms
Sea salt and fresh ground black pepper to taste
3/4 cups nonfat plain yogurt
1/3 cup dry white wine
2 tablespoons unsalted butter
1 teaspoon unbleached flour
Sauté the onions, garlic, and mushrooms in the extra-virgin olive oil over a low to medium heat in a covered pan, stirring occasionally. When the onions become translucent, push the mixture to the outside edges of the pan. In the center of the covered pan, brown the chicken breasts seasoned with sea salt and black pepper to taste. When browned and partially cooked, remove the chicken breasts to a plate.
Then add the yogurt, white wine, butter, and flour to the mushrooms, onions, and garlic, stirring and blending them together. Season to taste, if needed. Then put the browned chicken breasts back in the pan, spooning the mixture over the chicken. Simmer all of this over a low heat for another 20 to 30 minutes or until cooked.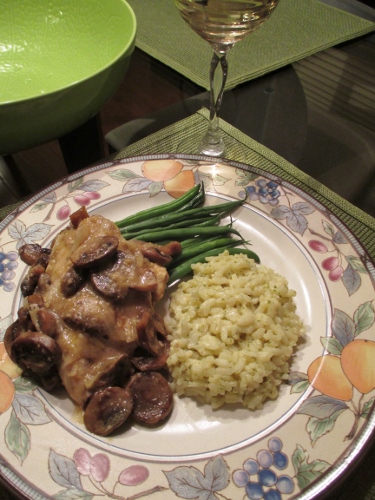 My Chicken in White Wine Mushroom Sauce is not only a delicious dish full of rich flavors, but it is healthy as well. Serve this dish with a Parmesan risotto or garlic mashed potatoes and a green vegetable. We chose a Parmesan risotto and fresh green beans steamed. Then pair this meal with a glass of Riesling to add to the already delicious flavor of the meal. This meal not only tastes great, but it also feels like an elegant meal you might have in a fine restaurant. Give it a try, and enjoy!