By Jodee Weiland
When I first starting making jambalaya years ago, I used a recipe from a cookbook called Celebrate Chicago: A Taste of Our Town and  put together by the Junior League of Chicago (1996 edition). Since then I have adapted the recipe for jambalaya in this cookbook, especially after visiting New Orleans several times over the years. I wanted a healthier version of the original jambalaya, so I made some changes like using Italian chicken sausage instead of Italian sausage. With a few other changes, my version of the original recipe evolved, and my Delicious Jambalaya with Italian Chicken Sausage and Shrimp became one of our favorite dishes!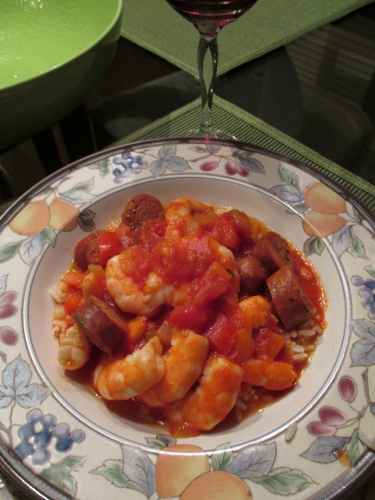 There were more healthy choices made over time with this recipe. One change I made to this recipe was using extra-virgin olive oil instead of vegetable oil. I, also, chose to use two orange and red bell peppers instead of one green bell pepper. I added  twenty-eight ounces of crushed tomatoes instead of sixteen ounces of tomato sauce. My crushed tomatoes or puree are all tomato with no salt added. In addition to this, I use sea salt very lightly in this recipe rather than regular salt. With all the rich flavor, not much is needed really. In the end, jambalaya usually has the rice mixed in, but I serve the jambalaya over the rice, so you can decide how much rice you want. The basics of the original recipe are all there, but just slightly altered for a healthier jambalaya, and it's delicious!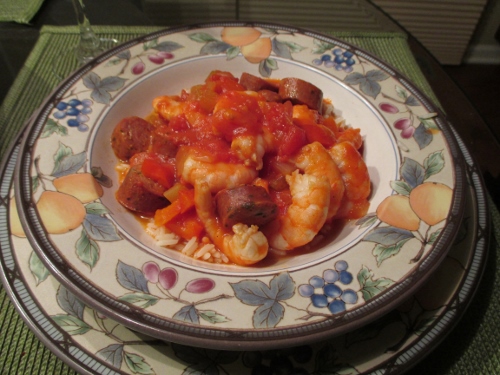 Delicious Jambalaya with Chicken Sausage and Shrimp (adapted from Celebrate Chicago: A Taste of Our Town, Edition 1996)
1 cup chopped onion
1 cup chopped celery
2 garlic cloves minced
2 sweet bell peppers, one red and one yellow
3 tablespoons extra-virgin olive oil
1 (28 ounce) can crushed tomatoes unsalted
1 (16 ounce) can diced tomatoes unsalted
Sea salt and ground black pepper to taste
1/2 teaspoon cayenne or more to taste
1 pound Italian chicken sausage cut up into bite size pieces
2 pounds shrimp, peeled
4 to 5 cups rice, cooked
Sauté the onions, celery, bell peppers, and garlic in the olive oil until tender. When ready, add the diced tomatoes with juice (not drained), crushed tomatoes, sea salt, ground black pepper, and cayenne to this. Cover and simmer for about one hour.
Since the chicken sausage is usually cooked, there is no need to brown it. Just cut the sausage up into bite size pieces and peel your shrimp. After one hour of simmering, add the sausage into the hot mixture and stir it. Once the sausage is heated for about ten to fifteen minutes, add the shrimp and continue to heat until the shrimp warmed. Serve over rice or stir the rice into the mixture, if you prefer.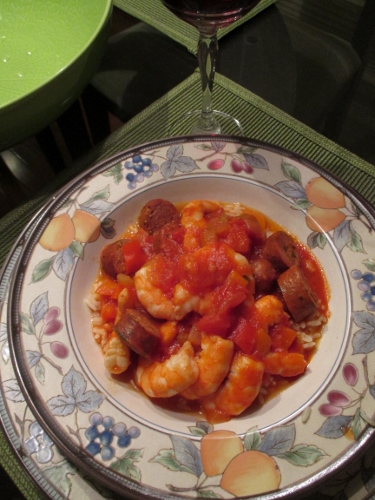 My adapted version of Delicious Jambalaya with Chicken Sausage and Shrimp is so good, it has become a family favorite! We love to serve it over the rice, instead of mixing the rice into the mixture, but you can do it either way. Whichever way you choose to do it, you are going to love it. Serve it with a nice glass of red wine and savor all the rich flavors blended together. This dish is absolutely wonderful, so enjoy!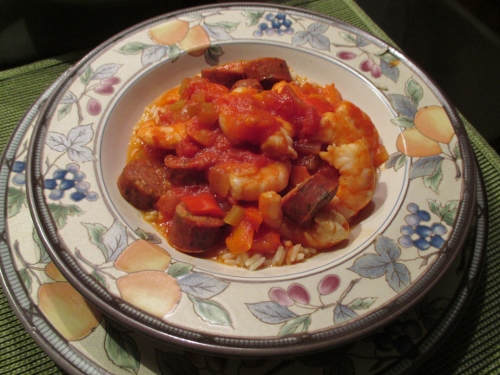 Junior League of Chicago. Celebrate Chicago: A Taste of Our Town. Chicago: the Junior League of Chicago, Inc., 1996. Print.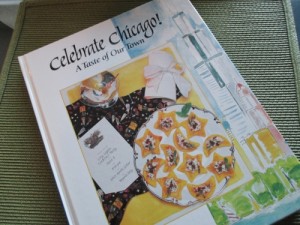 Save