By Jodee Weiland
When I go to a Greek restaurant, I love the rich aromas that come from the kitchen. One of my favorite dishes is a baked Greek style chicken breast stuffed with spinach, artichokes, and feta. The addition of some kalamata olives to this dish is delicious. The blend of seasonings with olive oil and fresh lemon juice used to make this Greek style chicken always add a wonderful flavor to this meal. That's why I had to create my own Greek Style Greek Style Chicken with Spinach, Artichoke, and Feta!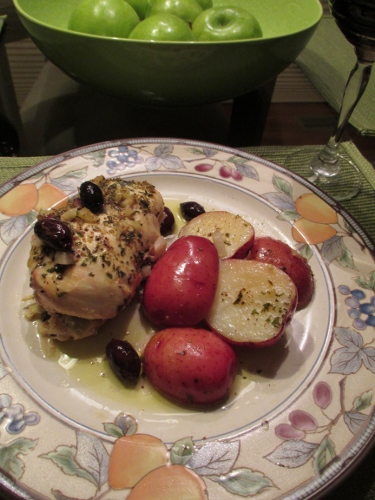 There are so many wonderful Mediterranean dishes in both the Greek and Italian cultures, but whenever I eat at a Greek restaurant, this dish or anything similar will always be my first choice. I do love when they do something similar using salmon or a white fish of some type as well. Greek food is so flavorful and enjoyable, that I can't imagine anyone who wouldn't love it!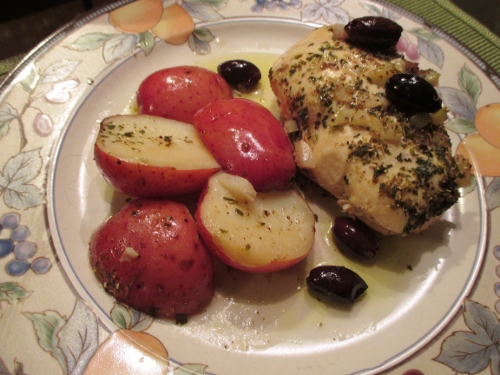 Greek Style Chicken with Spinach, Artichoke, and Feta
2 boneless chicken breasts
1/3 cup crumbled feta cheese
1/3 cup marinated artichoke hearts chopped
1/2 cup fresh spinach chopped
1 to 2 garlic cloves chopped (for stuffing)
1/4 cup olive oil
1/4 cup fresh squeezed lemon juice
6 red potatoes halved
1 teaspoon dried parsley
1/2 teaspoon oregano
1 to 2 garlic cloves chopped (for top of chicken breasts)
10 pitted kalamata olives
Sea salt and ground black pepper to taste
Preheat oven to 400 degrees. Cut into each chicken breast, but not through, forming a slit. Pound the chicken breast with a cooking mallet to flatten the bottom half. Combine the feta cheese, artichoke hearts, spinach, and garlic. Then take this mixture and spoon it into the fold of the chicken breast closing it with toothpicks. Place the stuffed and closed chicken breasts in the baking dish. Pour the olive oil and lemon juice over the chicken breasts.
Then place the potato halves around the sides of the two chicken breasts. Sprinkle the parsley, oregano, garlic, olives, sea salt, and black pepper over the top of the chicken breasts and potatoes. Cover the baking dish and put in the oven. Bake at 400 degrees for 45 minutes. Then uncover and bake for five minutes longer.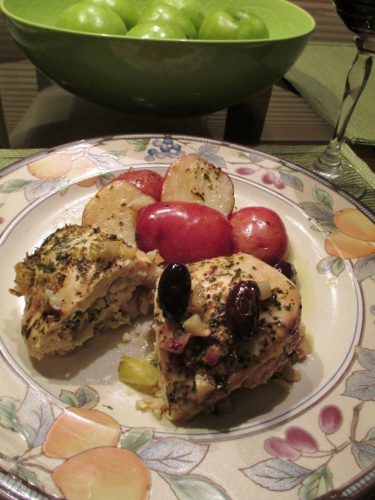 My Greek Style Chicken with Spinach, Artichoke, and Feta is so delicious! This wonderful dish will fill your home with the rich aromas of Greek style cooking and tantalize your taste buds. Serve this dish with a nice Cabernet Sauvignon and a delicious side salad. You will love the flavors in this dish and will certainly be glad you tried it, so enjoy!