By Jodee Weiland
One of my favorite soups to make on a cold winter day is lentil soup. My recipe for lentil soup is both delicious and healthy because I power up the amount of vegetables I use to make it. I have always liked a lentil soup with substance, but most recipes I find use things like carrots and celery as a slight touch of flavoring for their lentil soup. For me, I have always felt a bit more is needed, so I add more to my Hearty Homemade Lentil Soup!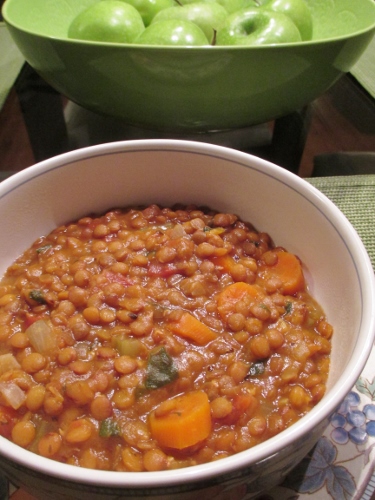 Carrots and celery are wonderful vegetables that are full of great nutrients. They are both low in calories and add great flavor to any dish. In my lentil soup, I add three times or more the amount of carrots used in most recipes. With celery, I add two times or more the usual amount. As you can see, I favor the carrots, but I love the flavor carrots add to many recipes and especially, to soup. I, also, use organic vegetable broth in my lentil soup because I want it to be a true vegetarian soup. I think these things make my lentil soup tastier and heartier as well.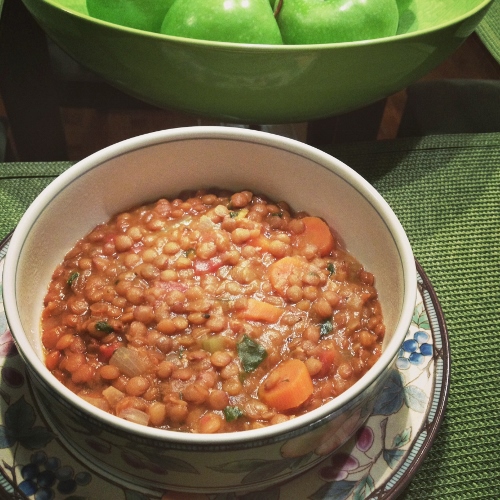 Hearty Homemade Lentil Soup
3 tablespoons extra-virgin olive oil
1 large yellow onion chopped
3 large carrots, peeled and sliced
2 large celery stalks chopped
2 garlic cloves chopped
1 bay leaf
1 teaspoon dried basil or 3 teaspoons of fresh basil chopped
1 (14.5 ounce) can organic diced tomatoes with juice
2 cups dried lentils, picked over, rinsed, and drained
8 cups organic vegetable broth plus 1 (14.5 ounce) can vegetable broth (fat-free chicken broth may be used, if preferred)
2 tablespoons fresh lemon juice
1 cup fresh spinach chopped
OPTIONAL: Sriracha hot chili sauce ( a drizzle per serving)
Heat olive oil in a large soup pot over medium heat. When the oil is heated, add the onion, carrots, celery, garlic, bay leaf, and basil. Saute this mixture for five to seven minutes. Then add the diced tomatoes, lentils, 8 cups of vegetable broth, and lemon juice. Stir this all together and bring to a boil. When this comes to a boil, lower the heat to simmer at medium-low to medium heat, cover the pot, and let it simmer for 40 minutes, while stirring once or twice, if needed.
After 40 minutes, remove the bay leaf and add the 1 (14.5 ounce) can vegetable broth or as much of it as needed, if the soup needs to be thinned out at this point. You will be simmering it again, so you don't want it too thick at this point. I add the whole can of vegetable broth at this point. Then stir in the chopped spinach. Bring to low boil again, then lower the heat to simmer once again and simmer, while stirring occasionally, for another 15 to 20 minutes or until the soup is at your preferred consistency.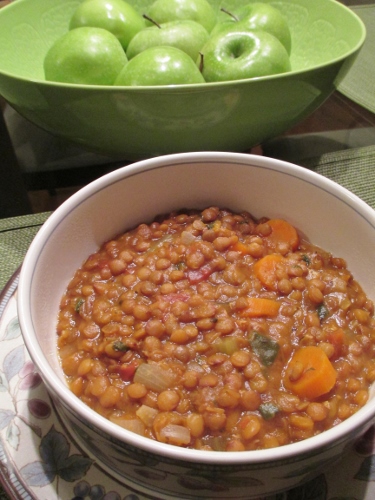 My Hearty Homemade Lentil Soup is absolutely delicious and so healthy, you will want to make it often for your family. Great for lunch or dinner, serve this hearty soup with a crusty multigrain bread and side salad. I love adding a drizzle of sriracha hot chili sauce to spice it up a bit as well. Also, this soup pairs well with either a Pinot Noir or Chianti. However, you decide to serve this great soup, you will love it, so enjoy!