By Jodee Weiland
Years ago I made a great cabbage soup whenever I felt the need to eat a vegetarian meal…a meal that would be healthy and delicious! Sometimes when we travel, it's hard to stay as healthy as we would like when eating out. Cabbage soup is my way of getting things back to where they need to be after traveling. I love cabbage, and there's no doubt I love soup, but this cabbage soup has so much more value for me because it is one of the healthiest soups I make. My Get Back on Track Healthy Cabbage Soup is my version of the old Cabbage Soup Diet with some kick!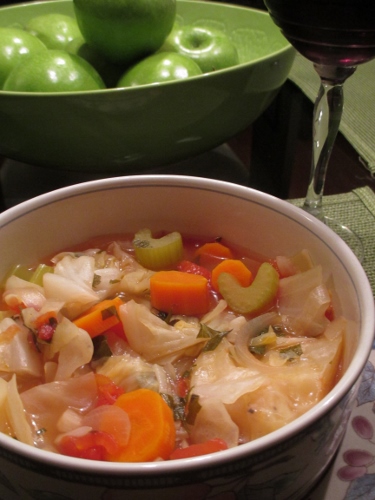 The old Cabbage Soup Diet had a day by day formula to follow for seven days. Since I'm not big on seven-day diets or any diets for that matter, I love the idea of cabbage soup, but done my way! For one thing, I believe that if you eat healthy most of the time and consistently, you will get to and maintain the appropriate weight for you. Of course, you may also have to work out, either walking, jogging, aerobics, or something, but keeping weight down can be achieved. If you eat right and exercise, you can be the weight that's appropriate for your age and gender. But once in a while we get off track, like when we're on vacation, and that's the time to eat even healthier. That's when I pull out my Get Back on Track Healthy Cabbage Soup!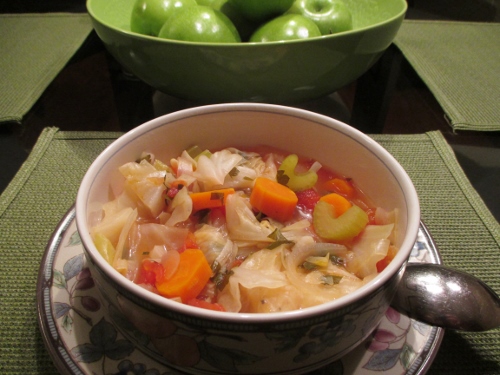 Get Back on Track Healthy Cabbage Soup
1  tablespoon extra-virgin olive oil
1 cup celery, cleaned and sliced
2 cups carrots, peeled and sliced
2 small to medium yellow onions sliced
2 small or 1 large garlic clove chopped
5 fresh basil leaves, cleaned and chopped
1/2 cup chopped fresh Italian parsley
1 cabbage head, cored and cut up
2 – 14.5 ounce cans diced tomatoes with juice
5 – 14.5 ounce cans chicken or vegetable fat-free broth
Fresh ground black pepper to taste
Hot sauce to taste (optional)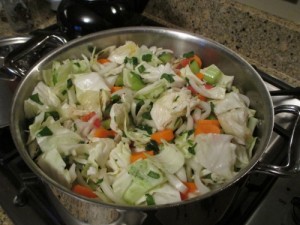 Heat olive oil in a large pot, and saute the celery, carrots, onions, garlic, basil leaves, and parsley until slightly cooked. Add the cut up cabbage to the pot and mix together. Then add the diced tomatoes with the juice, and the chicken or vegetable broth. Add ground black pepper to taste and if you choose to do so, add hot sauce to taste. With hot sauce, remember that it can always be added later to meet the preferences of all who are eating.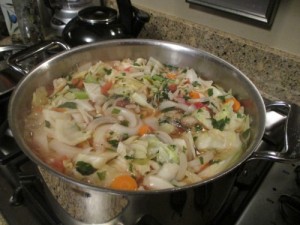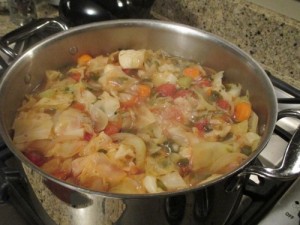 Bring the mixture to a low boil, and then cover the pot and lower the heat to simmer. Simmer for 40 to 45 minutes or until all vegetables are cooked. Once done, you are ready to serve the soup. NOTE: If you're not using this soup to get back on track, you can add some peeled potatoes cut up or some rice.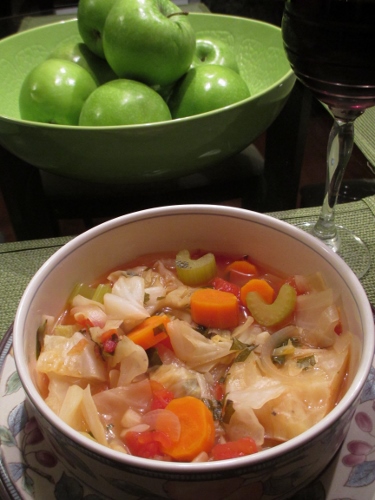 My Get Back on Track Healthy Cabbage Soup is not only healthy, it is delicious as well. This is a great way to get back on track, and you will have enough for lunches or dinners within the next few days. This meal and some regular exercise should make it easy to get back on track. I like to have my soup at dinner with a nice Chianti, which I feel only serves to enhance the flavor, but with or without, you will find it satisfying and full of great flavor. For those who don't need to get back on track, a nice multigrain loaf of crusty bread goes well with this soup. You may even want to add some grated Parmesan Reggiano cheese. However you choose to have it, you are going to love this soup, so enjoy!