By Jodee Weiland
Lately, I've been trying out some thicker smoothies that would be filling and could take the place of a meal while being nutritious and healthy as well. One thicker smoothie I put together was especially tasty. I think this smoothie was so good because of the addition of almonds. It's much thicker than my regular smoothie, but the almonds also make it more filling. Almonds are heart healthy and since I love them, I felt certain they would add something great to the flavor. I was right, and the result was my Thick Green Smoothie Magic with Almonds!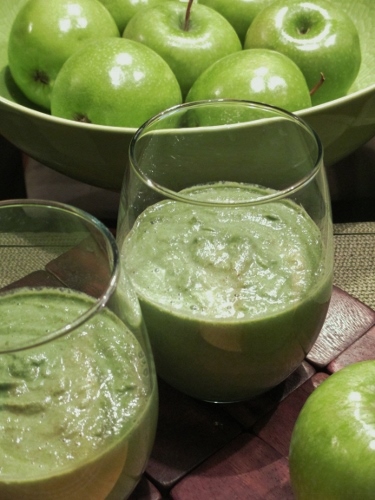 This smoothie has fresh mango, apple, and unsweetened pineapple juice, all of which have numerous vitamins and nutrients. It also has frozen spinach for a green vegetable, which gives it even more nutritional value. By including almonds I've add protein, because an ounce of almonds contains about one eighth of our necessary daily protein. The inclusion of almonds make this smoothie heart healthy and gives it the thick consistency I was looking for, making it more filling and a possible substitute for a breakfast or a mid-day meal without bread. That is exactly what I was trying to create with this new smoothie!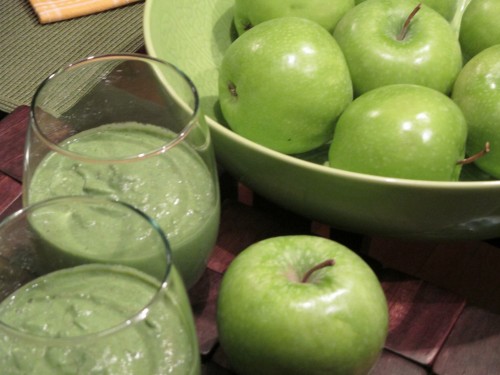 Thick Green Smoothie Magicwith Almonds
1 Granny Smith apple unpeeled, cored, and cut up
1 cup fresh frozen mango slices
1/2 cup almonds
1 and 1/2 cups unsweetened pineapple juice
1 cup frozen spinach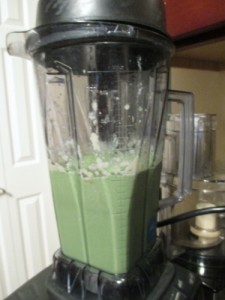 In a blender, blend together the apple, the mango, the almonds, and the juice until smooth. Add in the frozen spinach and once again blend until smooth, but thick. This recipe will make approximately two ten ounce servings. It can also be made less thick by adding additional juice, if preferred.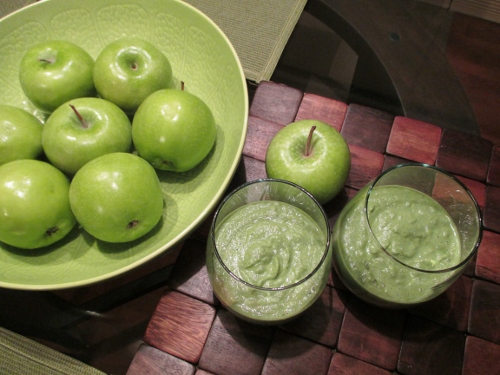 My Thick Green Smoothie Magic with Almonds is delicious and very healthy! This thicker smoothie could easily take the place of a breakfast or a mid-day meal without bread, while still satisfying your hunger. It has great nutritional value, which includes twelve grams of fiber and about 15 grams of protein. There are 404 calories in one serving or half of the recipe, but for a meal this is relatively low. High in fiber, protein, and nutrients, this smoothie will satisfy your hunger, while keeping you healthy, so enjoy!