By Jodee Weiland
Shortbread cookies have always been a favorite for me, since I was a little girl and first saw the red plaid packaging on a shelf at the store. That packaging meant I would bite into a shortbread cookie that would just about melt in my mouth. I loved them! I recently decided that I would like to create a rich buttery shortbread cookie for my holiday table this year, so I did just that. The result was my Homemade Shortbread Cookies, and they are delicious!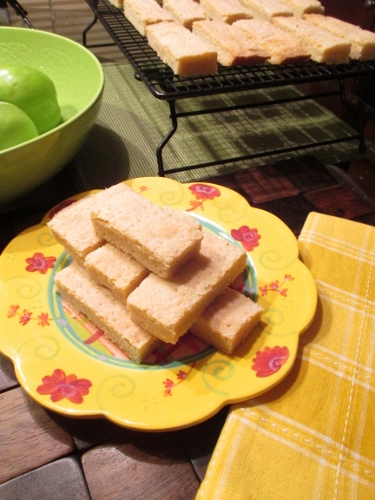 I researched shortbread butter cookies and found that traditionally they are one part white sugar, two parts butter, and three parts flour. They also are actually considered biscuits. Now some people will make them with granulated sugar, some with powdered sugar, and some with a mixture of both. Today, many people will add vanilla and salt as well. The variations are unlimited. I decided to use powdered sugar in my recipe for the quality of smoothness it would add to my cookie. I changed my proportions from the traditional ones because of this. I also added vanilla because I feel it adds some additional flavor. Since I use unsalted butter, I  added a very small amount of sea salt. The result was a shortbread cookie that will be a flavorful delight for anyone who loves shortbread!
Homemade Shortbread Cookies (makes 55 to 60 cookies)
3 cups unsalted butter at room temperature
3 cups powdered sugar
3 tablespoons pure vanilla extract
6 cups all-purpose flour
1/4 teaspoon sea salt
2 tablespoons granulated sugar to sprinkle across the top (two 9″ x 13″ baking dishes)
NOTE: This recipe may be divided in half in order to make one batch at a time.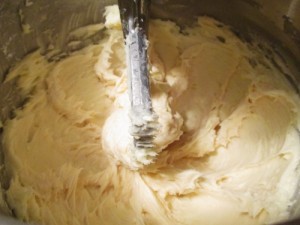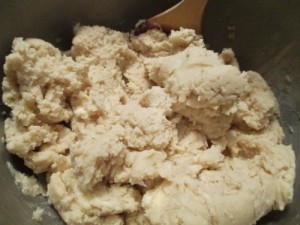 Preheat oven to 300 degrees. In your electric mixer, first cream the butter until smooth and fluffy. Add the powdered sugar to this mixture and blend it in thoroughly. Then beat in the vanilla gradually. Mix the flour and salt together and then gradually add it into the butter mixture while blending it all together in the electric mixer. You may have to blend the last of the flour mixture in using a wooden spoon at the end.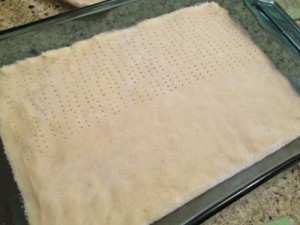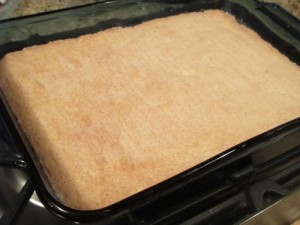 Divide the dough into two batches, and then with your fingers press it evenly across two 9″ x 13″ baking dishes. Using the tines of a fork, make a pattern of dots across the top of both batches. Then sprinkle lightly one tablespoon of granulated sugar across the entire top of both baking dishes.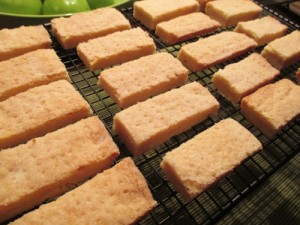 Bake at 300 degrees for 50 to 60 minutes or until edges are a light golden brown. Cut into approximately 1″ x 3″ strips using a sharp knife immediately after removing the baking dish from the oven. Leaving the strips in the baking dish, set the baking dishes on cooling racks for 30 minutes before removing the strips and placing them on a cooling rack to cool down completely.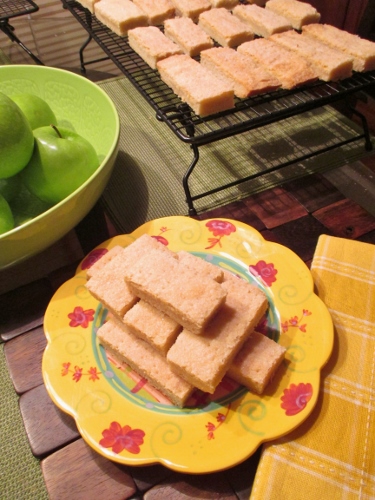 My Homemade Shortbread Cookies are buttery melt in your mouth cookies that are absolutely delicious! This recipe will give you about 55 to 60 cookies depending on how you cut the strips. If you want less, divide the recipe in half easily. Two batches or one, this simple shortbread cookie recipe will make a wonderful addition to your holiday cookie selection. They are so good, you will probably make them more often than just the holidays, so enjoy!