By Jodee Weiland
I have always wanted to make bread pudding, simply because I love it! Bread pudding is a great way to make a dessert out of day old bread. I often serve crusty loafs of fresh bread with a meal, so when I had a half loaf left from the day before, I decided to make bread pudding. First, I researched tons of recipes, and then I took what I liked about all of them and blended it into a recipe I thought would taste good. I altered a few options somewhat, but nothing that would take away from the basics of bread pudding. With the decisions I made, I wasn't wrong because the results were delicious. My Classic Bread Pudding with Fruit and Nuts turned out great, and we'll be enjoying this recipe for a long time to come!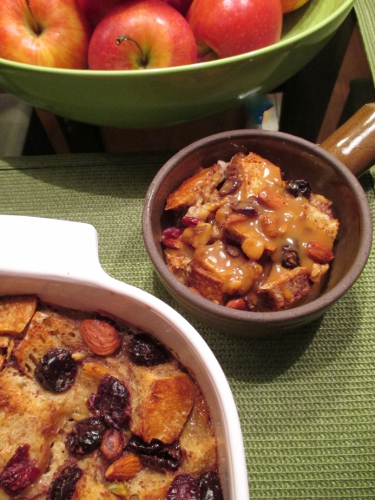 For one thing, I decided to use light brown sugar in my recipe and less of it. Why? Because with all the sauces available to put on top of bread pudding, I felt this dish would be sweet enough. Since I decided to use a drizzle of salted caramel topping I had purchased earlier, I felt that would definitely add sweetness. Personally, I love bread pudding with or without sauce. I also used almond milk in place of milk. The bread I used was from a crusty loaf of freshly baked bread as well. In addition to the bread, I added a mixture of raisins, dried cranberries, walnuts, almonds, and other nuts. Again the dried fruit would add to the sweetness of the bread pudding, and the whole almonds plus other nuts add a crunch. Together, all of the ingredients made a wonderful bread pudding!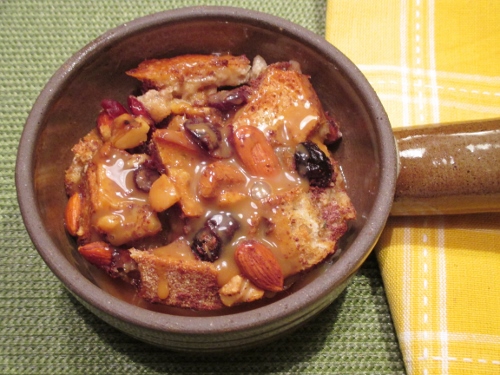 Classic Bread Pudding with Fruit and Nuts
1/2 loaf fresh baked crusty bread or 5 to 6 slices
2 tablespoons melted unsalted whipped butter
3/4 cup mixture of dried fruits and nuts (see above for what I used)
4 eggs beaten
2 cups almond milk
1/2 cup light brown sugar
1 and 1/2 teaspoon pure vanilla extract
1 teaspoon cinnamon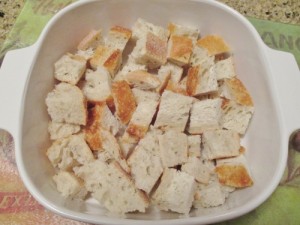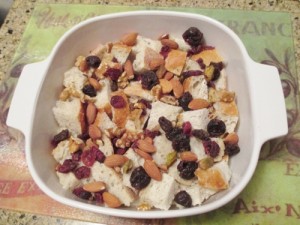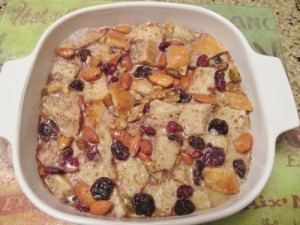 Preheat the oven to 350 degrees. Cut up bread into cubes and put them in an eight inch square baking dish. Sprinkle the fruit and nuts across the top of the bread. Melt the butter and drizzle it across the top.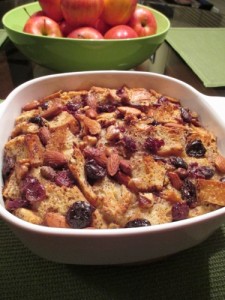 In a mixing bowl, blend together thoroughly the eggs, almond milk, brown sugar, vanilla, and cinnamon. Beat together until mixed well. Then pour this mixture over the top of the bread, fruit, and nuts. Using a fork or spatula push down lightly on the bread pieces making sure all the bread is soaked well with the liquid mixture.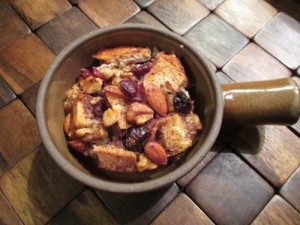 Bake the bread pudding 45 minutes or until done. Test by pressing a fork lightly on the top. It should spring back. Also, put a fork or toothpick in the center and make sure it comes out clean when removed. Once done, serve as is or with a sauce of your choice.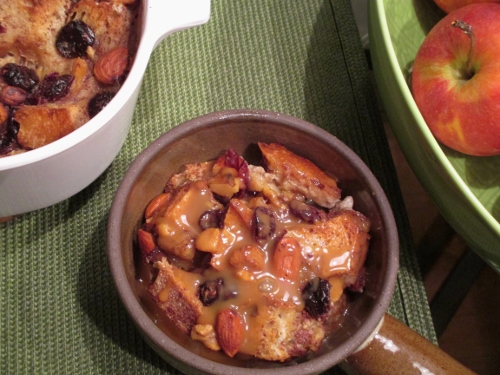 My Classic Bread Pudding with Fruit and Nuts turned out great, and we'll be enjoying this recipe for a long time to come! As it cooked, the whole house smelled so good, we could hardly wait to try it. When we did, we weren't disappointed. We drizzled a salted caramel sauce over the top, and that added to the flavor. You can use any kind of sauce you prefer or make one of your own. Since this was the first time I made bread pudding, I'm still working on that. Give this dish a try soon. You'll love it, so enjoy!