By Jodee Weiland
With fall here and winter coming up soon, the season has arrived when everyone appreciates a hot bowl of soup. Soup recipes help ease us into cooler weather by warming us up when the temperatures drop and taking the the chill away. Sometimes a bowl of hearty soup and some good crusty bread can be just what we need to feel warm again. I'm not a big fan of winter, but I am a fan of Savory Fall Soups.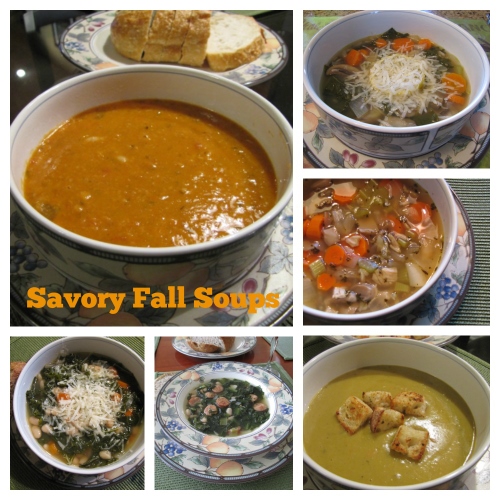 My soup recipes that I have included here are delicious, satisfying, and will definitely help warm up the cooler days ahead. One recipe is made with leftover turkey and is a great way to use your Thanksgiving turkey leftovers. Two of the soup recipes use kale, one with a lot of vegetables and the other with navy beans and vegetables. Another soup recipe uses escarole with navy beans and chicken sausage. The final two soups are two of my favorites, a savory white bean soup with tomato and finally, a tasty split pea soup. All of these soups are absolutely delicious and healthy as well. So whichever one you choose to make, I feel certain you will love it.
In the fall and winter, I love fires in the fireplace and Savory Fall Soups. I even enjoy sitting outdoors around a fire pit enjoying the fall weather, if it isn't too cold outside. These Savory Fall Soups will help warm up the cold days and leave everyone feeling satisfied. Just click on the following links to find each recipe, enjoy!
Enjoy!