By Jodee Weiland
Lately, it seems we are always on the go early in the morning, so I decided to make a bagel sandwich that can be made ahead and reheated for about twenty to thirty seconds in the microwave. It was important to me that this bagel sandwich not only tasted good, but was healthy as well. Just because you are in a hurry, that doesn't mean you can't choose a healthy homemade bagel sandwich over a fast food version. My On the Go Bagel Sandwich with Egg Whites, Spinach, and Cheese is delicious, easy to do, and healthy!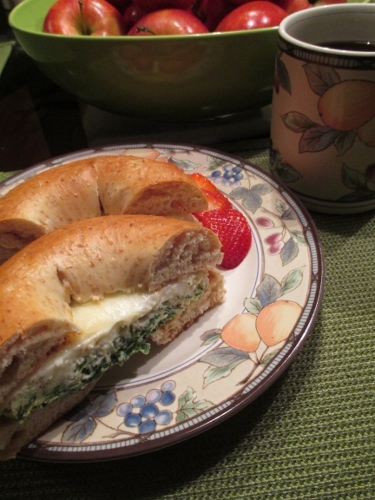 Buying bakery fresh bagels are always my first choice. I like to know I'm getting bagels with all natural ingredients whenever I can. I also buy sliced low fat cheese for a recipe like this. Why add extra calories to your bagel sandwich unnecessarily? You always have the option of adding a round slice of Canadian bacon/ham if you would like, but I made mine without the ham for us. If you are watching your salt intake, ham is not really necessary to a good bagel sandwich. For the eggs, I always use egg whites and in this case, added fresh cut up spinach, fresh chives, and sea salt and fresh ground black pepper to taste. You can add vegetables you choose, but I like spinach or kale.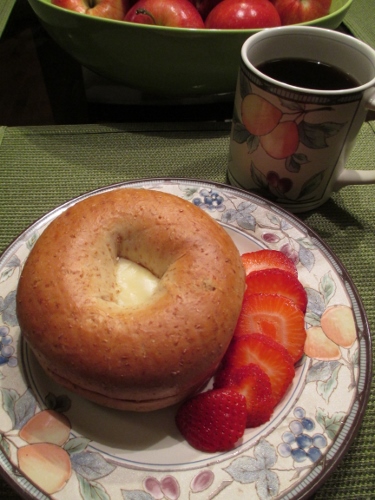 On the Go Bagel Sandwich with Egg Whites, Spinach, and Cheese
2 honey wheat or multigrain bagels
2 slices low fat cheese of your choice (I used provolone)
2 slices round Canadian bacon/ham (optional)
6 egg whites
3/4 cup fresh leaf spinach cut up
1 teaspoon fresh chives cut up
1/4 teaspoon unsalted whipped butter
Sea salt and fresh ground black pepper to taste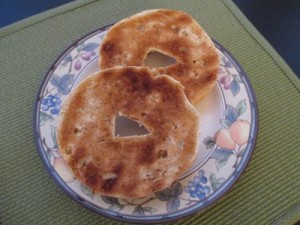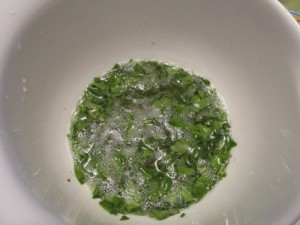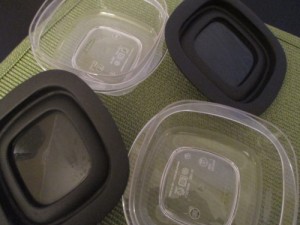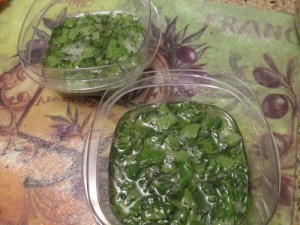 Slice the two bagels and toast. Mix together in a bowl the egg whites, spinach, chives, sea salt, and ground black pepper. Spray or coat with olive oil two small microwaveable containers. I used some clear plastic 1.25 cup containers with lids that I have from Rubbermaid. These containers worked well because I could loosely cover them with the lids laid offset on the top. Divide the egg mixture into the two containers, cover loosely with a lid or saran wrap and place in the microwave.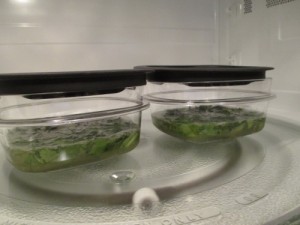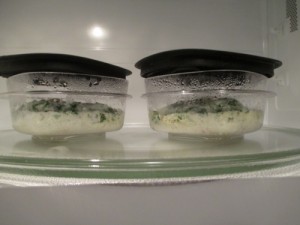 Microwave for 50 seconds or for two eggs, stopping halfway through to slide a knife around the sides and add half the butter to the center of each lightly stirring in with the knife. Cover again and finish microwaving for the remainder of the first 50 seconds. Then microwave for 50 seconds or for two eggs again, still with a loose cover over the container.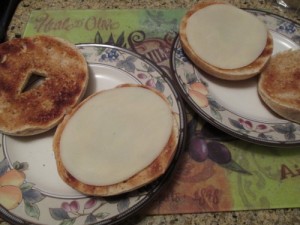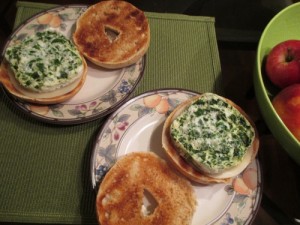 Remove from the containers from the microwave and let sit for one minute or more. The eggs will finish cooking. In the meantime, put a slice of cheese on one half of each bagel.  When ready and still hot, run the knife around the sides the egg container again, and with a spatula, remove each one carefully from the containers and place on the bagel half with the slice of cheese. This will melt the cheese. If using Canadian bacon/ham, add it now. Close the bagel sandwich by placing the other bagel half on top, and you are ready to eat or wrap in aluminum foil your bagel sandwich to go! You can make this the night before and refrigerate. Simply unwrap your sandwich in the morning, reheat it for 20 to 30 seconds, re-wrap in the foil, and go!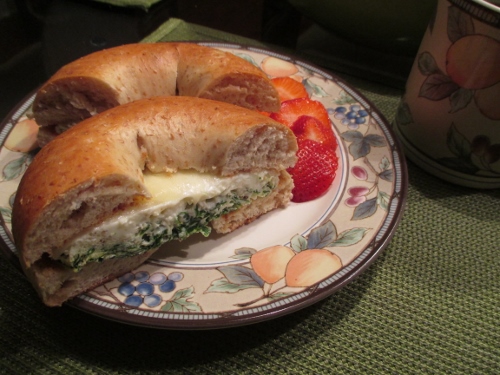 My On the Go Bagel Sandwich with Egg Whites, Spinach, and Cheese is a great way to eat a delicious and healthy bagel sandwich when you are in a hurry! If you're driving alone, re-heat and eat your bagel sandwich when you arrive at work, so you can drive safely! Or eat before you leave for work. You will save time in the morning making your morning rush easier. If you are sharing the drive on a longer trip, take turns driving, so each of you can enjoy your bagel sandwich. However you do this, be safe, have a great breakfast, and enjoy!