By Jodee Weiland
Zucchini spaghetti is a great way to stay healthy and have your "pasta", too. I love the versatility of zucchini spaghetti and with a veggie spiralizer, it couldn't be easier. There are several ways to make zucchini spaghetti, but since I bought my veggie spiralizer, I couldn't imagine making this dish any other way. Since I had some fresh tomatoes to use, I decided to make Healthy Zucchini Spaghetti with Tomato Basil Sauce for dinner, and it was absolutely delicious and definitely healthy!
A while back, I found out that you can prepare the zucchini spaghetti with a julienne peeler, a mandoline with a julienne blade, or with a veggie spiralizer type product. I chose the veggie spiralizer type product for a number of reasons after reading reviews and checking prices. The one I chose was at a store that gives 20% discounts with their coupons, so the price was under $25 with tax. Also, the product I chose was made basically the same as a more expensive version at another store and both had similar reviews. Last of all, after looking into it, this product made preparing the zucchini so easy, it cut the time of preparation down tremendously.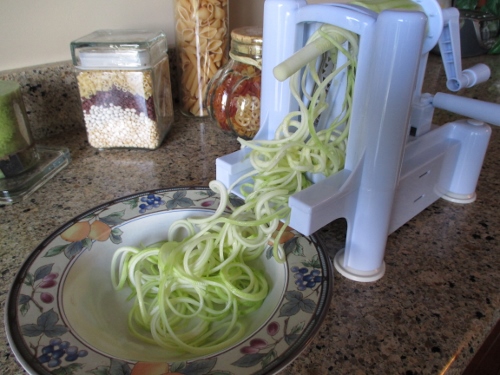 For this dish, I began my preparation the same way I did when I made my Zucchini Spaghetti with Olive Oil, Garlic, and Fresh Tomatoes. I prepared my zucchini and set it aside to drain, while I prepared my tomato basil sauce using my fresh tomatoes from the garden. The recipe is similar to my marinara sauce with a few differences. In this sauce I use the addition of fresh tomatoes, and I eliminate the tomato paste and water, but for the most part, they are very similar. The main thing is my Healthy Zucchini Spaghetti with Tomato Basil Sauce is awesome, and you will definitely want to have it again.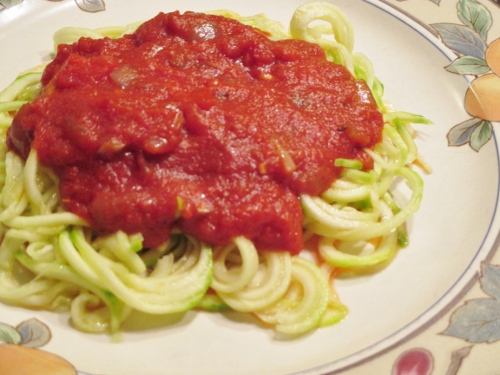 Healthy Zucchini Spaghetti with Tomato Basil Sauce
For zucchini spaghetti:
3 medium zucchini cleaned and skin removed (skin may be left on if preferred)
1 tablespoon extra-virgin olive oil
1 garlic clove chopped
Sea salt
Prepare the zucchini first by peeling it and cutting it into long thin spaghetti like strands with a veggie spiralizer, a julienne peeler, or a mandoline with a julienne blade. Lightly salt the zucchini strands and put them into a colander for about thirty minutes or longer, placing the collander in a large bowl, so the moisture in the zucchini can drain off. Toss and squeeze lightly every once in a while until ready. You will use the olive oil and garlic when you lightly heat the zucchini later.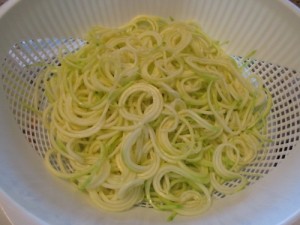 For the tomato basil sauce:
2 tablespoons extra-virgin olive oil
2 garlic cloves chopped
1 medium onion chopped or sliced
1 teaspoon basil or use 1 tablespoon fresh basil cut up
1/2 teaspoon dried or ground oregano
1/2 teaspoon ground red pepper (optional)
1 tablespoon sugar (some people prefer to use 2 carrots finely shredded or chopped for sweetness)
1 cup pureed fresh tomatoes (puree in a blender or food processor)
28 ounce can crushed tomatoes or tomato puree
Freshly grated imported Parmesan Reggiano cheese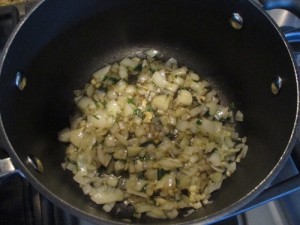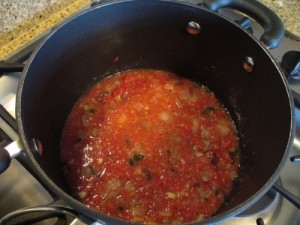 Sauté onions, garlic, basil, and oregano in olive oil and stir together. Then add your fresh tomato puree and the can of crushed or puree tomatoes.  Add in the sugar if you do not use carrots.  If using carrots, sauté the carrots with the onions, garlic, and mushrooms. Let the sauce begin to bubble and then cover the pot lowering the heat to simmer for about 20 minutes or longer, stirring every so often.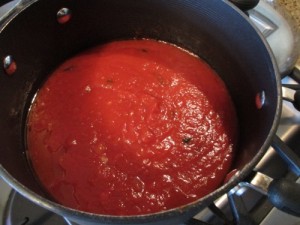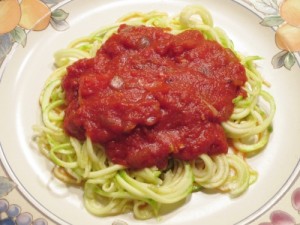 When the sauce is just about ready, drain and squeeze the zucchini spaghetti. Then put the zucchini in your serving bowl or dish, being sure to drain off any excess liquid.  There may be some left, but this will not hurt the flavor of your dish. Last of all, add your sauce to your zucchini and when ready, toss lightly.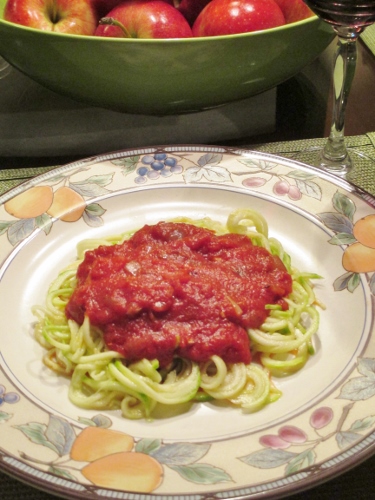 My Healthy Zucchini Spaghetti with Tomato Basil Sauce is so delicious, while definitely healthy! Serve this dish with freshly grated imported Parmesan Reggiano cheese for those who like it, a crusty loaf of bread, and a glass of red wine. Some people think this meal will not be filling, but they are wrong. Not only is it filling, but if you want some frozen yogurt for dessert, you won't feel the least bit guilty about it. So try this wonderful dish, and enjoy!