By Jodee Weiland
The fall is a great time for apple recipes! Families love to go apple picking in the fall, only to return home and start digging out the favorite family apple recipes to make. My family is no different from everyone else. We, too, loved to take the children apple picking every fall and sure enough, when we arrived home we pulled out our favorite family apple recipes to bake. The one other thing we have done over the years is to add to those apple recipes with new ones we created or found along the way. The Awesome Apple-Delicious Recipes are just a few of our favorites!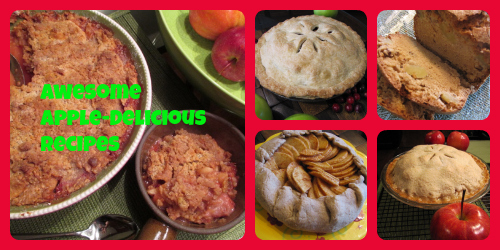 So if you are looking for some new apple recipes after apple picking, be sure to check out our five favorite family Awesome Apple-Delicious Recipes pictured above. You can find them at the following links for the pictures from right to left as follows:
Apple Strawberry Crumb Cobbler
Apple Cranberry Walnut Pie…Sweet, Juicy, and Delicious!
Apple Walnut Bread…For Apple Picking Time or Just Any Time
Apple Galette, the Versatile French Pastry We All Love to Eat!  
Sweet Juicy Homemade Apple Pie is Perfect for Apple Picking Time!
My Awesome Apple-Delicious Recipes are absolutely wonderful and definitely are our family favorites for apple picking time or any time. These apple recipes are great tasting and so full of wonderful flavor! You won't be disappointed if you try any one or all of these recipes after your family returns from apple picking or any time of the year. So when you're looking for a new apple recipe to try, give one or all of these delicious recipes a try, and enjoy!