By Jodee Weiland
Looking for an easy apple recipe? Apple cobbler is one of the easiest recipes I can think of for when I want an apple recipe that's easy and delicious. A cobbler, by definition, is filling a baking dish with fruit or some sort of filling and then covering that filling with a batter of some sort, one biscuit or more biscuits, or a kind of pie crust topping before being baked. I decided to make an apple recipe that could be called an apple cobbler, but my recipe has a topping that is crumbly and tasty along with the addition of some fresh strawberries, so I decided to call it Apple Strawberry Crumb Cobbler.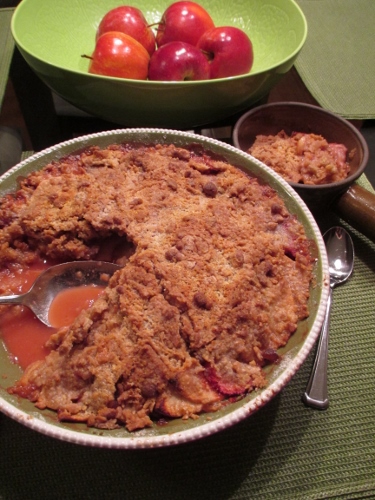 When making my topping for my apple recipe, I used light brown sugar instead of regular sugar with the flour and other ingredients. I sprinkled this dry crumbly topping over the entire surface of my fresh apple and strawberry fruit filling. After covering the top of the fruit, I spooned melted butter across most of the top. I reserved part of the butter to spoon over any small spots on the topping that were still dry and the rest of the top area during the last five minutes of cooking. Doing the butter in this way gave me a golden brown topping that was both crumbly and had a rich buttery flavor as well. This lightly sweet buttery topping with contrast of the fruit tossed lightly in lemon juice gives this Apple Strawberry Crumb Cobbler an incredibly delicious flavor that will amaze you!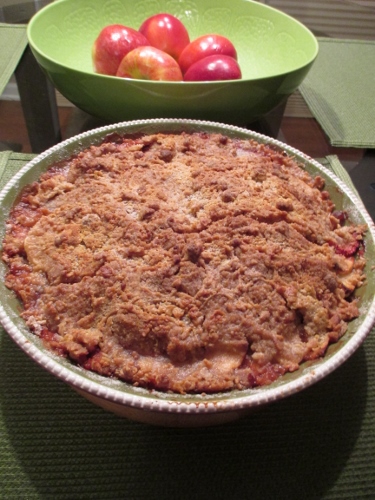 Apple Strawberry Crumb Cobbler
5 Gala apples (or any apple type) peeled, cored, and sliced
1 and 1/2 cups sliced fresh strawberries
2 tablespoons lemon juice
1 and 1/2 cups all-purpose flour
1 cup light brown sugar
1 teaspoon cinnamon
1/4 teaspoon nutmeg
1 large egg
3/4 cup melted unsalted whipped butter (1/4 cup of this is for last five minutes)
Preheat oven to 350 degrees. Toss gently the apples and strawberries with the lemon juice in a bowl. Spoon them evenly into a 10 inch round baking dish. In another bowl, mix together the flour, brown sugar, cinnamon, nutmeg, and egg. Mix together until the mixture is crumbly and blended together. Sprinkle this mixture over the entire surface of the fruit in the baking dish. When done, melt 1/2 cup butter (not the whole 3/4 cup of butter) and then spoon the butter carefully over as much of the topping as possible.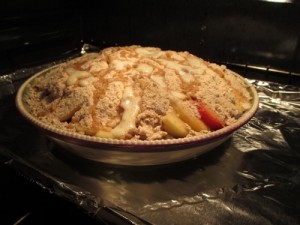 There will be some spots not quite covered at this point, but you will be covering those in the last five minutes of baking, so don't worry. Put the baking dish on a foil lined baking sheet in case any juices drip over. Bake your cobbler at 350 degrees for 50 to 60 minutes or until the filling is bubbly and the topping is golden brown. Mine took 60 minutes to bake completely. When you think you have about five minutes left, have your remaining 1/4 cup melted butter ready to spoon on any dry spots in the topping and then over the rest of the top surface. After the last five minutes, remove from the oven and let it sit for a few minutes before spooning servings on to plates.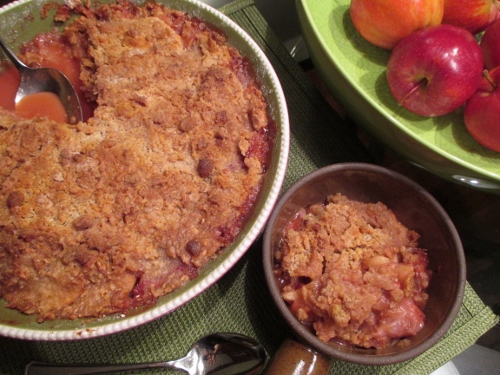 My Apple Strawberry Crumb Cobbler is an apple recipe filled with fruit that has a slight touch of lemon flavor to contrast the lightly sweet buttery crumb topping. The incredible flavor combination here is beyond delicious. We loved it! Serve this cobbler as is or top it off with ice cream or gelato. Either way, this dessert will soon become one of your family's favorite apple recipes. It definitely is one of our favorites, and the best part is that it's so easy to make. Give it a try, and enjoy!