By Jodee Weiland
Family members having been asking for a fast breakfast idea lately and although baked oatmeal is not fast, it can be done ahead and reheated later when you're ready to eat. Just reheat a square of baked oatmeal in a matter of seconds in the microwave in the morning. Add some fresh fruit to go along with that and baked oatmeal makes a great way to start your day with very little effort. My Delicious Baked Oatmeal with Peaches is healthy as well as a great tasting way to start your day!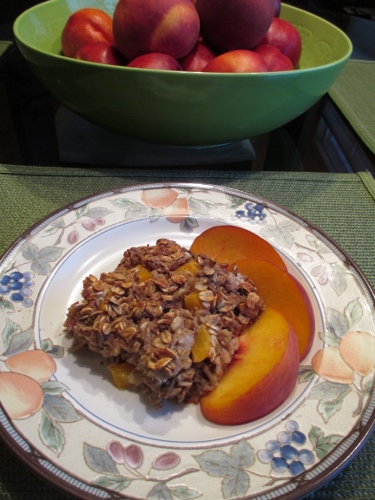 In order to keep my recipe as healthy as possible, I used Old Fashioned Quaker Oats and added fresh peaches, almond milk, honey, cinnamon, vanilla, egg whites, and organic honey. To this I added some baking powder and a small amount of sea salt. Once baked, these ingredients created a baked oatmeal that tasted just sweet enough and allowed the sweetness of the peaches in the recipe to give this dish its unique flavor. If more sweetness is desired, serving the baked oatmeal with fresh sliced peaches on the side will add still more natural sweetness.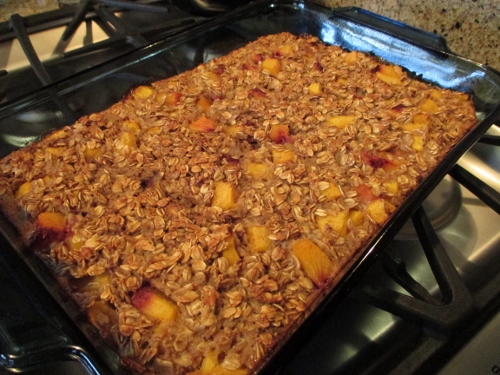 Delicious Baked Oatmeal with Peaches
4 cups Quaker Old Fashioned Oats
2 teaspoons cinnamon
2 teaspoons baking powder
1/2 teaspoon sea salt
2 cups almond milk
1 and 1/2 tablespoons pure vanilla
4 egg whites
4 tablespoons organic honey
3 large peaches peeled, pit removed, and diced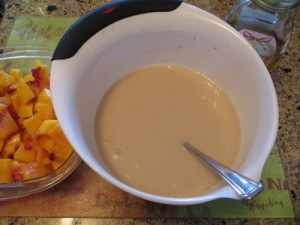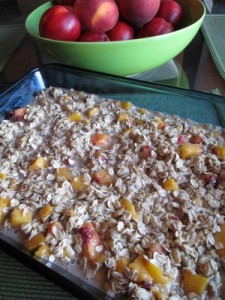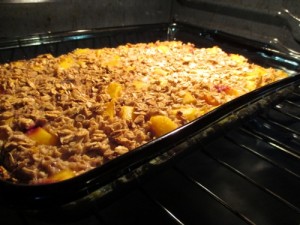 Preheat the oven to 375 degrees. Use olive oil to coat and prepare a 13" x 9" baking dish. Mix together the oats, cinnamon, baking powder, and sea salt. In another bowl, mix together with a whisk the almond milk, vanilla, egg whites, and organic honey. Blend this mixture into the dry ingredients. Then add in the peaches to this mixture and stir them in carefully. Once done, pour and spread the oatmeal mixture evenly into the prepared baking dish. Place the baking dish on a rack that is centered in the oven and puts the baking dish in the upper half of the oven. Bake at 375 degrees for 45 minutes. When done, allow the baking dish to sit for about 10 minutes before cutting the baked oats in squares to serve or simply spoon out a serving.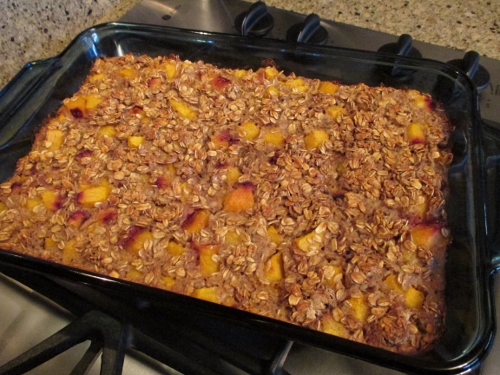 My Delicious Baked Oatmeal with Peaches tastes wonderful and when served with freshly sliced peaches, it is beyond delicious! This breakfast recipe is so good, and best of all, you can bake it ahead, cover it, refrigerate it, and then later reheat it. It's healthy while being delicious tasting, so you may want it for more than just breakfast. Topped with vanilla ice cream and freshly sliced peaches, this would make a great dessert as well. However you decide to eat this baked oatmeal, you will love it, so enjoy!