By Jodee Weiland
Growing up in an Italian family, it was not unusual for my mother to make escarole with navy beans as a side dish. With this side dish, sometimes she would cook Italian sausage. Escarole with navy beans was always a favorite dish of mine. So today I decided to use my garden fresh escarole in a new recipe for escarole soup. I love escarole in chicken broth, a classic Italian escarole soup, but for my escarole soup I added something more than broth. My Escarole Soup with Chicken Sausage and Navy Beans was the result, and it was delicious!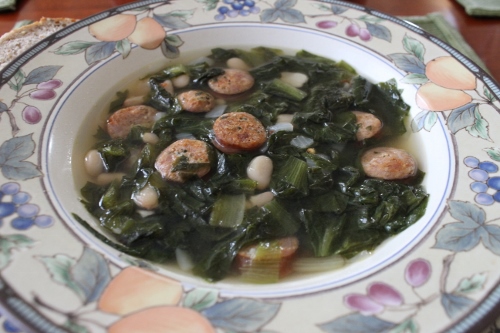 The classic Italian escarole in chicken broth is usually eaten with a little grated Parmesan Reggiano cheese sprinkled on it. It's delicious and such a simple soup to make. In my escarole soup, I decided to add Italian chicken sausage which is healthier than regular Italian sausage. Then I added the navy beans that tasted so good in my mother's escarole and bean side dish. The result was a somewhat heartier escarole soup than the traditional escarole in chicken broth, and it tasted wonderful!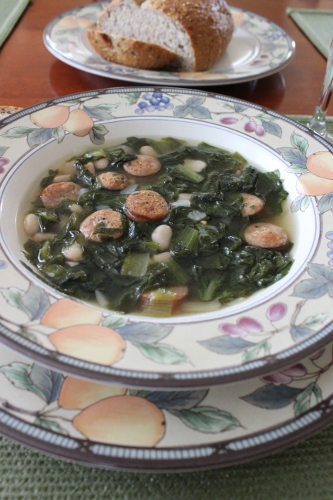 Escarole Soup with Chicken Sausage and Navy Beans
5 to 6 Italian Chicken Sausage Mild sliced
2 tablespoons extra virgin olive oil
4 garlic cloves chopped
1/2 onion chopped
About 1 pound escarole cut up
2 bay leaves
60 to 64 ounces all natural chicken broth
2 cans navy beans drained and rinsed
Sea salt to taste
1/2 teaspoon crushed red pepper or more to taste (optional)
Grated Parmesan Reggiano (optional)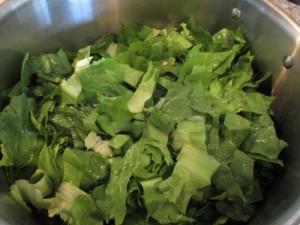 In a large pot, heat the olive oil and then put in the garlic, onions, and sliced chicken sausage. Sauté this mixture lightly for a few minutes or until the onions are slightly translucent. Once done, add the cut up escarole, stirring it into the mixture until lightly wilted and bright green. Add the bay leaves, chicken broth, navy beans, sea salt, and if you choose to use it, crushed red pepper. Stir together and raise heat to bring it to a low boil. When the soup begins to boil, lower the heat to a low simmer and continue to simmer the soup for another 20 to 25 minutes.
My Escarole Soup with Chicken Sausage and Navy Beans is a delicious way to enjoy a soup that is hearty, but not heavy. Serve this escarole soup with a crusty multigrain bread and a Chianti. Some people may enjoy sprinkling a little Parmesan Reggiano across the top of their soup, but with or without the cheese, this soup is delicious! The rich taste of the escarole, sausage, and navy beans blended together is delightful, and this escarole soup is sure to become a family favorite. Give it a try, and enjoy!