By Jodee Weiland
Homemade cookies are always so good when freshly baked. The whole house smells wonderful when baking, and cookies are no exception to that rule. That's one of things I like best about baking a fresh batch of homemade cookies. I did this more often when my children were young, but they are grown now. Still, once in a while, I will bake some homemade cookies, and one of my favorite recipes is one that came from two different recipes I had used over the years. Both recipes had things I loved, so I took what I liked best from both, changed what I didn't like, added another ingredient I liked but neither recipe had, and came up with a whole new recipe, my Coconut Chocolate Chip Cookies with Walnuts.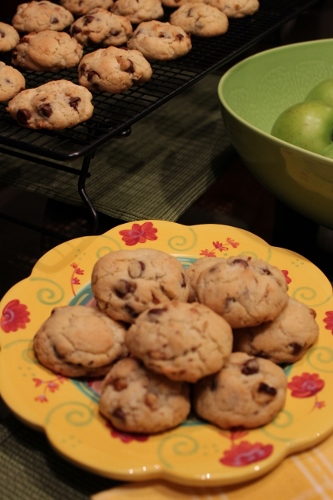 In my recipe, I adjusted ingredients to my preferences for a cookie. Although my recipe is sweet, it is not overly sweet. If you add in semi-sweet chocolate chips and sweetened coconut, you don't need to overdo the sugar by adding in too much or both brown and white sugar. I reduced the amount of chocolate chips as well, and it was more than enough. Also, if you are going to add chopped walnuts to a cookie with coconut and chocolate chips, you need more flour to hold the whole cookie together. Baking soda and salt are common ingredients in cookie recipes, but I prefer to use as little as possible. In the end, what's important is the overall taste of the cookie, and my Coconut Chocolate Chip Cookies with Walnuts are delicious and a family favorite!
Coconut Chocolate Chip Cookies with Walnuts
1/2 cup unsalted butter softened
3/4 cups sugar 1 egg
3/4 teaspoon coconut extract
1/2 teaspoon baking soda
1/2 teaspoon salt
1 and 1/2 cups all-purpose flour
1/2 cup sweetened coconut flakes
1/2 cup chopped walnuts
3/4 cup semi-sweet chocolate chips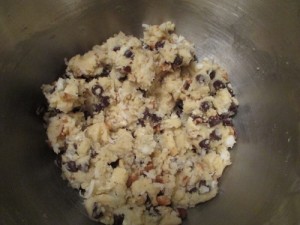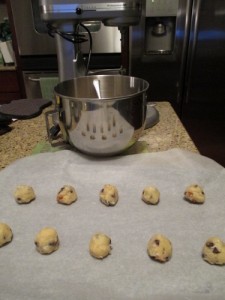 Preheat oven to 375 degrees. Cover baking sheets with parchment paper, if preferred. With a mixer, cream together the butter, sugar, egg, and coconut extract. Combine the flour, baking soda, and salt in another bowl. Add your dry ingredients to the creamed mixture and blend together. Then with a spoon, add in your chocolate chips, coconut, and walnuts, blending all the ingredients together.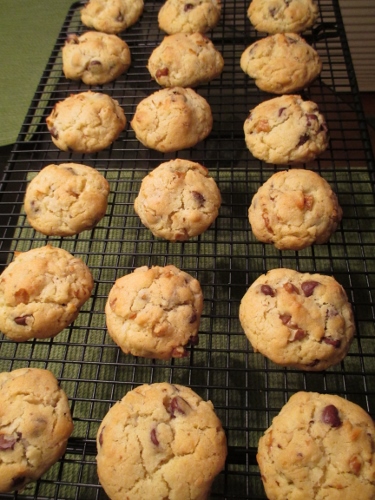 Once blended together, take enough to make about a one inch ball of dough. Place the balls on a prepared cookie sheet about two inches apart. I use parchment paper on my cookie sheets for a quicker clean-up process, but you do not need to do this. When you have a full cookie sheet ready, place it in the oven and bake at 375 degrees for 11 to 13 minutes or until they turn a light golden brown. When ready, set on a cooling rack. My cookies took 12 minutes to bake. This recipes makes about 28 cookies.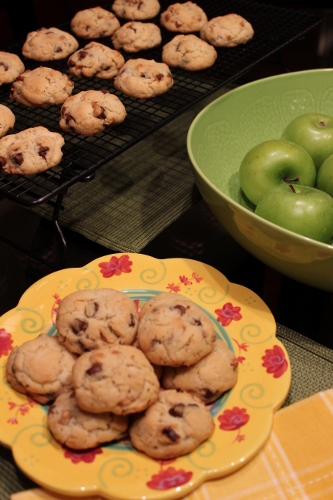 My Coconut Chocolate Chip Cookies with Walnuts are delicious and so full of flavor! I love the flavors of coconut with chocolate and walnuts. The flavor in this cookie is the best and will remind you of warm cookies and milk from your childhood, only better. What a great feeling to have! Warm cookies remind me of home and family, and for me, that's the best feeling ever. So try these cookies and see what they remind you of or make a new memory with those you love, and enjoy!