By Jodee Weiland
When making a meal like pasta, stew, or soup, it's always great to have a crusty bread to serve with it. So many dishes are enhanced by adding crusty bread to your meal, but especially if your crusty bread is homemade. My Delicious Homemade Crusty Bread is not only delicious to eat with a great meal, but if done right, it's great by itself straight from the oven.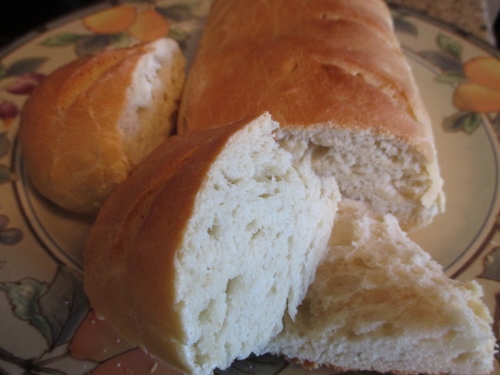 My father used to love to break off a crusty piece of bread from the loaf and have it with a little cheese and a glass of red wine. He thought this was a great snack any time and honestly, I can't disagree! He always chose a hard imported provolone and if he had it on hand, he would add a slice of hard Italian salami. But many times, he chose to have just the slice of fresh crusty bread! My Delicious Homemade Crusty Bread is the type of bread my father would have loved, crusty on the outside and a light airy bread on the inside!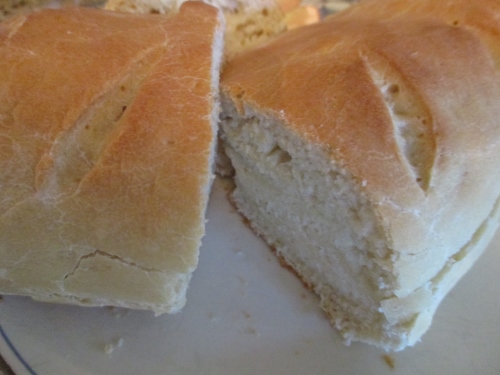 Delicious Homemade Crusty Bread
3 and 1/2 cups bread flour (the last 1/4 cup or less to be added as needed)
1/2 teaspoon salt
1 tablespoon sugar
1 teaspoon active dry yeast
1 and 1/2 cups warm water (1/2 cup of this will be for the yeast mixture)
2 tablespoons extra virgin olive oil
Preheat oven to 375 degrees.  Prepare the baking sheet by misting olive oil over the baking sheet lightly. Then in a small mixing bowl, mix 1 teaspoon of active dry yeast and a pinch of sugar with 1/2 cup of warm water that is water that is warm to the touch, about 100 degrees. Stir this and let it rest for about 10 minutes until it becomes foamy.
Then in a large mixing bowl, gradually blend together the flour, salt, sugar, yeast and water mixture, 2 tablespoons of olive oil, and remaining water as you begin to work this with your hands into dough. At first, you may blend the ingredients with a spoon, but as it thickens you will work it with your hands. Once your dough is all blended, continue to work the dough with your hands and begin to knead the dough for about 8 to 10 minutes. Do this on a flat surface, where you will add flour as you go to the surface to keep your dough from sticking.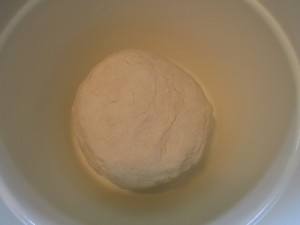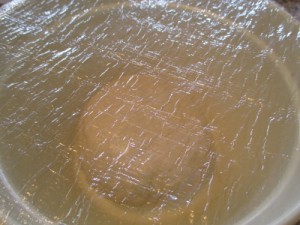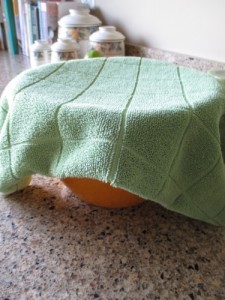 Once done, place your ball of dough into a bowl, smoothing a touch of olive oil over the dough and over the sides of the bowl.  Cover the bowl loosely with plastic wrap and then with a clean towel over that for about 30 to 40 minutes or longer and let it rest.  It should double in size.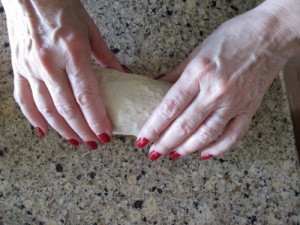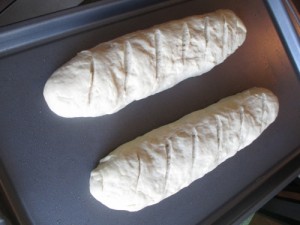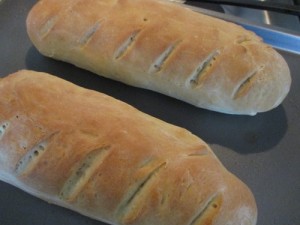 Remove the dough from the bowl and knead it again before shaping into two long narrow loaves. Place your loaves on the prepared baking sheet and cover loosely with the plastic wrap from the bowl and a towel while it sits.  Once again, it should double in size.  Then with a sharp knife cut (1/4 inch deep) slits diagonally across the top of the loaf.  Put the bread into the preheated oven and bake at 375 degrees for 25 to 35 minutes.  My bread took about 30 minutes to bake.  Allow bread to cool briefly before cutting and serving, although in my family, they start cutting or breaking off pieces as soon as it cools just enough to be able to touch.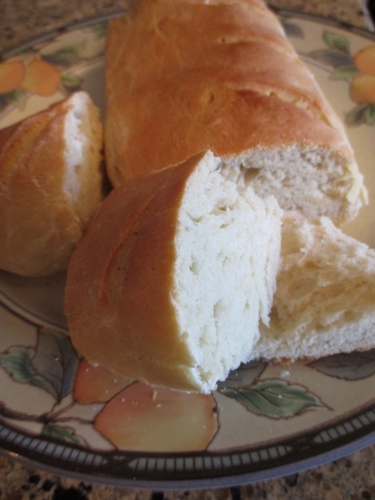 My Delicious Homemade Crusty Bread is so good with its crusty outside and a light airy bread on the inside. This bread is the perfect complement to any meal, but with the fall coming, it will be a great side for soups, stews, and other hearty meals. You can always eat it on its own like my dad did, but no matter how you choose to eat this bread you will always come back for more. We love this bread, especially fresh from the oven. Give it a try, and enjoy!