By Jodee Weiland
When baking tilapia, your options for adding flavor are unlimited. One way to add flavor is to cook the tilapia with a sauce or seasonings. Another option is to add a sauce or salsa of some sort when serving the cooked tilapia by spooning it over the fish. Either way, changing the taste is limited only by your own imagination. With a garden of fresh tomatoes, green onions, peppers, and more, I decided to serve my baked Tilapia with Spicy Fresh Balsamic Tomato Salsa.
My fresh tomatoes consist of a variety of different types. For this dish, I chose Roma tomatoes and yellow cherry tomatoes. I decided to add some green onions for flavor along with a small Dragon Cayenne pepper to add a little more flavor and kick. Of course, if you don't like spicy, then you can always make the recipe for the fresh balsamic tomato salsa without the pepper. Either way, it's a delicious salsa full of flavor and will take your baked tilapia over the top in taste!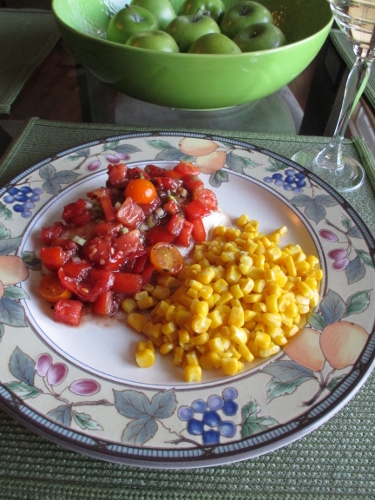 Tilapia with Spicy Fresh Balsamic Tomato Salsa 
3 to 4 tilapia fillets
5 to 6 Roma tomatoes diced
4 to 5 yellow cherry tomatoes halved
2 green onions sliced
1 small Dragon Cayenne pepper (optional)
2 tablespoons extra virgin olive oil (plus some to mist baking dish and fillets)
1 tablespoon balsamic vinegar
Sea salt and freshly ground black pepper to taste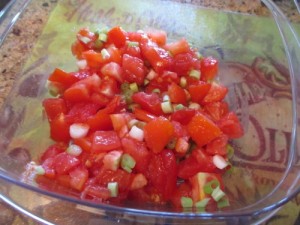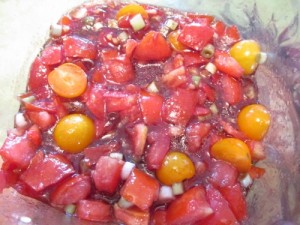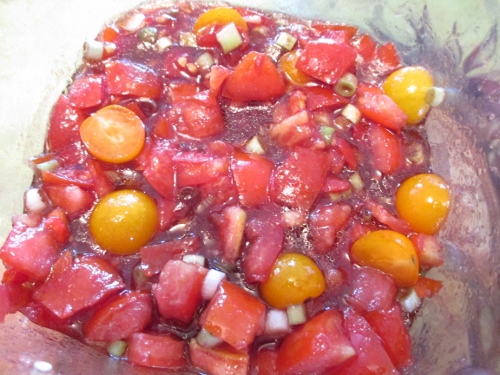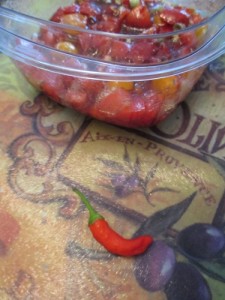 Preheat the oven to 425 degrees. Use olive oil spray on rectangular baking dish. Rinse fillets, but if they are frozen, it is not necessary to thaw them. Then arrange fillets in the baking dish. Spray a light mist of olive oil on top of each filet. Place baking dish in oven and cook for 15 to 17 minutes. While the fish is baking or before, prepare and mix together the tomatoes, green onions, pepper, olive oil, and balsamic vinegar. Season it with sea salt and black pepper to taste. When the fillets are done baking, put each fillet on a serving dish and then spoon the tomato salsa generously over the top.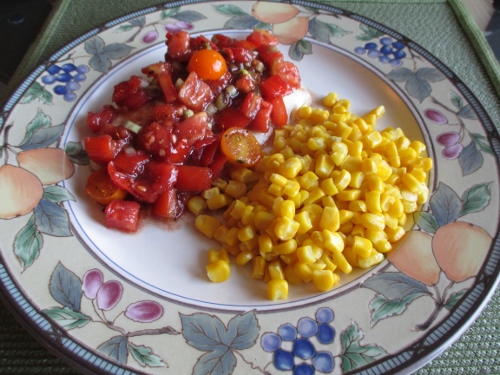 My Tilapia with Spicy Fresh Balsamic Tomato Salsa is not only delicious, but healthy as well. Full of robust fresh flavors and a great taste, your family will love it. Serve it with a side vegetable and a light white wine to complement the meal. This is an easy and quick meal to prepare, but it will taste wonderful and will satisfy you without being a heavy meal. Give it a try, and enjoy!