By Jodee Weiland
P.F. Chang's Summer Menu looks outstanding! When I first heard of this opportunity to dine out and taste the wonderful items on P.F.Chang's summer menu, I didn't hesitate. Why not? Because I love the food at P.F.Chang's and have thoroughly enjoyed dining there for years with my husband, my family, and on several occasions, with good friends! It's a very popular dining option for many people and for good reason, one of which is the tasty choice of selections on the menu. Believe me when I say, P.F.Chang's popularity with so many people comes from the fact that their menu items are delicious and full of rich flavors! Everyone who eats there will Savor the Flavors of P.F.Chang's Summer Menu and more!

When my husband and I set out to try P.F.Chang's Summer Menu, we had a list of menu items from which to choose. Naturally, it would be impossible for the two of us to try them all, but we did our best to try as many as possible. Before we went to dinner, we checked out P.F.Chang's Summer Menu online. All the choices looked wonderful, so it was hard to decide which ones we would try out. Take a look at our choices and see what you think!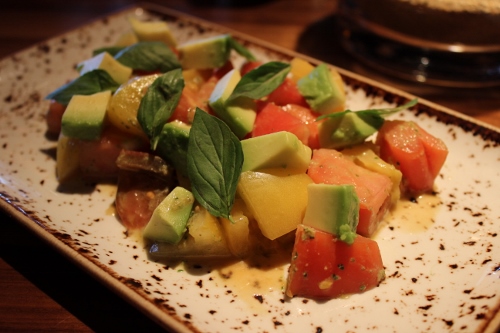 To begin our dining experience, we chose to share an Heirloom Tomato Salad from P.F.Chang's Summer Menu. This delicious salad has market-fresh heirloom tomatoes, avocado, with a Thai basil and zesty ponzu dressing. Commonly used in Japanese cuisine, ponzu is a citrus-based sauce. The dressing was perfect, and enhanced the flavors of this light fresh salad of tomatoes and avocado. We're looking forward to enjoying it again on our next visit to P.F.Chang's.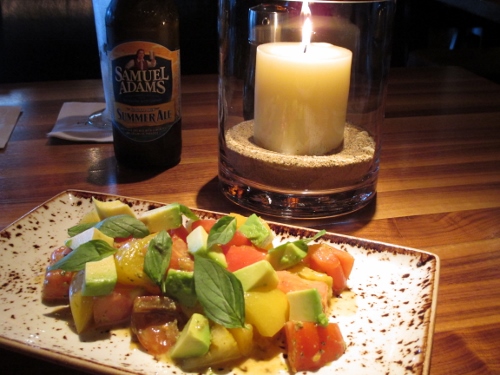 For our main meal, my husband chose the Seared Ahi Tuna with Wasabi Guacamole and decided to pair it with a Samuel Adam Summer Ale. His main course was a yellowfin tuna, seared and served rare, topped with wild baby arugula and green beans in a chili-lime ponzu sauce, served with wasabi guacamole. He loved the this flavorful light fish with a slight kick from the wasabi guacamole and thought it went very well with his Samuel Adams Summer Ale.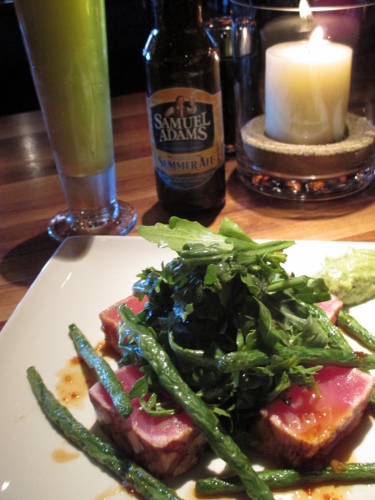 For my main meal, I chose the Chiang Mai Curry Noodles with Chicken and decided to pair it with a glass of S.A. Prum "Essence" Riesling. My meal was sliced chicken breast wok-tossed with egg noodles, Fresno peppers, cilantro and a coconut curry infused broth and then garnished with Brussel sprouts, and topped with crispy wontons. Fabulous and full of rich flavors, when this dish was gently tossed with the crispy wontons, which added a slight crunchiness to the rest, it was absolutely delicious. Being a dish with noodles and such a generous serving, I ended up with some leftover to take home with me.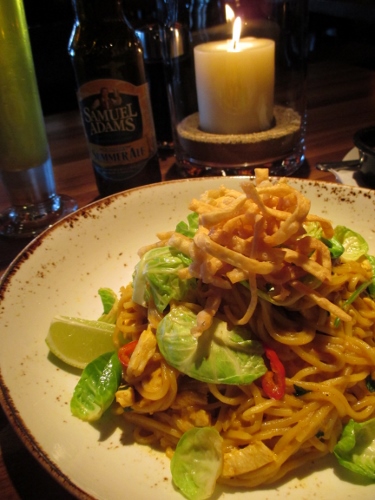 Both of the main course selections we made were definitely winners with us and would easily be selected again on a return visit. My husband often tries something new, but I'm a little more hesitant to do so once I find something I love. Since I always seem to order P.F.Chang's Spicy Chicken, this should tell you something about P.F.Chang's Summer Menu! Based on this new taste experience, and the fact that everything so far was so good, we didn't stop there!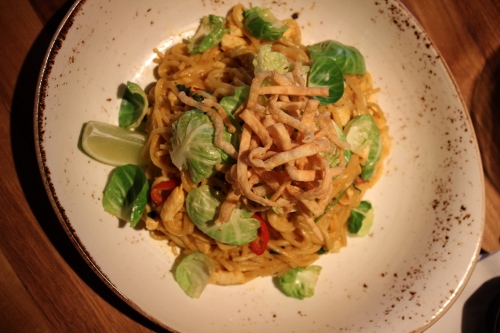 We both decided to order an extra dish we could share, so we could try it out. We knew we wouldn't finish it, but that was okay with us because we could take it home with our leftovers. Leftovers from P.F.Chang's are always great the next day. So the final dish we decided to try was the Orange Peel Shrimp. This is shrimp done in a Hunan chili sauce with fresh orange slices and garnished with daikon sprouts. We each had a few shrimps and loved the rich flavor and taste of the sauce used with this dish. We would be taking most of this dish home with us, even though it was hard to resist not eating more of it.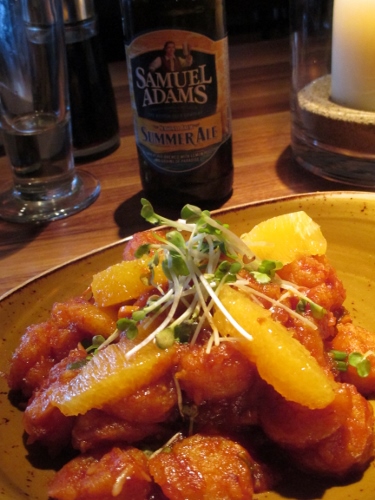 Overall, our dining experience at P.F.Chang's was fabulously successful and even though we couldn't try everything on P.F.Chang's Summer Menu, I feel certain that if everything else is as good as what we had, you can't go wrong with whichever dish you choose to have. Every dish is well prepared and full of the Asian inspired flavors P.F.Chang's is known for at over two hundred plus locations nationwide and the twenty plus international locations. The tastefully done meals they serve every day are the reason for this!
After our experience of dining at P.F.Chang's, I recommend doing the same to all of you, and don't forget to Savor the Flavors of P.F.Chang's Summer Menu, and Enter P.F.Chang's "Perfect Pairings" Contest!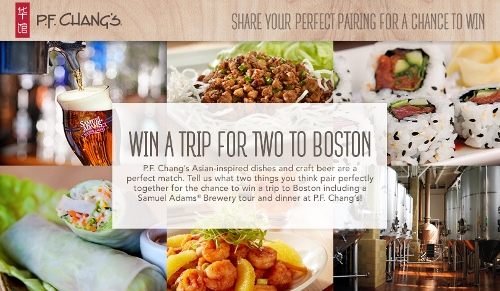 Yes, that's right! Love food and craft beer? Win a foodie trip to Boston from P.F.Chang's. They are hosting a contest called "Perfect Pairings." The contest will run until August 18th. A winner will be chosen by August 29.
Each participant will have the opportunity to win a $100 gift card and become eligible for the grand prize of a trip to Boston for an exclusive Sam Adams Brewery Tour for two, followed by a 4-course pairing dinner at the P.F.Chang's in downtown Boston.
To enter the contest visit www.pfchangs.com/perfectpairings and tell them what two things you think pair perfectly together for the chance to win a trip for two to Boston to tour the Samuel Adams Brewery and dinner at P.F.Chang's! For example, you might say, "Asian-inspired dishes go with craft beer like Seared Ahi Tuna with Wasabi Guacamole and a Samuel Adam Summer Ale." Have fun with this contest and remember to get creative! By the way, don't forget to try P.F.Chang's Summer Menu first in order to find the best pairing for you, and enjoy!
NOTE: This post is sponsored by P.F.Chang's, but my opinions are all my own. 
Thank you P.F.Chang's for sponsoring today's discussion and for the tasty dining out experience!
A special thank you to those at P.F.Chang's, in Schaumburg, Illinois, where we had this great meal, especially, Chef Aurelio Rodriguez, Market Chef Jason Klever, and our server, Ismael Salinas! You are all the best for patiently putting up with me while I took photos of each dish and helping me by giving me time to do so! You're great…thank you!