By Jodee Weiland
When cooking boneless chicken breasts, I often find myself thinking about new ways to do so deliciously. Chicken breasts are easily cooked in a wide variety of sauces, grilled with marinades or basting sauces, baked with a crust of some sort, and so many different other ways. That's why I love chicken and decided to bake it in a basil pesto sauce with lime. This turned out to be a great choice, and how I came up with my recipe for Lime Basil Pesto Chicken with Garlic Butter Kale and Sweet Corn, and believe me when I say, it's delicious!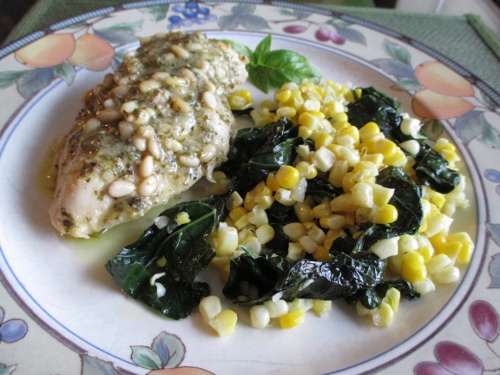 Loving a good pesto with pasta, I have always made my own basil pesto sauce. But the pesto sauce for my chicken was done a little differently, using less cheese and putting the basil nuts on the baking chicken in the last few minutes. I also added fresh lime juice to the basil pesto mixture for this chicken, giving it an additional great flavor. While cooking this, I created a new vegetable side dish for this chicken, using my garden fresh kale and some fresh sweet corn right off the cob. That recipe can be found in my post for Garlic Butter Kale and Sweet Corn, another delicious combination of healthy vegetables and a great side for this dish!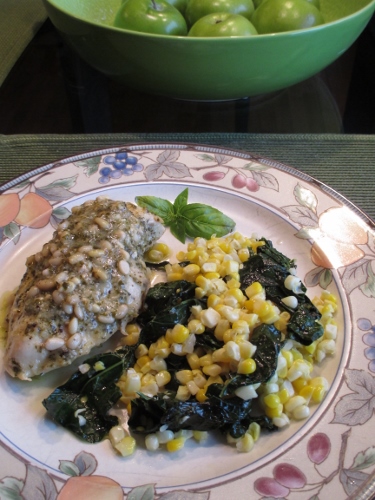 Lime Basil Pesto Chicken with Garlic Butter Kale and Sweet Corn
2 to 4 boneless chicken breasts
1 cup fresh basil leaves
1/2 cup extra virgin olive oil (plus 1 tablespoon for browning the chicken)
1 teaspoon chopped garlic
2 fresh limes juiced
1/4 cup Parmesan Reggiano cheese grated
Sea salt and fresh ground black pepper to taste
1/4 cup pine nuts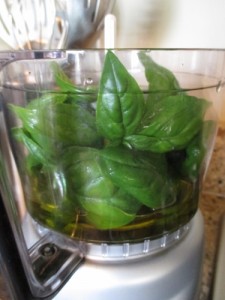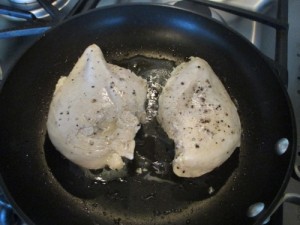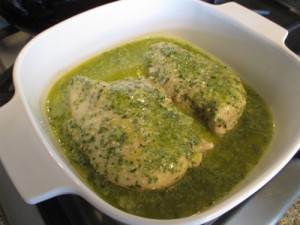 Preheat the oven to 350 degrees. Spray fresh olive oil on the baking dish for the chicken. For the lime basil pesto, blend together in a blender the half cup of olive oil, basil leaves, garlic, lime juice, cheese, and a little sea salt and ground pepper to taste. Then brown the chicken breasts lightly in 1 tablespoon of olive oil. Season the chicken breasts lightly with sea salt and ground black pepper.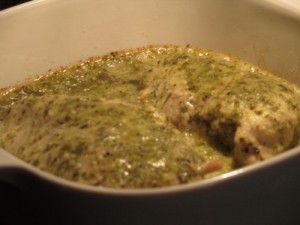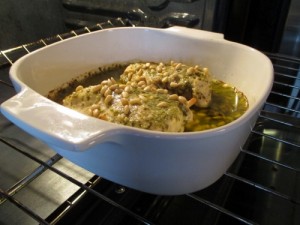 Once done, place the lightly browned chicken breasts in the baking dish. Pour the lime basil pesto over the chicken and bake uncovered for 20 minutes. Then cover the baking dish and bake for 20 minutes more. Finally, uncover the baking dish and pour the pine nuts whole over the chicken and sauce. Spoon some sauce over the pine nuts and continue to bake for 5 minutes longer.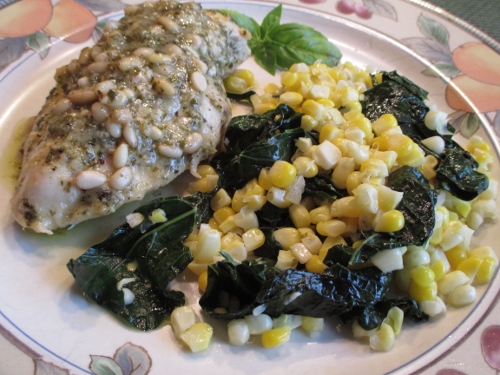 My Lime Basil Pesto Chicken with Garlic Butter Kale and Sweet Corn is delicious! This chicken dish goes wonderfully with my Garlic Butter Kale and Sweet Corn. Each dish compliments the flavor of the other dish. If there is any pesto sauce left in the baking dish, it is great for dipping a crusty bread. Serve this meal with a wine and a crusty loaf of bread for dipping. You will love the rich flavors of this great dish and side vegetable, so enjoy!