By Jodee Weiland
Recently when I made a delicious Lime Basil Pesto Chicken for dinner, I wanted a side dish that would complement it. I had fresh kale and sweet corn to use, but rather than make one or the other, I decided to combine the kale and sweet corn in a delicious side dish cooked in my garlic butter recipe and extra virgin olive oil. As it turned out, this was the best decision I could have made. My Garlic Butter Kale and Sweet Corn was delicious!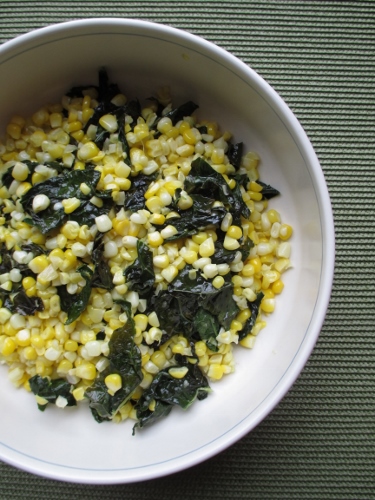 My garlic butter recipe made with chopped fresh garlic is a perfect way to add rich flavor to vegetables. In the original recipe, I add jalapeno powder, but in this recipe I left the jalapeno powder out and simply used the whipped butter and garlic. I heated the garlic butter and extra virgin olive oil together to saute my vegetables slightly. The effect was absolutely delicious when combining these two healthy vegetables, kale and sweet corn. I usually cook fresh kale from my garden with olive oil and garlic, while corn is usually served with butter for many people, so what could be more natural than Garlic Butter Kale and Sweet Corn lightly cooked in both!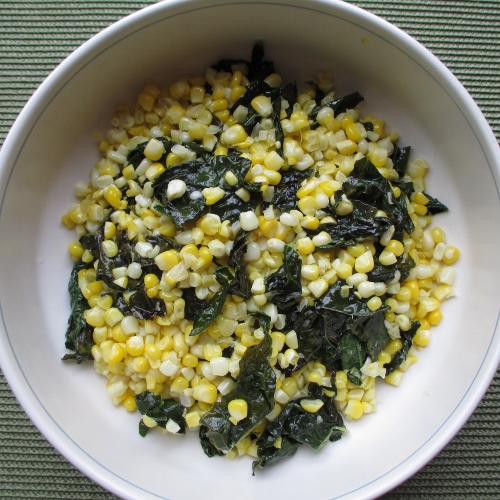 Garlic Butter Kale and Sweet Corn
2 fresh corn cobs, corn sliced off before cooking
4 cups fresh kale with stem removed (tear leaves away from the center stem)
1 tablespoon olive oil
1/4 cup garlic butter (see below)
Sea salt and fresh ground black pepper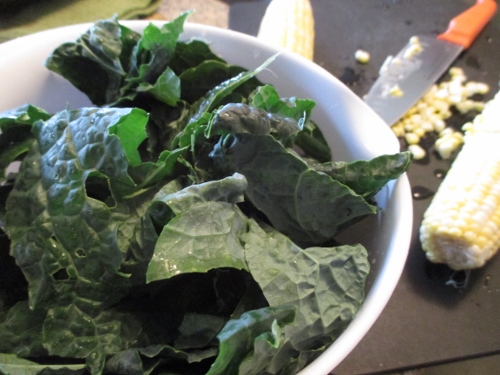 Garlic Butter Recipe: (use extra butter for garlic bread or cut recipe in half)
6 to 8 whole garlic gloves peeled
1/2 cup unsalted whipped butter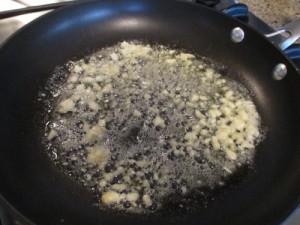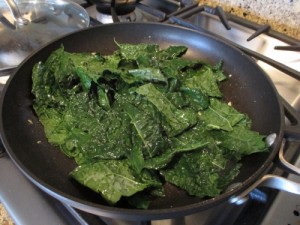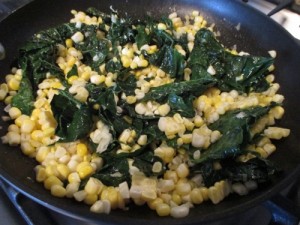 Heat the garlic butter and olive oil in pan on the stove over a low to medium heat. Do not burn your butter or the garlic. Add the fresh kale to the pan and toss lightly in the heated mixture until slightly wilted. Carefully slice the corn off the 2 cobs and add the corn to the slightly wilted kale and toss together. Saute slightly for a few minutes until the corn is cooked but not overcooked. Serve with any main course as a side dish.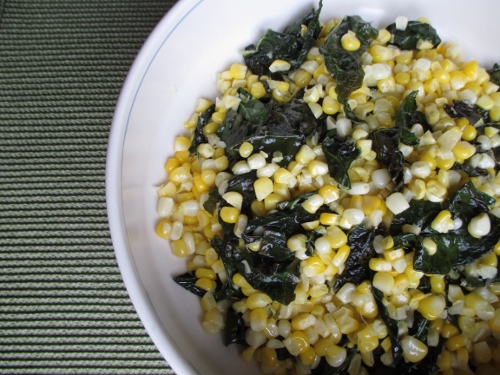 My Garlic Butter Kale and Sweet Corn is both healthy and delicious! The sweetness of the corn balances wonderfully with the kale, while the garlic butter adds flavor to the dish overall. I served this dish with my Lime Basil Pesto Chicken, and the two together were awesome. The Lime Basil Pesto Chicken will be on my next post, so be sure to watch for it, but in the meantime, enjoy this side dish with whatever main course you are making. You will love it, so enjoy!