By Jodee Weiland
I love using my new veggie spiralizer, so I decided to try a new vinaigrette with a light and easy zucchini spaghetti salad. The salad itself is easy and quick, but the vinaigrette is really the star here. I have discovered that I love making my own vinaigrette and salad dressings because they taste so much better than store bought salad dressings. Since I had an avocado I wanted use and some ideas for a new salad dressing, I put together my Pineapple Avocado Vinaigrette & Light Zucchini Spaghetti Salad!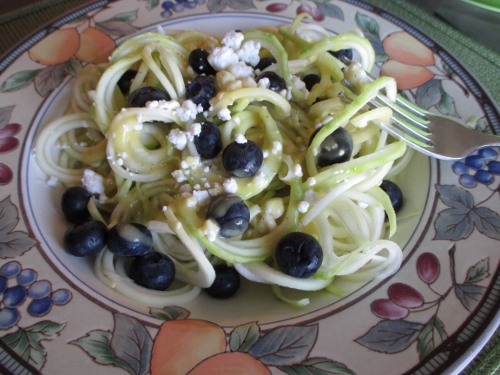 With one avocado left, I decided to make my vinaigrette. I wanted to blend the flavors of avocado, pineapple, lime, and honey to make a sweet and tart salad dressing that would be both tasty and healthy. I found these ingredients blended with apple cider vinegar and extra virgin olive oil created an absolutely delicious salad dressing. I then spiralized a fresh zucchini to create an extremely simple zucchini spaghetti salad with fresh blueberries and goat cheese. This salad could easily be topped with some almond slices or shelled pistachios to add some crunch, but I left mine without any nuts this time.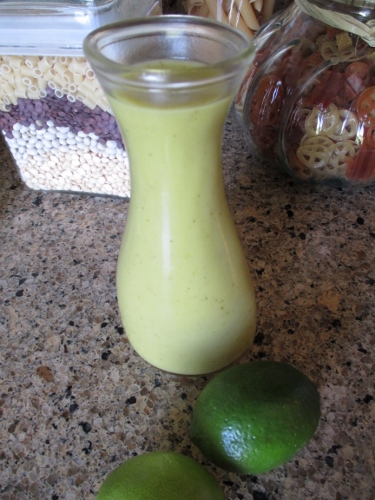 Pineapple Avocado Vinaigrette & Light Zucchini Spaghetti Salad
For the vinaigrette:
1/2 cup fresh avocado
1 lime, juiced
1/4 cup all natural unsweetened pineapple juice
1/4 cup apple cider vinegar
3/4 cups extra virgin olive oil
2 teaspoons organic honey (more optional for sweeter taste)
1/4 teaspoon ground black pepper
Sea salt to taste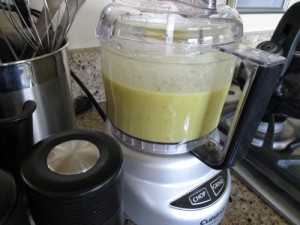 Put the above ingredients into a blender and blend together until smooth and creamy. When done transfer the vinaigrette to an appropriate container. I refrigerate any leftover dressing for later use.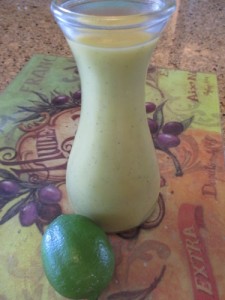 For the zucchini spaghetti salad: (this will make one salad)
1 zucchini peeled and cut into spaghetti strands
1/4 cup fresh blueberries
1 and 1/2 to 2 tablespoons crumbled goat cheese
Optional: 1 to 2 tablespoons shelled pistachios or almonds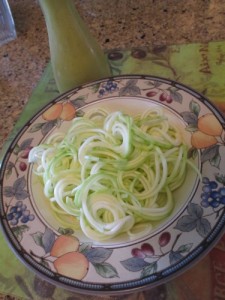 Peel the zucchini. Cut into spaghetti strands using a julienne peeler, a veggie spiralizer, or a mandoline with a julienne blade. Unlike zucchini spaghetti with a sauce, for a salad the strands do NOT need to be left in a colander to drain excess liquid. For a salad, simply cut the strands and plate them to retain salad like crispness. Then put on the blueberries and finally, the goat cheese. If you want, you can add the optional pistachios or almonds.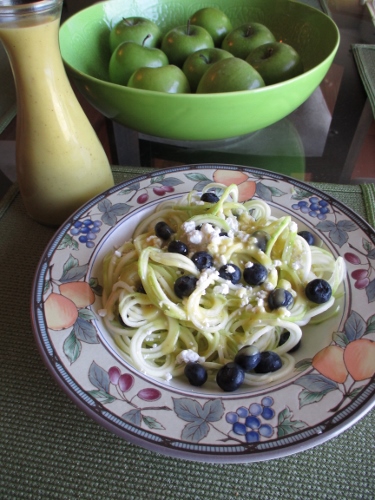 My delicious Pineapple Avocado Vinaigrette & Light Zucchini Spaghetti Salad are both healthy and full of flavor. Whether or not you decide to use the optional pistachios or almonds on the zucchini spaghetti salad, you are going to love the smooth creamy flavor of this delicious vinaigrette on this or any salad. We love this new salad dressing because it adds so much flavor to our salads whenever we use it. Stay healthy and give it a try on your next salad. Enjoy!