By Jodee Weiland
Being Italian, it was hard for me to imagine kale in a pesto when I first used it in my Baby Kale Pesto.  Before that I used it to make kale chips, a kale salad, a kale and bean soup, and since then I have used it in my pesto and more. I've used it in omelets, smoothies, and even made it with olive oil and garlic as a side dish. Prior to that time, putting kale in a pesto to use with pasta was something I just couldn't imagine, especially since I love Italian Basil Pesto. Nevertheless, with all the kale I have coming from my garden this year, I decided I had to do something more with it all, and my Healthy and Delicious Kale Basil Pesto with Pasta is what I came up with for dinner tonight.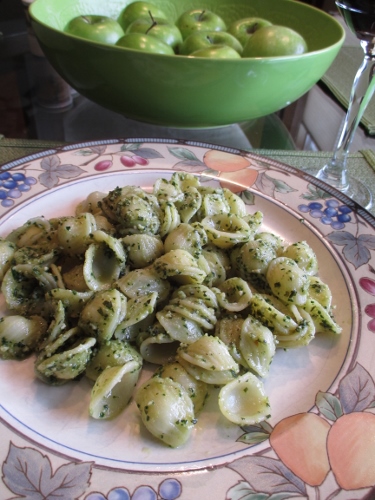 I was pleasantly surprised when this dinner turned out to be even tastier than my earlier version of kale pesto. I think the reason for that is because it combines two pesto recipes, kale pesto and my all-time favorite, Italian Basil Pesto. Not only do I get the rich taste of basil, which I love, but I also get the great flavor of kale and all the healthy nutrients from the kale. If you ask me, this gives me the best of both worlds, and I'm all for that! So here's my Healthy and Delicious Kale Basil Pesto with Pasta recipe and how I did it!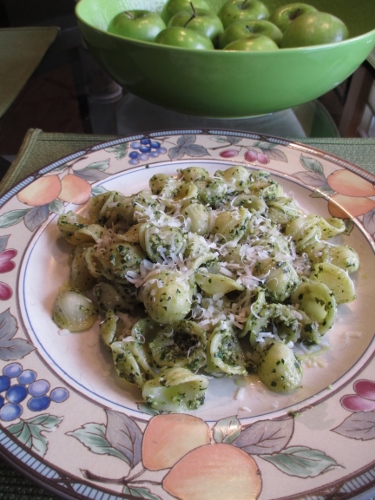 Healthy and Delicious Kale Basil Pesto with Pasta
2 cups fresh kale leaves packed tightly, torn into pieces and de-stemmed
2 cup fresh basil leaves
1/3 cup pine nuts
1 and 1/2 teaspoon chopped garlic clove or to taste
1/4 teaspoon sea salt or to taste
1/2 teaspoon freshly ground black pepper or to taste
1 and 1/4 cup extra-virgin olive oil (more or less, depending on desired consistency and thickness)
1 and 1/3 cup freshly grated Parmesan Reggiano cheese or more
Pasta of your choice
More Parmesan Reggiano cheese to serve with meal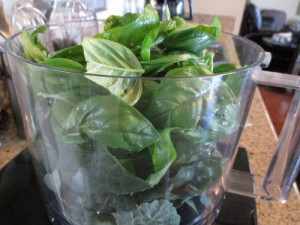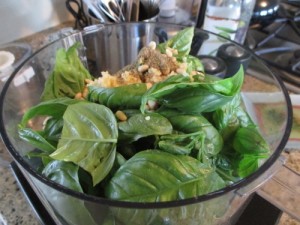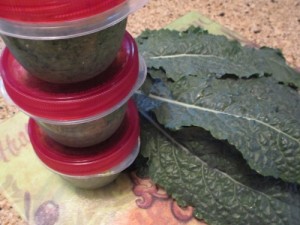 Blend together the kale, basil, pine nuts, garlic, salt, and black pepper until finely chopped in a food processer or blender. Gradually add oil to this mixture to attain a smooth consistency and thickness (your preference). Finally, add the Parmesan cheese into this mixture. You can add more salt and black pepper to taste once it is blended. Kale basil pesto can be made two days ahead or just before it is needed. If made ahead, cover and refrigerate it. With this pesto recipe, you will have enough for more than one meal, so freeze some for later. I usually have enough for three meals, so I use one portion and freeze two for later. Boil pasta per instructions and when done, blend in the pesto with your pasta.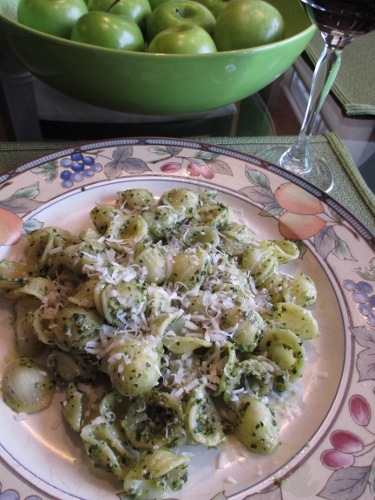 My Healthy and Delicious Kale Basil Pesto with Pasta is awesome and will soon become a favorite for you as well. Serve with a glass of Chianti, a crusty loaf of bread, and a side salad. Have some Parmesan Reggiano cheese ready to grate fresh over your pasta. Some people may even enjoy some crushed red pepper on their pasta, so have some ready just in case. In Italian households, this is how we serve pasta, along with great conversations and much love. That's why it's called comfort food, so enjoy!