By Jodee Weiland
I love frozen yogurt, and I wanted homemade nonfat frozen yogurt that was both delicious and healthier. That's when I decided it was time to get out my frozen yogurt, ice cream, and sorbet maker. This had to be one of the best purchases I have ever made, because in summertime, it helps me create great frozen desserts easily. I decided I was going to start off the season with something simple, Delicious Blueberry Vanilla Nonfat Frozen Yogurt!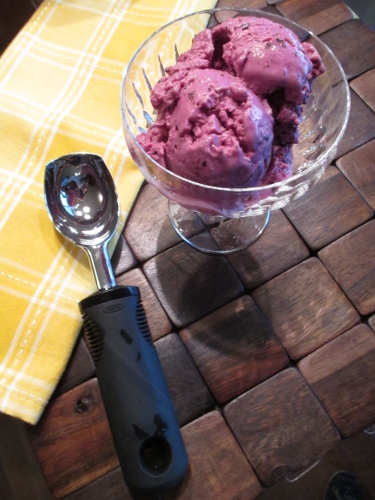 As the warm days ahead progress, I will be making some more creative flavor combinations for all of you to try, but for now, I chose simple. Once you do the simple recipe, you will see how easy they can all be to create. When I do frozen yogurt, I use fat free skim milk and yogurt, cutting fat calories that I don't think change the flavor one way or the other. I know this is true, because I have never heard anyone say their frozen yogurt was not as delicious as one with low fat or more.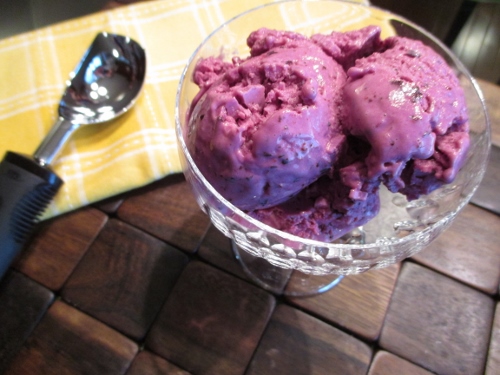 I also do not use non-sugar sweeteners because even the ones that are supposed to be all natural have come under the scrutiny of several researches, and it's just not worth the risk. The overall amount of sugar used here is so low, I hardly feel it will cause a problem for most people. But if you have a medical condition that requires that you use a non-sugar sweetener than just substitute the necessary amount for the sugar listed in the recipe. If a family member or guest in your home cannot use sugar, I suggest using Truvia or your preferred choice, because any one will work as well as sugar. The important thing is that this frozen yogurt is delicious!
Delicious Blueberry Vanilla Nonfat Frozen Yogurt
2 cups nonfat Greek yogurt
1/3 cup sugar (or the appropriate equivalent of non sugar sweetener)
1 tablespoon pure vanilla extract
1/2 cup skim milk
12 ounces fresh blueberries frozen and pureed
Miniature dark chocolate chips to sprinkle on top (optional)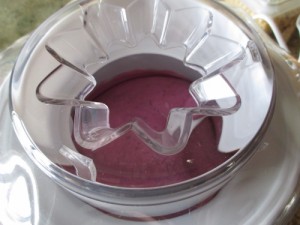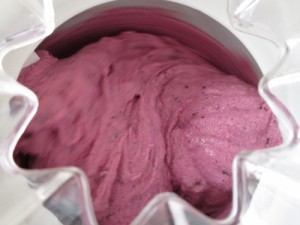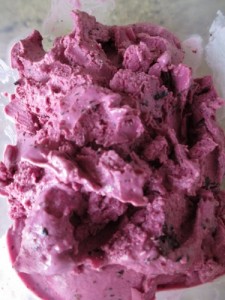 Puree the blueberries in a blender. Then blend together the yogurt, sugar, vanilla, and skim milk in a mixing bowl with a hand mixer on medium speed until the sugar is dissolved, about one to two minutes. Once done, blend the blueberry puree into the yogurt mixture with the hand mixer on low for about one minute. Following the directions of your yogurt/ice cream maker, turn it on and slowly pour in the blended yogurt and berry mixture. Once it is all in the yogurt maker, let the mixture thicken into your creamy yogurt as the machine works its magic, usually about thirty minutes. When ready, scoop the frozen yogurt into serving dishes, putting any leftover frozen yogurt into a freezer storage container and freeze for later.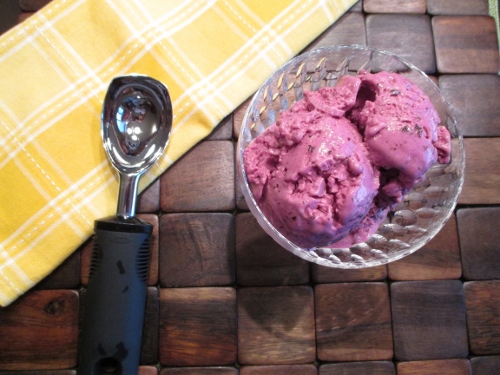 Delicious Blueberry Vanilla Nonfat Frozen Yogurt is absolutely delicious! Serve it with miniature dark chocolate chips to sprinkle on top if desired, but it is delicious with or without the chips. This frozen yogurt is a healthy dessert option for anyone, but no one will feel deprived. Instead, they will be asking for more. This is a great summer dessert, so make some, and enjoy!