By Jodee Weiland
Enjoying and Eating on Hilton Head Island, South Carolina, is the perfect place to visit when you want to sit back and relax! The weather on Hilton Head is perfect in the spring when we visited for eating out on deck areas of restaurants, walking along harbor walkways and piers, or biking along trails throughout the beautifully landscaped plantations and harbours. People will also take cruises to watch dolphins or hire boats to go fishing. On this beautiful island shaped like and described as a foot, you will see people boating, playing tennis, golfing, and jogging from the ankle area of the island near Skull Creek Marina to the toe of the island in the Sea Pines Plantation. The island is conveniently divided into four areas of the foot: the ankle, the heel, the instep, and the toe. Within each, you will find various plantations, marinas, and harbours to visit and enjoy!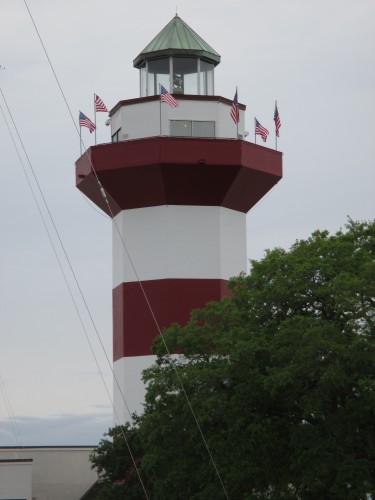 There are so many wonderful harbours and marinas to choose from for shopping, dining, and entertainment when you visit. In the popular Sea Pines Plantation, many people enjoy Harbour Town and all it has to offer. For over thirty years now, The Crazy Crab has offered fresh seafood dining indoors or outdoors while overlooking the beautiful Harbour Town Marina and one of its main attractions, the Harbour Town Lighthouse and museum. All along the harbour walkways, you will see red wooden rocking chairs where people can sit and enjoy the views.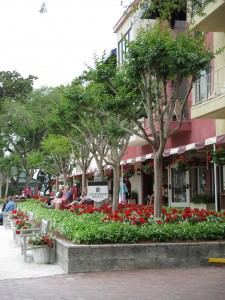 If you are lucky, you may be able to catch Gregg Russell, a beloved classic performer at Sea Pines Resort, under the famous Liberty Oak in Harbour Town, entertaining children and adults alike with his concerts. The concerts are all complimentary during the spring and summer, as well as most holidays, and you will love them! He will have both adults and children alike laughing and singing throughout the evening! He is so well loved, CDs of his concerts are sold at the many unique shops in this area.
Another great place to visit is the Shelter Cove Harbour for free live entertainment seven days a week while you dine at a variety of restaurants, many with waterfront seating and beautiful views of the largest deepwater marina on Hilton Head. Besides the many unique shops along the marina walkway, there are also planned activities like the Art Fair we attended while there. What a great way to experience the beautiful art work of skilled craftsmen, from hand crafted pottery to jewelry to painting and more!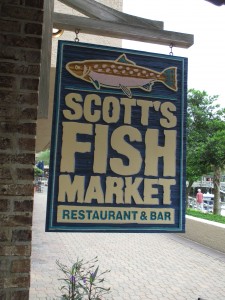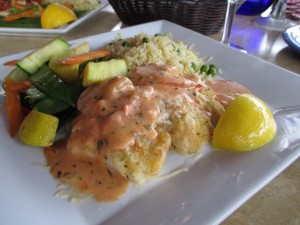 While in Shelter Cove Harbour, Scot's Fish Market Restaurant and Bar is a great place to grab a sandwich and/or a drink on the patio dining in the afternoon or a full meal in the evening. The seafood is fresh and deliciously prepared. The Herb Parmesan Crusted Grouper topped with charbroiled shrimp in a lobster cream was delicious. Be sure to start off with the She-Crab soup with just a hint of sherry, another delicious menu item here! In the afternoons, you will find casual patio seating where you can enjoy a grilled seafood sandwich made by the owner himself.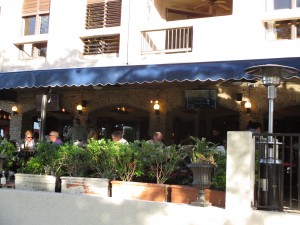 Another of my favorite restaurant of mine in Shelter Cove Harbour is La Fontana Waterfront Grill. This restaurant is one of the best Italian restaurants I have eaten at and for me that says a lot. I'm Italian, so I am picky when it comes to eating Italian out. We had such a wonderfully authentic Italian meal here, that we even ordered dessert, which we rarely do. We started the meal with a bottle of Chianti and a simple garden salad. My entrée was the delicious Gnocchi alla Sorrentina, homemade potato dumplings in a tomato sauce and fresh mozzarella. My husband had his favorite, Spaghetti alle Vongole, little neck clams sautéed with garlic, extra virgin olive oil and cherry tomatoes in a white wine sauce. He loves this dish, but according to him it was one of the best he had ever had! We then shared a fabulous dessert tray that had tiramisu, chocolate profiterole, limoncello cake, and cannoli. Each and every one of these selections had wonderfully rich flavors and tasted fabulous! This restaurant is a must if you visit Hilton Head.
In Skull Creek Marina, you will find live entertainment with outdoor or indoor seating as well. One of our favorites in this area of the island was the Skull Creek Boathouse. When we first arrived, we found this restaurant almost by accident. Once we arrived, we knew it was going to be good, because although there was a large parking area, cars were lined up waiting for spots to get in and park. We considered ourselves lucky that we got a space and enjoyed a wonderful meal.
I loved the Grouper Imperial with Crab Imperial Topping and Lemon Butter Sauce. My husband had a special with grilled Amber Jack. Both meals were so good, we went back another night, but it was so crowded we could not get in to eat that night. We returned the next day for a late lunch. Again it was busy, but we got in because most people had arrived earlier for the Sunday brunch. Instead of brunch, we enjoyed a wonderful late afternoon lunch. I had Pecan Ginger Crusted Mahi Mahi with a Creole Honey Mustard Drizzle, and my husband had Carolina Shrimp and Grits with Sautéed Shrimp, Smoked Sausage, and Tasso Ham Gravy. Both dishes were absolutely delicious, and we would gladly return again when visiting in this area!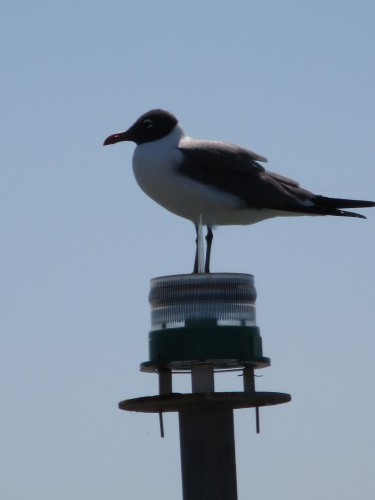 Enjoying and Eating on Hilton Head Island, South Carolina, is a wonderful choice for people looking for a place to sit back and relax on vacation. The food options are wonderful! There are trails for walking, biking, and jogging all over the island. There are beautiful beaches, harbours, and marinas to spend some time relaxing. Of course, some of Hilton Head's biggest attractions are all the areas for playing tennis and all the beautiful golf courses available. But you don't have to play tennis or golf to enjoy all that HIlton Head has to offer, because sitting on one of those red rockers in Harbour Town overlooking the water may be enough for you. It's the relaxing atmosphere of the island that appeals to most people, while allowing you to sit back and enjoy!