By Jodee Weiland
I love guacamole ever since we spent some time in Puerto Vallarta, Mexico. While there we had some of the best guacamole I had ever tasted. It was absolutely delicious and so tasty! I have tried to recreate this guacamole ever since that time, and I finally think I have succeeded with my Tasty Guacamole with Sweet Chili Pita Chips. The pita chips are something I found here in local stores, but the guacamole is my own adaptation of all the different recipes I have tried.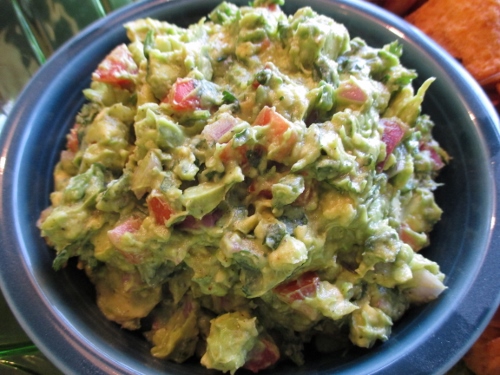 I start with the typical ripe avocados, cilantro, fresh lime juice, and onion. For me, it only seemed appropriate that I use a red onion. I then added jalapeno, which some recipes have and which I felt was a necessity in order to do this right. I added my favorites, minced garlic and Roma tomato. I then added ground black pepper and a little sea salt to complete my Tasty Guacamole with Sweet Chili Pita Chips. The Sweet Chile Pita Chips came about when I purchased a package for hummus a while back and everyone here loved the chips.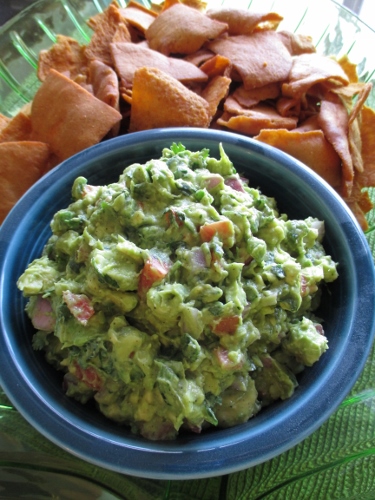 Tasty Guacamole with Sweet Chili Pita Chips
4 ripe avocados
2 limes, juiced
1 Roma tomato diced
1/2 cup red onion diced
1/2 cup cilantro chopped
1 jalapeno with seeds removed and diced (for more heat add 2 jalapenos)
1 teaspoon garlic minced
1 teaspoon ground black pepper Sea salt to taste
Cut the ripe avocados in half, remove stone, and scoop out the flesh with a spoon. Cut the flesh of the avocados into pieces and add the juice of two limes. Add to this the Roma tomato, red onions, cilantro, jalapeno, garlic, and black pepper. Add sea salt to taste and mix up thoroughly with a spoon. Once done, you are ready to serve. Serve with pita chips or chips of your choice.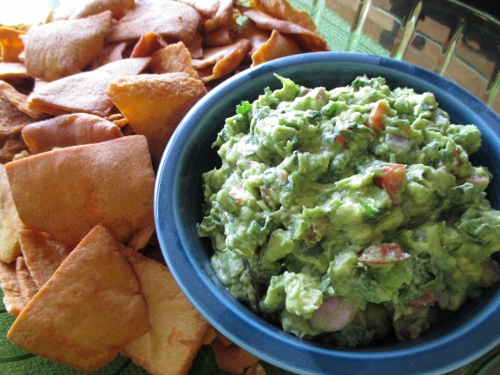 My Tasty Guacamole with Sweet Chili Pita Chips is not only delicious, it is healthy as well. The flavors of the fresh ingredients used to make this guacamole blend together to give it a rich flavor and taste. Adding the Sweet Chili Pita Chips was a personal preference for my family and myself, but you can use any chips you prefer. Whichever chips you decide on, when you taste this guacamole, enjoy!