By Jodee Weiland
Today is Earth Day and people all over are talking about it! There are activities for children in their schools. Various cities are have activities planned for today that encourage recycling things such as, bicycles for restoration, Apple products, and so much more.  Museums, botanical gardens, and zoos have exhibits that will focus on environmental issues of all kinds for us to learn more about our planet and how to preserve it for future generations. Today is a day when we all can learn how to Improve the World: Celebrate Earth Day Every Day!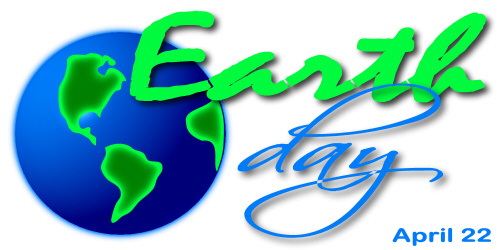 You can easily Google what is happening in your city or cities nearby to you to help celebrate this day. In Chicago today, 5 NBC Chicago has posted a list of places to drop off items for safe recycling at Earth Day E-Waste Drop-Off Locations. ABC 7 Eyewitness News has posted a fun activity for families to do at home with their children at Earth Day Family Fun: Dirt dessert recipe. WGN TV has posted a fun outing for for young families here in Chicago and the suburbs at Earth Day 2014; What the Field Museum's Dioramas are Teaching Kids about Conservation. These are just a few of the things being talked about here in Chicago, but as I searched the web, I saw so many posts from cities everywhere.
Remember, today is a day when we all can learn how to Improve the World: Celebrate Earth Day Every Day! If you can't find anything near you, you can check out all the ideas for activities you can do with your family being posted on the web today or make the Dirt Dessert recipe from ABC 7 Eyewitness News listed above. Also, Pinterest has whole boards that contain Earth Day activities for children if you search for them. The EPA Environmental Protection Agency has a downloadable free eleven page coloring book for children called The Happy Earth Day Coloring and Activities Book. There are so many options out there if you just look. So have some fun on Earth Day, learn something new, do something to help the environment, and enjoy!
**FTC Disclosure Statement: This post contains affiliate links which means that I may receive a commission if you click a link and make a purchase.
Bitsy's Brainfood co-founder, Maggie Patton encourages families to involve kids in Earth Day, to teach them that they can make a difference.
"When it comes to my own family and taking action on Earth Day, we like to think globally, and act locally. There are so many simple ways to get the whole family involved in celebrating Earth Day," Patton says. Below, she provides 19 kid-friendly Earth Day activities that can extend into loving the environment every day.
19 KID-FRIENDLY EARTH DAY ACTIVITIES
Compost your fruit and veggie scraps and watch your garden bloom!
Buy, fill and refill reusable water bottles — help keep millions of single-use plastic bottles out of landfill.
Save a tree! Use both sides of your notebook paper.
Visit a zoo or farm and learn how to care for animals. It'll promote local food, too.
Go for a family walk or bike ride and help keep the Earth cool.
Get everyone a pair of work gloves and pick up trash in your neighborhood or town.
Buy or make your own green cleaning products and spring clean your home.
Grow a community garden and nourish your neighborhood green spaces.
Plant more trees in your town — they'll help clean the air.
Help remove stuck plastic bags out of trees. And switch to reusable bags instead … for everything!
Make an appointment with your town leaders to add more neighborhood trash cans and recycling bins — or start a recycling program.
Collect glass food jars to paint and turn into candle holders (and use soy-based candles!).
Love surprises? Plant bulbs and flower seeds and keep a weather eye for spring blossoms!
"Turn off the lights!" Make switch plate reminders for your whole house.
Show your kids the beauty of the beach. Collect shells and rocks for art projects.
Make extra food for dinner then ditch BPA-lined plastic and get glass storage containers instead for leftovers.
Transform colorful magazine pages, comics and more into artful projects and gift wrappers.
Learn how to donate/recycle old computer equipment and post instructions (with permission, of course) at your local library, cafes, electronics stores and more.
Breathe in nature: Turn off the a/c and open a window to the world.
Bonus activity: Just get outside and play!
 More Ways to Recycle: