By Jodee Weiland
Sweet potatoes can be prepared in so many different ways, but one of my favorite ways to have sweet potatoes is Mashed Sweet Potatoes with Walnuts. Mashed sweet potatoes are always delicious, but when made with chopped walnuts and just the right seasonings, they have great flavor and crunch!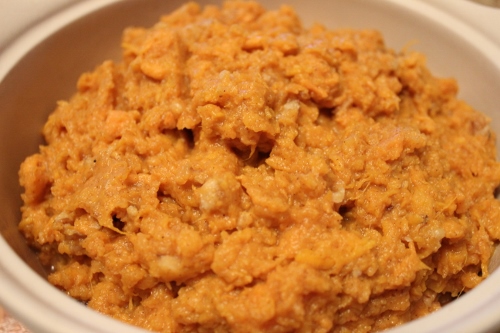 Whenever I cook a baked ham or have a big turkey dinner with all the trimmings, I always find a way to add a side of sweet potatoes. Not only do they taste good, they are very nutritious as well. I make sweet potatoes in a number of different ways by roasting them, baking them, or mashing them, but this recipe is one of my favorites because of the crunch from the chopped walnuts that are added only after cooking and mashing the potatoes. Since the walnuts are not baked into the recipe, they retain all their crunchy goodness. Call me silly, but I really think that's what makes this dish.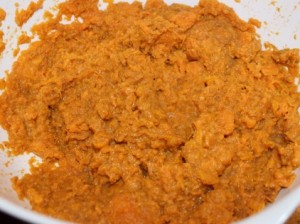 Mashed Sweet Potatoes with Walnuts
4 sweet potatoes
1 teaspoon cinnamon
1/2 teaspoon nutmeg
1/2 teaspoon ginger
2 tablespoons butter
1/2 cup chopped walnuts
1/2 cup skim milk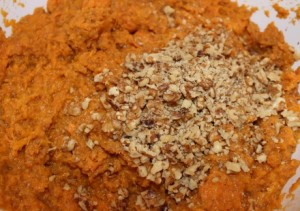 Boil the potatoes in a covered pot of water with a pinch of salt for 30 to 40 minutes or until done. When done, peel the skin off the potatoes and mash them in a bowl. Add in the cinnamon, nutmeg, ginger, and butter blending it into the mashed potatoes. Then as you mash the potatoes, add in the milk a little at a time. When thoroughly mashed, add in the chopped walnuts stirring them in gently with a spoon. Once done, put the potatoes into your serving bowl.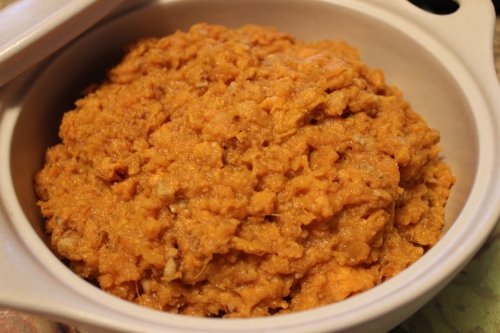 Mashed Sweet Potatoes with Walnuts go well with so many different meals. This delicious side dish will enhance any meal you make with its rich flavor. Not only that, but sweet potatoes are a healthy choice, when choosing a potato for a meal. So if you're wondering what to do make with dinner tonight, why not try this dish, and enjoy!