By Jodee Weiland
For many people, baked ham dinners are a favorite meal. My family loves baked ham when I make it, but the funny thing is that I was never a very big fan of baked ham. Nevertheless, I baked hams for my family because they wanted them. I decided right away that if I was going to do this, I was going to do it right. For that reason, I asked my mother and anyone else I knew how they baked ham, and ultimately this is my Baked Ham with Pineapple and Orange Glaze, which evolved from all those conversations.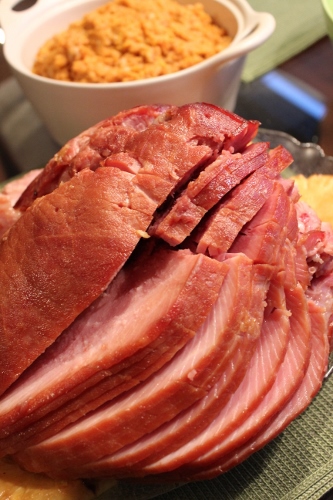 I wish I could say that this recipe made a ham lover out of me, but unfortunately, it did not do that. I eat a little when I make it, but my real enjoyment comes from the fact that those I love or care about enjoy this meal. Since cooking is about giving the best I can to those I serve a meal to in my home, that's good enough for me when it comes to baking ham. The rave reviews I get from family and friends, tells me that I must be doing something right here, even though I really am not the one to judge the quality of this recipe. My family loves it, so that's all I need to know!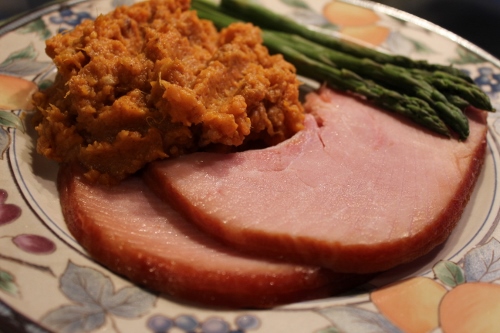 Baked Ham with Pineapple and Orange Glaze
7 to 8 pound fully cooked spiral sliced ham
1 fresh pineapple core with juice
1 cup brown sugar
1/2 cup fresh orange juice
1/2 cup fresh pineapple juice
1 cup Coke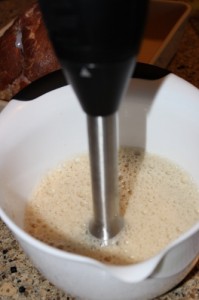 Preheat the oven to 325 degrees. Place the spiral cut ham face down in your baking dish. With a sharp knife, score the top surface of the ham in a criss cross pattern, slicing first one way and then the other. Take the pineapple slices and with toothpicks, secure three to four slices across the top of the ham.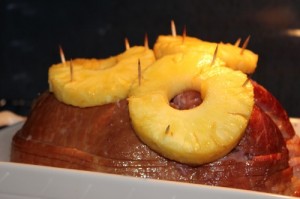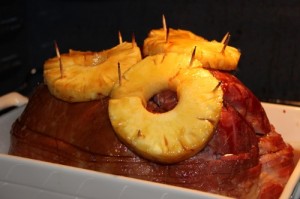 Using a hand blender, blend together the brown sugar, orange juice, pineapple juice, and Coke until completely blended. Once done, pour about 1/3 of the mixture over the ham and pineapples. Place the baking dish in the heated oven and bake at 325 degrees for 60 to 70 minutes, basting the ham frequently with the juice mixture in the baking dish.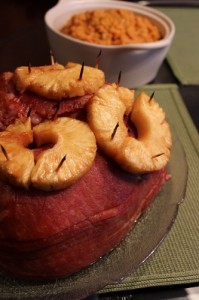 Take the remaining two-thirds of the juice mixture and cook in the microwave for about ten minutes. Stir halfway through this time to make sure it's thickening, but not over thick. Then finish microwaving the mixture. When done, it should be slightly thick and more glaze like. Pour this glaze like mixture over the ham and pineapples after 30 minutes of baking. Finish baking the last 30 to 40 minutes, continuing to baste every so often.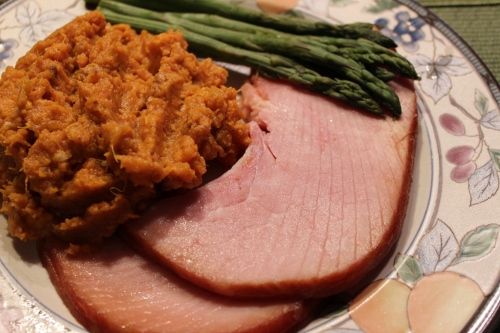 Once done, serve the Baked Ham with Pineapple and Orange Glaze with sweet potatoes or yams, along with a green vegetable of your choice. I like to serve this dish with mashed sweet potatoes, a recipe of mine with chopped walnuts and cinnamon, and another vegetable, such as asparagus or broccoli. Whatever you choose to serve it with, I've been told that it will not disappoint you. My family loves my baked ham, and I feel certain that if you like ham, you will love this recipe. So give it a try, and enjoy!