By Jodee Weiland
Inspired by a breakfast wrap I recently ordered in one of my favorite restaurants, I decided to create a wrap of my own. Only my wrap would be a lunch or dinner wrap. My Prosciutto, Cantaloupe, and Veggie Wrap with Honey Mustard Vinaigrette is perfect for lunch or a light dinner. This multi-grain wrap has prosciutto, cantaloupe, goat cheese, fresh spinach, and asparagus topped with my homemade Honey Mustard Vinaigrette. It not only tastes delicious, but it's easy to make as well.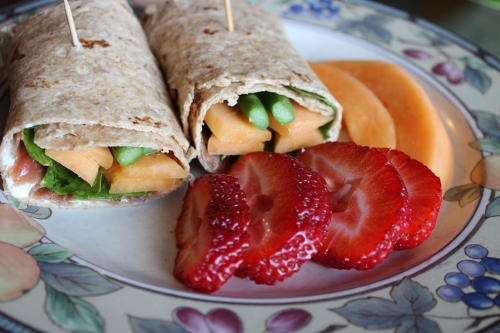 The wrap I had at the restaurant was for breakfast, so of course it had scrambled egg whites, fresh veggies, some shredded cheese, and a mustard vinaigrette. It was in a wheat tortilla and tasted delicious. I especially liked the use of fresh vegetables in this particular wrap. Thinking about how good it was, I decided to use that wrap for inspiration in making my dinner wrap. I used creamy goat cheese topped with prosciutto and baby spinach, and then I added a thinly sliced melorange, or what most of us would call cantaloupe. Melorange is actually slightly smaller, firmer, and sweeter than a cantaloupe, but it is still a melon and probably the closest thing I've ever seen to a cantaloupe. So when making this wrap, you can use either one, whichever you prefer for this wrap.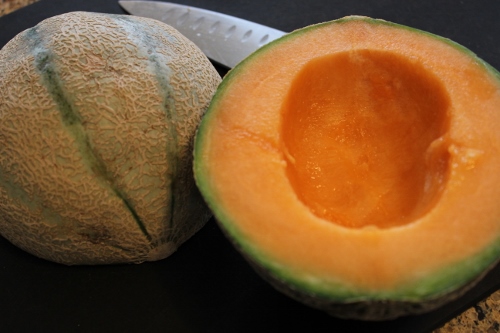 I added fresh veggies to this wrap, baby spinach and lightly steamed asparagus. Last of all, I lightly drizzled my Honey Mustard Vinaigrette over it all, and then folded my multi-grain tortilla wrap around this delicious blend of ingredients. It was an immediate hit for us, because the rich flavors all came together so well creating a light and absolutely wonderful meal! You'll love it!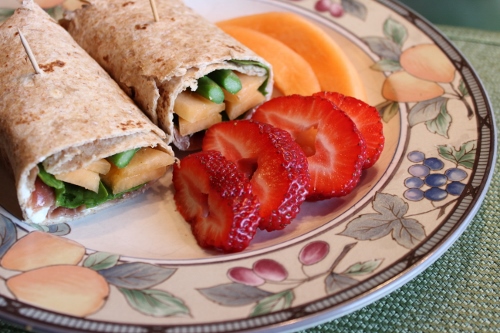 Prosciutto, Cantaloupe, and Veggie Wrap with Honey Mustard Vinaigrette
4 to 6 large multi-grain tortillas
About 8 to 12 ounces goat cheese (this will vary according to taste)
6 to 7 ounces prosciutto
2 to 3 cups fresh baby spinach
1/2 (more or less) cantaloupe or melorange sliced thinly about 1/8 inch
12 fresh asparagus
Honey Mustard Vinaigrette
Recipe for Homemade Honey Mustard Vinaigrette:
1/2 cup apple cider vinegar
1 cup extra virgin olive oil
1 tablespoon Dijon mustard
2 tablespoons organic honey
5 drops hot sauce
1 teaspoon minced garlic
1/2 teaspoon ground black pepper
Sea salt to taste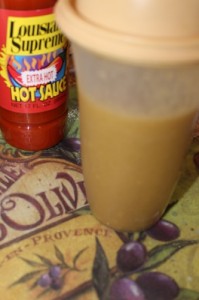 Lay your tortilla on your preparation surface. Spread the goat cheese down the middle in a two-inch wide strip. Put two to three strips of prosciutto on top of the goat cheese. Next, cover the prosciutto with baby spinach. Place thin slices of the cantaloupe over the spinach and two slightly steamed asparagus on the top. Then drizzle lightly the Honey Mustard Vinaigrette over everything. Be careful not put on too much vinaigrette in order to avoid making your wrap soggy. Fold in both ends of the tortilla and then fold over the side to close your wrap. Use a toothpick to hold it together and serve.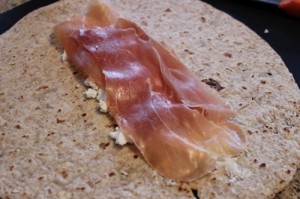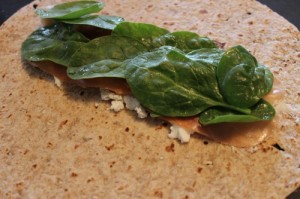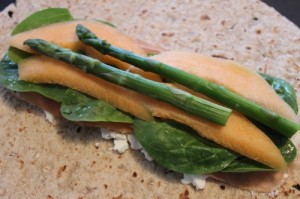 For the vinaigrette, put all the ingredients in a bowl and mix together thoroughly with a whisk or handheld blender. Then put it in a container for dressing that will make it easier to drizzle on to your wrap or spoon it on carefully.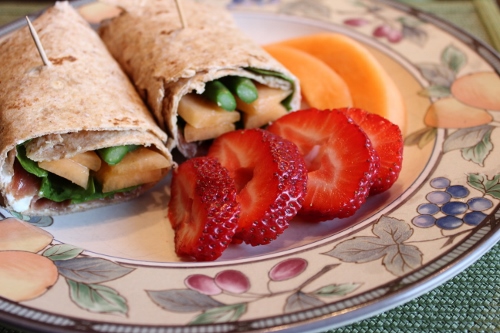 Once done, serve your Prosciutto, Cantaloupe, and Veggie Wrap with Honey Mustard Vinaigrette. I decided to cut it in half to make it easier to eat and then served it with a side of fresh fruit, including any extra cantaloupe I had left. One thing I feel certain about is that this light and tasty meal will be enjoyed by everyone in the family. We loved it, so enjoy!