By Jodee Weiland
It's that time of year when we all start thinking about the corned beef and cabbage we'll be making for St. Patrick's Day! When I was growing up in an Italian family of six, we all celebrated just like everyone else. Mom would make her corned beef and cabbage, and it was always delicious. She may have been Italian, but that didn't mean she couldn't make a great St. Patrick's Day meal with the best of them. That's how I learned to cook Corned Beef and Cabbage with Potatoes and Carrots, and I love it!
As a young woman and later, I was always mistaken for Irish. People would look at me and insist I was Irish or at the very least, part Irish. I usually had to go through the list of our family names of both paternal and maternal parents, grandparents, and even great-grandparents, before they believed me when I said I was one hundred percent Italian.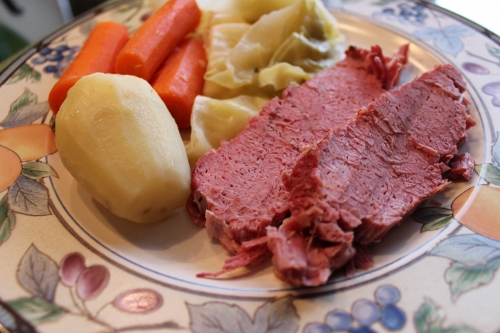 Everyone in our family had blue eyes, my father's eyes being such a vivid blue that they were frequently commented on by those who met him. My mother had very fair skin, so fair that she wore big hats with scarves over them in the summer to keep her face from getting sunburnt whenever she was in a pool. Consequently, I had the blue eyes and fair skin that most would associate with being Irish. I can't tell you how many people over the years wished me a Happy St. Pat's and added, "It's our day to celebrate!" Well as a result, naturally I always feel it's a must for me to celebrate St. Patrick's Day in style, and this meal helps me do just that!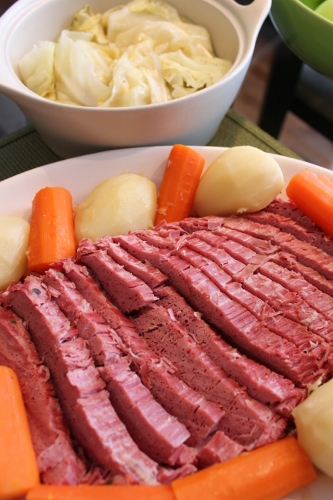 Corned Beef and Cabbage with Potatoes and Carrots
3 and 1/2 to 4 pound corned beef brisket
Water (enough to just barely cover the meat)
3/4 cup white vinegar
1 small onion chopped
3 to 4 garlic cloves chopped
2 bay leaves
Spice seasoning packet (packaged with the brisket)
1/2 large cabbage head cut into wedges
6 small potatoes peeled
6 carrots peeled and cut into large pieces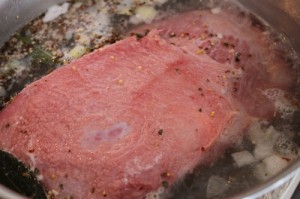 Put the corned beef brisket in a Dutch oven with just enough hot water to just barely cover it. Add the white vinegar and bring to a boil. After a few minutes, skim off the white foam that will form on the surface of your water. Then add the chopped onions, garlic, bay leaves, and the seasoning packet that was packaged with the corned beef brisket. Bring to a boil, then cover and reduce the heat to simmer for 3 to 4 hours or until the meat is tender. Remove the meat from the pot and cover with foil to keep it warm. Before doing this, remove the excess fat from the top of the brisket.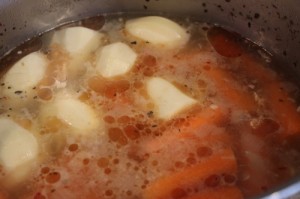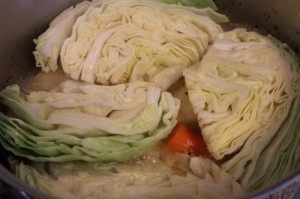 Put the potatoes and carrots in the pot and bring to a boil. Cover the pot and cook for 10 minutes. After 10 minutes, add the cabbage wedges on top of this in the pot. Cover and boil for another 20 minutes. When done, slice the corned beef brisket, slicing across the grain in about 1/4″ slices. Serve the potatoes, carrots and cabbage with the brisket and your meal is ready.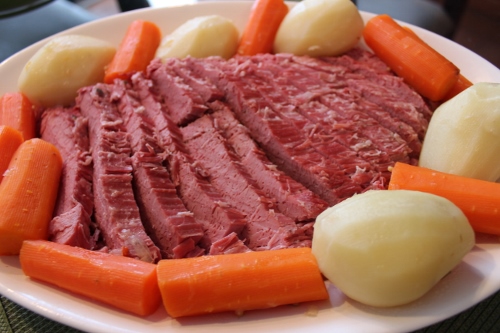 Corned Beef and Cabbage with Potatoes and Carrots is a delicious meal with which to celebrate St. Patrick's Day or any day for that matter! The corned beef is tender and delicious, while the vegetables are cooked just right and compliment the flavor of the whole meal. This meal is a tradition in our home, and we love it. If you give it a try, I think you will be pleasantly surprised at just how good it truly is. So my friends, Happy St. Patrick's Day, and enjoy!