By Jodee Weiland
Whenever I am looking for a sandwich type meal for dinner, Grilled Steak Sandwiches with Sweet Peppers and Onions come to mind. With the right cut of steak, this sandwich is full of flavor and easy to prepare. I usually look for thin cut round steak or sandwich steak at the store. The seasoned grilled steak with the right rolls, add in some sweet peppers and onions sautéed, a vegetable like my Grilled Balsamic Asparagus, and you have a very tasty meal for dinner.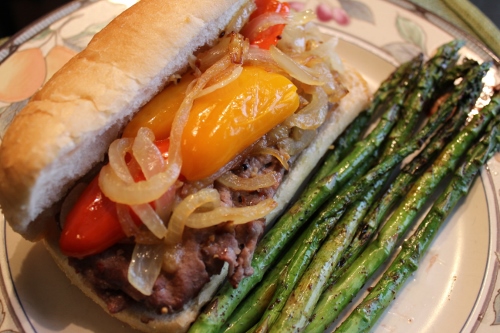 I love a grilled steak sandwich done right, but it's important to sauté some sweet peppers and onions in olive oil to dress the sandwich for a fuller flavor. I like to add some Italian giardiniera to that as well for an even heartier taste experience. I use hot, but even mild giardiniera will add extra flavor. There is no need for a sauce with or without the giardiniera, because this sandwich has plenty of flavor if the steak is seasoned right and you add the sweet peppers and onions on top of the steak. Sometimes less is more, and that's true here.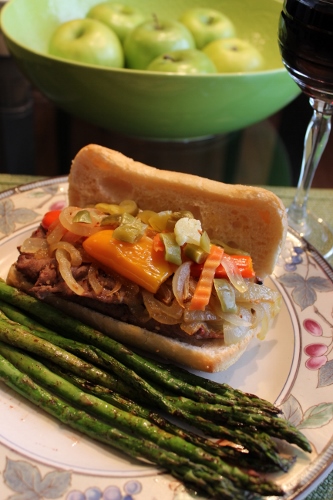 Grilled Steak Sandwiches with Sweet Peppers and Onions
1 and 1/2 pounds thinly sliced round steak/sandwich steak
Weber Grill's Chicago Style Steak Seasoning or your preferred steak seasoning to         taste
2 tablespoons extra virgin olive oil
1 medium onion sliced thinly
2 garlic cloves chopped finely
8 or more mini sweet peppers cleaned and cut in halves
About four sandwich rolls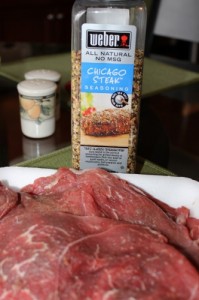 Prepare the steak with your seasoning of choice. We like Weber Grill's Chicago Style Steak Seasoning. Also, prepare any vegetables you may be grilling to go along with your steak sandwiches. We like to have my Grilled Balsamic Asparagus because it goes well with these sandwiches.
Next, slice the onions, sweet peppers, and chop the garlic. In a skillet, heat the olive oil and then add the onions and garlic to the skillet first. Sauté the onions and garlic for a few minutes or until somewhat translucent, and then add the sweet peppers. Sauté all the vegetables until cooked.
When done, set aside the skillet with a cover on the pan to keep the vegetables warm. Grill your steak without over cooking the meat, so it stays juicy and tender, and then grill the vegetables you chose for a side dish. This will not take long because the steaks are sliced thin.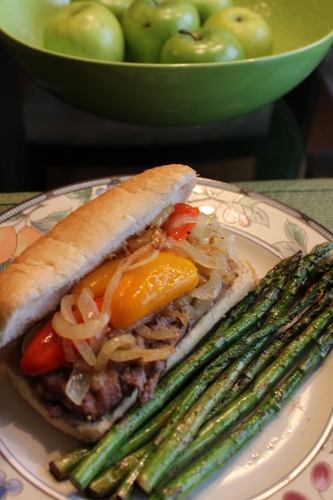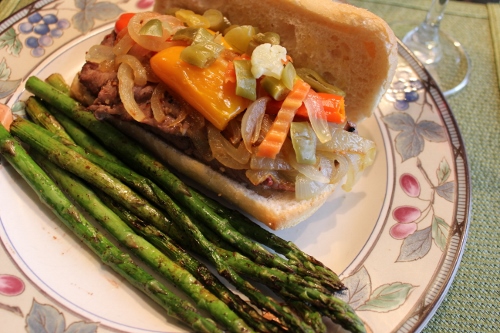 Once finished, serve your Grilled Steak Sandwiches with Sweet Peppers and Onions. If you like, add Italian giardiniera, either hot or mild. We always have Grilled Balsamic Asparagus with our steak sandwiches because the flavors of both enhance each other. This meal tastes wonderful and will satisfy everyone. Give it a try sometime soon, and enjoy!