By Jodee Weiland
Pasta Langostino Scampi with Spinach is not only delicious, it's healthy! Seafood is always a healthier meal for any of us. I love healthy, so I love recipes with seafood in them.
Langostino is sometimes referred to as langostino lobster tails, but keep in mind that langostino lobster tails are not really lobster. In fact, they are what is commonly referred to as squat lobster by most people in the restaurant business. They are actually crustaceans more closely related to hermit crabs, but if you like them, none of this matters. Personally, I like both shrimp and langostinos, but I can always get shrimp. So when I have langostinos, I use them in place of shrimp in my favorite recipes.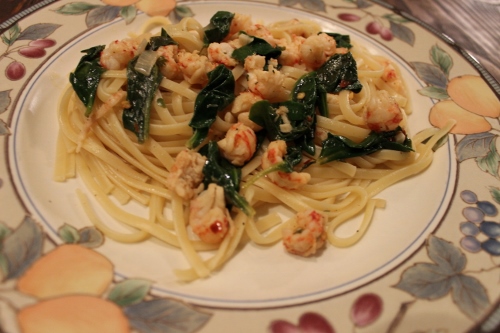 Adding spinach to any scampi recipe just makes it more nutritional and tasty. I love spinach, so that's what I added here, but you could just as easily add broccoli, kale, or any number of vegetables. It's really just a matter of taste, and cooking should be about what you like. Spinach goes well in this recipe because it goes well with lemon, olive oil, and garlic. That's another reason I chose spinach for this particular recipe, but you choose what works for you. Kale or broccoli would work just as well.
Pasta Langostino Scampi with Spinach
1 pound langostino (shrimp may be substituted)
1 pound linguine
1/4 cup extra virgin olive oil
1 small onion chopped
4 garlic cloves chopped
1 teaspoon dried parsley
1 teaspoon dried crushed red pepper
Ground black pepper to taste
1/3 cup semi-dry white wine
2 cups fresh baby spinach
Juice of 1 to 2 lemons or 1/4 cup lemon juice
Grated Parmesan Reggiano to taste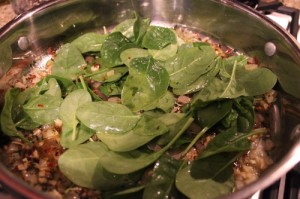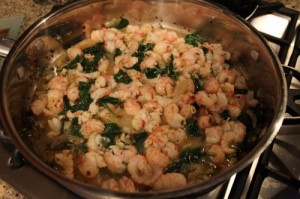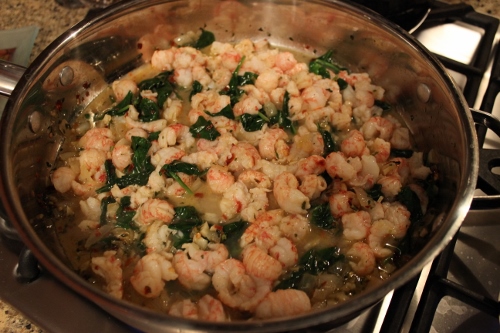 Heat olive oil in a skillet and sauté the garlic and onions until tender. Add the parsley, red pepper, and black pepper. Then add in the white wine. Add and sauté lightly the spinach until wilted. Add the lemon juice and langostinos. Heat and blend all of this together for a few minutes. While doing this prepare the linguine as directed on the package. When the pasta is done, drain the water and put it in your serving bowl. Pour the langostino scampi recipe over the pasta and toss. Now you're ready to serve. Each person can add grated imported Parmesan Reggiano to taste.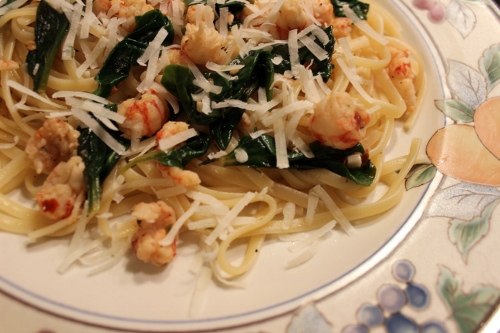 Pasta Langostino Scampi with Spinach is not only delicious, it's healthy, and you will love it! The slight taste of lemon blended with the wine and seasonings makes this dish outstanding. Serve with your white wine, a salad, and a crusty loaf of bread of your choice. The scampi sauce brings out the wonderful flavors in the langostino and makes this meal a winner. Try this recipe and see for yourself just how good it really is, and enjoy!