By Jodee Weiland
The Golden Tango Cream with Ice Cream and Raspberry Dessert is a delightful and delicious way to end a meal! What is Golden Tango Cream?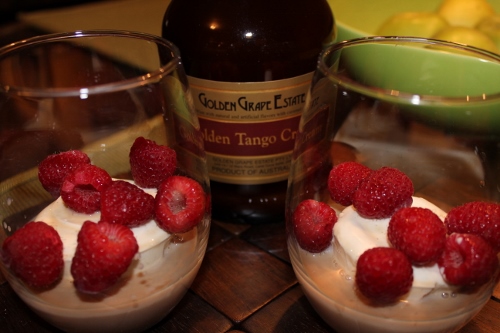 Golden Tango Cream is a popular cordial liqueur from Australia, which is made with a brandy base. This delicious cordial liqueur that is a blend of tastes: coconut, caramel, and hints of butterscotch, but we think it tastes like a rich Irish Cream. Many people drink this cordial liqueur over ice or in their coffee. It makes a very nice after dinner drink when done this way, but if you want to take it to up a notch, try it as the Golden Tango Cream with Ice Cream and Raspberry Dessert described here.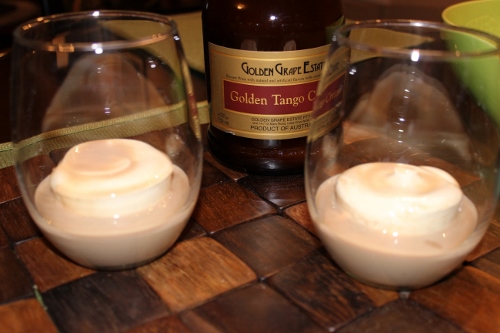 We first became acquainted with this fabulously tasty cordial liqueur when our son, a branch manager for PRP Wine International, did a wine tasting in our home for us and six other people. It was a great time, and Matthew did a wonderful job introducing us to new wines and the cordial liqueur, Golden Tango Cream, which everyone loved. Everyone left with some Golden Tango Cream. Since then we have served this great cordial liqueur a number of ways, and every time we do, it's a big hit with our guests. So here is our latest recipe using Golden Tango Cream.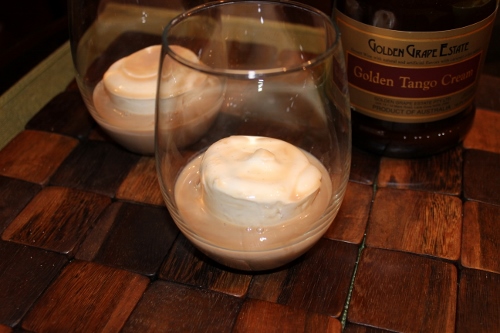 The Golden Tango Cream with Ice Cream and Raspberry Dessert
Golden Tango Cream
1/4 cup fresh red raspberries per dessert
1 scoop vanilla ice cream or frozen Greek yogurt
Put one scoop of ice cream in a glass and pour the Golden Tango Cream over it to about 1/2 inch below the top of the ice cream. Top this off with the fresh raspberries.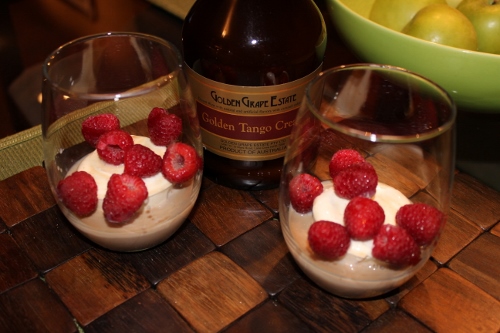 It's that simple to make, and then you are ready to serve a delightfully delicious Golden Tango Cream with Ice Cream and Raspberry Dessert to finish your meal. This dessert option is a wonderful way to relax with friends after dinner or any time. This cordial liqueur is not sold in a store, but may be purchased through PRP Wine International. You can purchase Golden Tango Cream from wherever you are by contacting Matthew Gauger, branch manager, at PRP Wine International, Charlotte, North Carolina, directly by e-mailing him at mgauger@prpwine.com. He can also set you up with a wine tasting from a wide variety of locations nationally. You won't regret it if you decide to do so. We all love it, so take a chance, and enjoy!