By Jodee Weiland
In the Miracle Mile Shops at Planet Hollywood Resort & Casino in Las Vegas, there is a unique mall restaurant at which to eat well. Lobster Me is definitely eating well on the run in Las Vegas!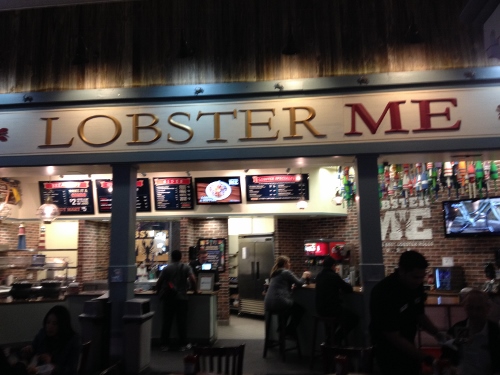 This open style restaurant serves an original "Maine style" lobster roll sandwiches that are really quite good, as well as delicious bowls of New England clam chowder. They have a variety of lobster style sandwiches and salads, but the regular "Maine style" style lobster roll has plenty of lobster seasoned well with a light touch of mayo, lemon, and their own secret spice blend served on a toasted roll you would expect on a "Maine style" lobster roll. This sandwich is full of flavor and for those in the know when it comes to a "Maine style" lobster roll, this sandwich is definitely a competitor.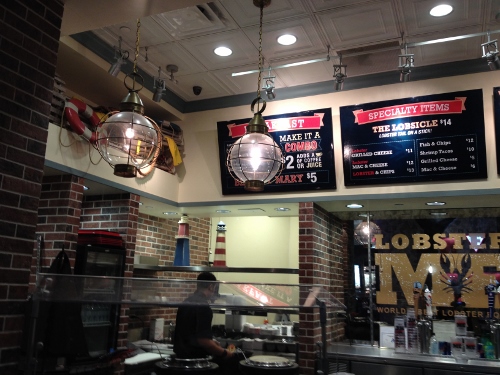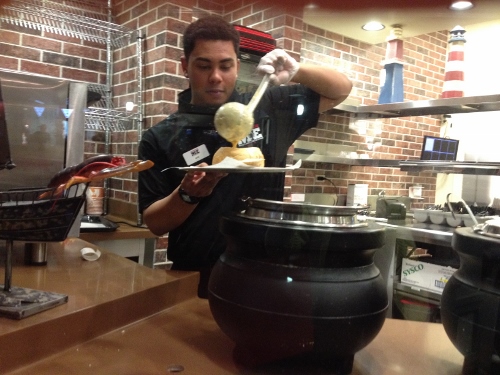 You can find Lobster Mac and Cheese, Lobster Grilled Cheese, or even a Lobsicle, lobster tail on a stick! There are various selections featuring lobster, but in my opinion, why mess with success. Although this sandwich is not the famous New England giant lobster roll served at The Black Cat Tavern in Hyannis, Massachusetts, on Cape Cod, it tastes delicious. The amount of lobster on The Black Cat Tavern lobster roll is more than I've ever seen anywhere else, but the Lobster Me original "Maine style" style lobster roll has more than enough lobster and more than one might expect for an open mall restaurant option. The seasoning is perfect and the light touch of mayo  and lemon is just that…light and just enough. The lobster rolls come in two sizes, regular and large, and the price although more than most mall restaurant sandwiches is still less than what you would pay in most places that serve a good lobster roll sandwich.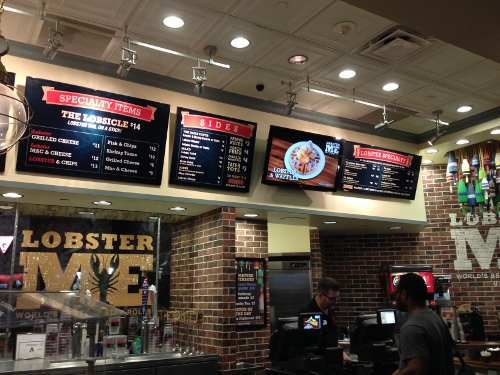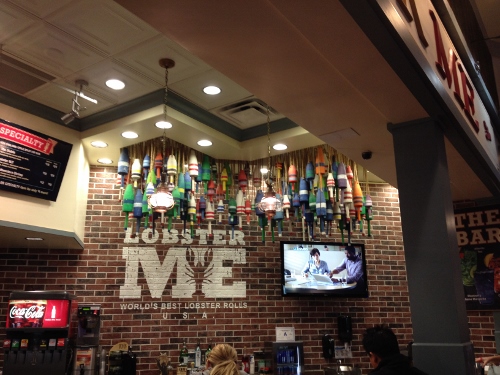 While enjoying a quick bite at Lobster Me, I had a chance to talk to the manager there and found out that the owner of this unique gem will  be opening another Lobster Me in the spring of this year in the Grand Canal Shoppes at The Venetian. This mall restaurant enterprise has been such a successful business venture that expanding and adding this second Lobster Me is the natural next step. On top of that, the Las Vegas Valley area has a Lobster Me Truck selling throughout the area. I wouldn't be surprised if we saw more and more Lobster Me mall restaurants opening in the future.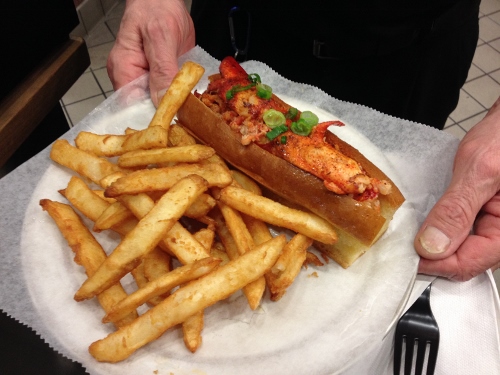 I have to say, if you're going to Las Vegas any time soon, and you enjoy a good lobster roll, you should stop and try the fare at Lobster Me for a quick bite at least once while visiting. You won't be disappointed. In fact, quite the opposite will be true…you will be pleasantly surprised. Lobster Me is eating well on the run in Las Vegas for sure! Enjoy!
Thank you to the manager and staff at Lobster Me in the The Miracle Mile Shops at Planet Hollywood  Resort & Casino for the help and time they gave me and answering my many questions.