By Jodee Weiland
For many years now, one of my favorite dishes is Chicken Breasts with Sweet Peppers, Onions, and Garlic. This simple dish is full of delicious flavor, but is really very simple to make.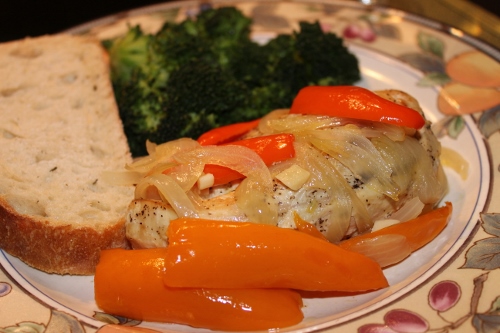 Preparing the sweet peppers, onions, and garlic is just a matter of cleaning and cutting these three ingredients first. Then you simply sauté the prepared vegetables in extra virgin olive oil until the onions are translucent. Set aside this mixture and brown the boneless chicken breasts after seasoning them to taste. Once done, everything goes in a prepared baking dish and into the oven to bake.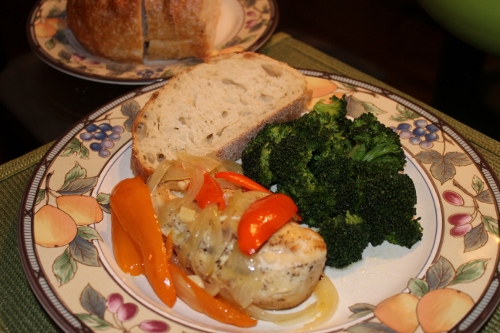 It doesn't get much easier than that, but the end product is full of great flavor and gives you a moist delicious chicken breast meal to eat. One thing for sure, you have prepared a meal that will definitely please everyone. My family loves this meal, and it's a meal that I found easy to prepare after working all day years ago.  It's a meal that looks and tastes like something from a restaurant, but in fact, is homemade and healthy. Sometimes the easier meals are the best ones, if they have the delicious flavor that everyone expects from a meal well done!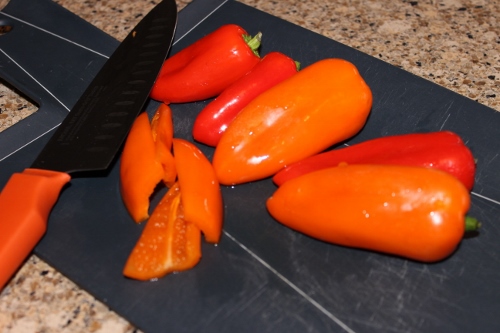 Chicken Breasts with Sweet Peppers, Onions, and Garlic
2 to 4 boneless chicken breasts without skin
2 to 3 tablespoons extra virgin olive oil
1 to 2 medium thinly sliced onions
3 to 6 garlic cloves chopped
6 to 8 mini sweet peppers cleaned and sliced
2 to 3 tablespoons white wine worcestshire sauce for chicken
Sea salt and ground black pepper to taste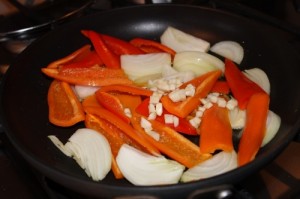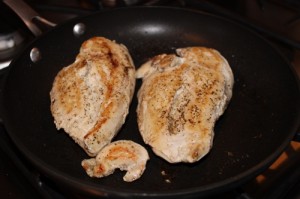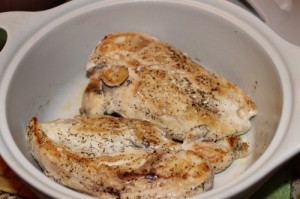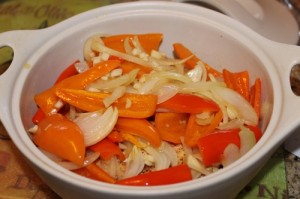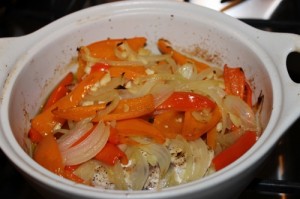 Preheat the oven to 375 degrees and spray your baking dish lightly with olive oil.  Clean and cut the sweet peppers, onions, and garlic. In a skillet, add the olive oil and heat slightly. Then add the peppers, onions, and garlic to the skillet and sauté until the onions are translucent. Just before removing from the skillet, add the worcestshire sauce with white wine for chicken to the mixture and let heat slightly. Remove this mixture to a bowl, so you can now lightly brown the chicken breasts after seasoning to taste with salt and pepper. Once browned, add the chicken breasts to your baking dish. Pour the mixture of peppers, onions, and garlic over the chicken breasts. Cover and bake at 375 degrees for 45 minutes. Then remove the cover and bake for 5 minutes longer, watching carefully, so you do not burn the vegetables.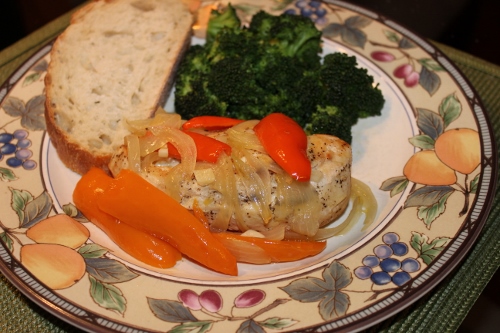 Once done, the Chicken Breasts with Sweet Peppers, Onions, and Garlic will be ready to serve. We like to have a side of broccoli with this dish and a crusty loaf of bread. This dish is great as is with a baked potato as well or even just a salad. The chicken breasts are moist and succulent. However you choose to serve it, you will be eating a healthy meal with delicious flavor coming from those fresh peppers, onions, and garlic. This simple recipe will delight your senses, so give it a try and enjoy!