By Jodee Weiland
Cold weather has reached new lows this year in the Midwest. We're at dangerously below zero temperatures! With the arrival of cold winter weather, there is nothing better than a hearty warm soup. Savory White Bean Soup…A Delicious Vegetarian Soup is just the soup you need to warm up your day when it gets this cold outside.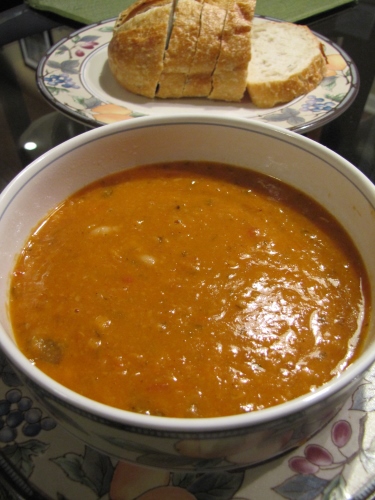 I originally found this Vegetarian White Bean Soup in the cookbook, Soups (Williams-Sonoma Kitchen Library), that I bought years ago. Since then I have made quite a few changes to the original recipe to adapt it better to the tastes and needs of my own family.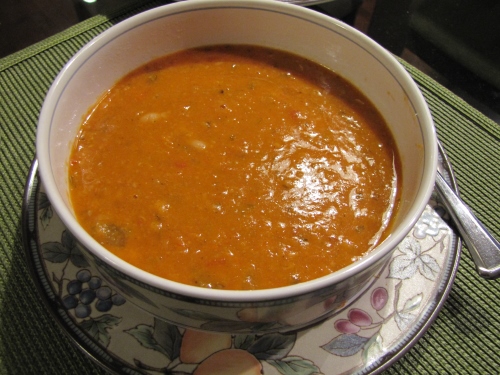 To begin with, I added more carrots, celery, and garlic. I love the flavors added to this soup by increasing these three ingredients. The combination of navy beans with plenty of carrots, celery, garlic, diced tomatoes and all the seasonings blend together to create a deliciously flavorful soup. In the cookbook I had, they used vegetable oil, butter, or a combination of both. I use extra virgin olive oil only and have varied the amount slightly. I have added parsley to the soup as a seasoning rather than merely a garnish because I like the flavor it adds. The original recipe used Roma tomatoes which is wonderful, if you have them on hand, but I used organic diced tomatoes because I always have them in the pantry and readily available. For me, any tomato will work because I love all kinds of tomatoes. This is my adaptation of what I think is a great soup for those cold winter days.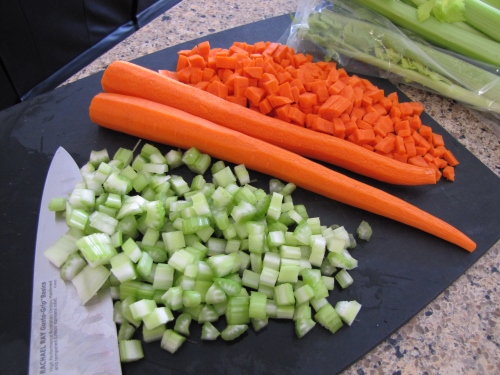 Savory White Bean Soup…A Delicious Vegetarian Soup! (Adapted)
1/3 cup extra virgin olive oil
3 large carrots peeled and finely chopped
3 celery stalks finely chopped
2 medium yellow onions finely chopped
4 garlic cloves finely chopped
72 to 80 ounces (9 to 10 cups) all natural vegetable broth
2 cans (14.5 ounces) diced organic tomatoes with juice
2 teaspoons sugar
2 cups dried navy beans
2 tablespoons dried parsley or 1/8 cup fresh parsley finely chopped
2 teaspoons dried summer savory
2 bay leaves
2 teaspoon dried thyme
Sea salt and black pepper to taste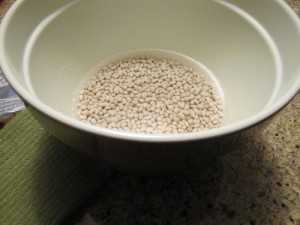 Allowing yourself plenty of time ahead of cooking, sort through the dried navy beans discarding any that are discolored. Once done, put the remaining beans in a bowl with enough cold water to cover the beans, about an inch or more above the beans. Place a cover on the bowl and let the beans soak for about twelve hours. I usually do this overnight on the day before, so I can put my recipe together the next day.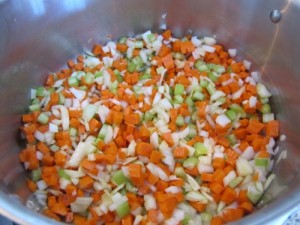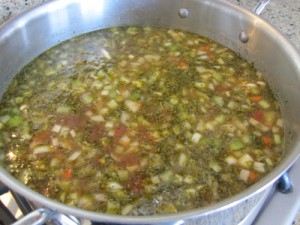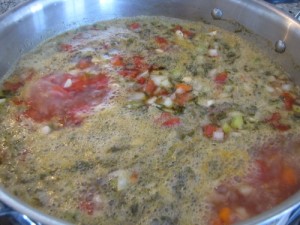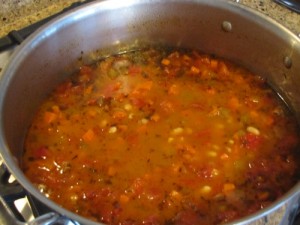 Heat olive oil in a large soup pot.  Add the carrots, celery, onions, and garlic. Sauté for about five minutes or until the onions are translucent.  Once these vegetables are ready, add the vegetable broth, diced organic tomatoes with juice, sugar, drained navy beans, parsley, summer savory, bay leaves, and thyme. Heat and bring this to a boil. Once it boils, reduce the heat to a gentle simmer and cover the pot. Cook the soup at the gentle simmer for about two and a half hours to three hours, stirring occasionally, until the beans are tender enough to puree. You may add additional vegetable broth, if needed.  I usually do not need to add additional broth at all, but if you simmer it on too high a heat, you may need to add some, so check and stir occasionally to be sure.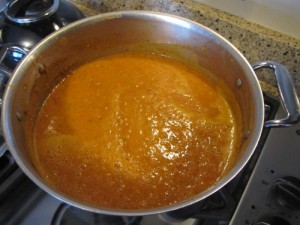 When done, remove the bay leaves and puree the soup with a hand blender or mixer. Your soup is very hot, so be careful not to splash the soup and burn yourself. I always make sure my blender head is in the soup and blend it carefully so as not to splash. I use a hand blender because I want it a bit chunky, rather than blended entirely smooth. You may also use a food processor or standing blender to puree. When you serve it, salt and pepper to taste.
NOTE:  If you want homemade croutons for your soup, you will find directions for making them at my recipe for Split Pea Soup.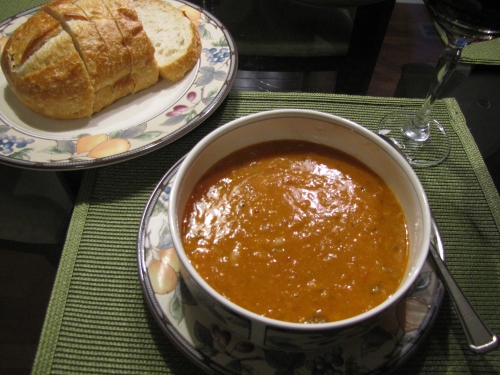 Savory White Bean Soup is a delicious vegetarian soup so full of flavor, it will amaze you! Top your soup with homemade croutons if you like. I like to serve this soup with a fresh loaf of crusty bread, sometimes a side salad, and a glass of wine. The robust flavor of this soup makes it a great meal to share with your family on those cold winter days! If you have any leftover, just freeze it for later. Give it a try, and I'm sure you will be pleasantly surprised at just how good it is! Enjoy!
Kolpas, Norman. Soups (Williams-Sonoma Kitchen Library) 1997. Ed. Chuck Williams. Williams-Sonoma Kitchen Library: Time Life Ed. 108 pages.
I used these labels on my containers when freezing leftover soup, and they work fabulous!