By Jodee Weiland
A Spinach and Prosciutto Italian Frittata with Mozzarella, Mushrooms, and Black Olives is really easy to make!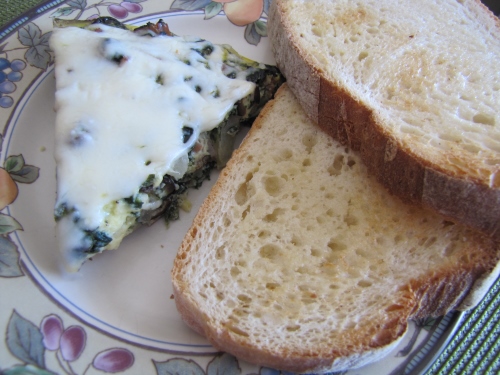 Originally, frittata was an Italian term used for cooking eggs in a skillet. A frittata is basically just an Italian version of an open-faced omelet that is started on the stove top and then finally baked in the oven.  Some people will cook a frittata completely on the stove top, while others will vary between how much is done on the stove top and how much is done in the oven. For my frittata, I used both the stove top and the oven. If you do cook it in the oven, be sure to use an oven proof skillet or baking dish.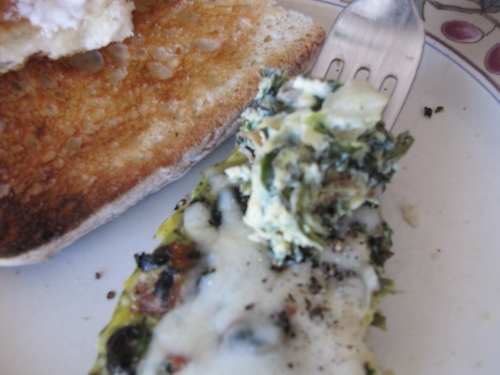 Another thing to keep in mind is that the ingredients, like in an omelet, can vary to fit the tastes of those eating or in some cases, can be varied by whatever you have available to you when cooking your frittata. I chose my ingredients for this frittata from what I had on hand to use.  Keep in mind, your frittata may be either totally vegetarian or you may decide to use some sort of meat in it. Either way is good, but using what you love best will make it great for you specifically! By the way, don't be afraid to try different things. Many people will add potatoes to a frittata or any other vegetables they like to eat. Some will add sun-dried tomatoes or fresh herbs. It is entirely up to you, so be as creative as you want!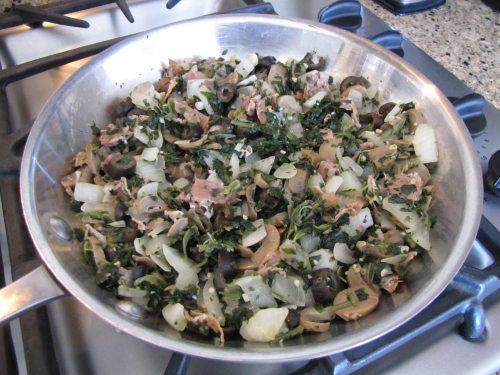 Spinach and Prosciutto Italian Frittata with Mozzarella, Mushrooms, and Black Olives!
2 tablespoons olive oil
1 onion chopped
2 to 3 garlic cloves chopped
1 cup sliced mushrooms
1/2 cup sliced black olives
3/4 to 1 cup chopped spinach
6 thin slices of prosciutto di parma cut up
3/4 cup of shredded mozzarella
Sea salt and black pepper to taste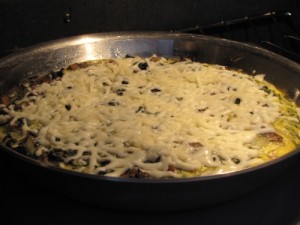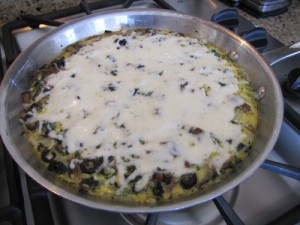 Preheat your oven to 350 degrees. To begin your frittata, you will need to sauté the onions, garlic, mushrooms, and olives in the olive oil. Once this mixture begins to cook, add the spinach and prosciutto. Then sauté all of this a few minutes longer allowing the flavors to blend together well. Beat together your eggs with salt and black pepper to taste in a separate bowl until beaten well. Once done, pour the eggs evenly over the mixture in the skillet. Then place your oven proof skillet in the oven, placing it on a cookie sheet if needed. Bake at 350 degrees for about 30 minutes or until done cooking. You can test it to see if done by putting a knife tip if the center and removing it. If the tip is clean, the frittata is done baking. NOTE: If using a baking dish, pour the vegetable and meat mixture into the dish before adding the beaten eggs. Once this mixture is in the dish, pour the eggs over it evenly. Finally, when the egg mixture is done baking, then sprinkle the shredded mozzarella over the top and bake for a few minutes longer until melted.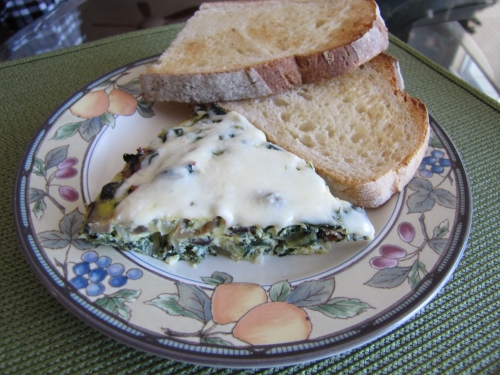 A Spinach and Prosciutto Italian Frittata with Mozzarella, Mushrooms, and Black Olives makes a delicious breakfast entrée for your family. Cut it up like a pie and serve it with sliced Italian bread toasted. You can add fruit to this or even a potato dish as a side. We like to eat it with just toasted Italian bread and perhaps, some fresh fruit. If there is any leftover, it may be refrigerated for the next day or even frozen for a later day.  If frozen, simply microwave and eat.  This is a great make-ahead breakfast, since it warms up easily and still tastes great! Create a frittata or use the ingredients here for yourself and your family. Whichever you do, enjoy!