By Jodee Weiland
Almond Joy Magic Cookie Bars are a slightly different blast from the past in our home! When I was a little girl, my mom would make the Magic Cookie Bars recipe from Eagle Brand using sweetened condensed milk and chopped walnuts or pecans.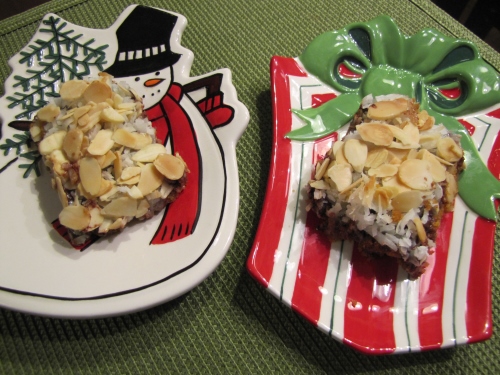 This cookie bar recipe was developed in the 1960's when Gail Borden offered money for homemade recipes for desserts using his product, Borden's Eagle Brand Sweetened Condensed Milk.  He had invented condensed milk originally as a milk product that required no refrigeration for feeding babies. Once refrigeration came around in the United States after World War I, his product was used in making desserts.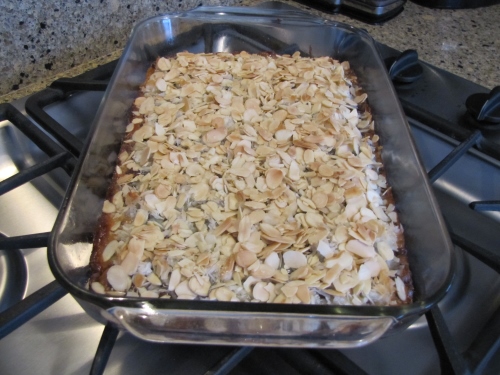 I've taken the original recipe used by my mom and adapted it slightly.  Anyone who knows me also knows how much I love Almond Joy candy bars. Although I don't eat them often or any other candy for that matter, so I can maintain a healthy diet, I do love to splurge a little during the holiday season. So when I decided to make these bars, I adapted the recipe a bit by using sliced almonds and fat free sweetened condensed milk. I was able to cut some of the fat and enjoy a cookie bar that reminds me of my beloved Almond Joy! Of course, there's still unsalted butter, but it's the holidays, and I did cut some of the fat calories and salt!  Now if I could just get Almond Joy to cut some of the fat in their famous recipe, I would be even happier, but I don't see that happening any time soon!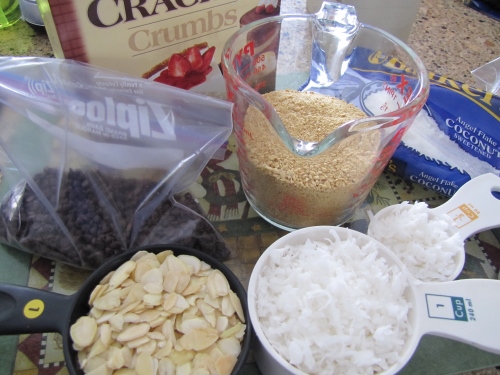 Almond Joy Magic Cookie Bars…A Slightly Different Blast from the Past!
(slightly adapted from Eagle Brand Magic Cookie Bars )
1/2 cup of unsalted butter
1 1/2 cups graham cracker crumbs
1 (14 ounce) can fat free sweetened condensed milk
6 ounces mini semi-sweet chocolate chips
1 1/3 cups flaked coconut
1 cup slice almonds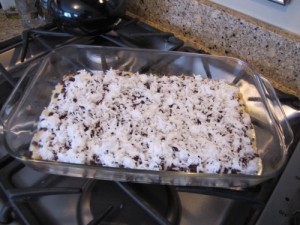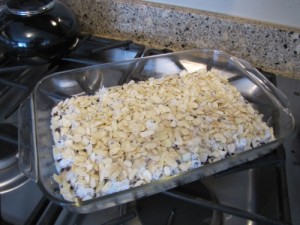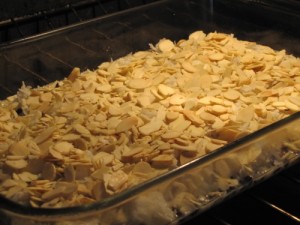 Preheat the oven to 350 degrees (325 degrees if using a glass baking dish).  In a 13 x 9 inch baking dish or pan, melt the butter by placing it in the dish and putting it in the heated oven. Once the butter is melted, sprinkle the graham cracker crumbs into the butter spreading it evenly across the pan. Next, spread the condensed milk poring it evenly across the top of the graham cracker layer. The chocolate chips are then spread evenly over the top, followed by the coconut flakes and finally, the sliced almonds; be sure to press down firmly. Bake the cookie bars for 25 to 30 minutes or until lightly browned.  When done, cool thoroughly. Once the recipe is completely cool, cut it into cookie bars.  Be sure to store them covered loosely at room temperature.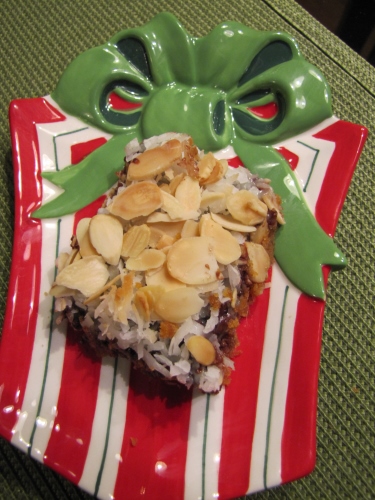 These Almond Joy Magic Cookie Bars are definitely a slightly different blast from the past in our home! The recipe is basically the same old Magic Cookie Bars put out by Eagle Brand Sweetened Condensed Milk in the 1960's with a few slight adaptations so I don't feel as guilty when I bite into one. Aside from that, the recipe may not be original, but it is definitely well-loved here in our home. We get the flavor of an Almond Joy candy bar in a cookie, and for me especially, that is a win-win! So try this adaptation if you're like me, and enjoy!