By Jodee Weiland
Disney World's Animal Kingdom includes everything from lions to dinosaurs and more!  At Animal Kingdom Park, people who love the animals and elaborate Disney productions, attractions, and animations will find a park they can truly enjoy!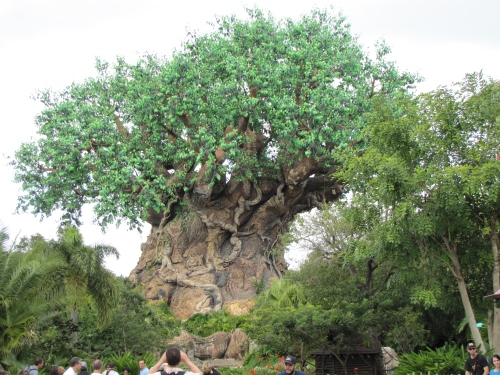 As always, Disney's creative designs for this park amaze new visitors every day. Once inside the park, pass through the Oasis, and then cross the bridge over the Discovery River that leads to Discovery Island. This island surrounded by the Discovery River is the center of the park, and the various bridges on the island lead to all the other areas of Animal Kingdom.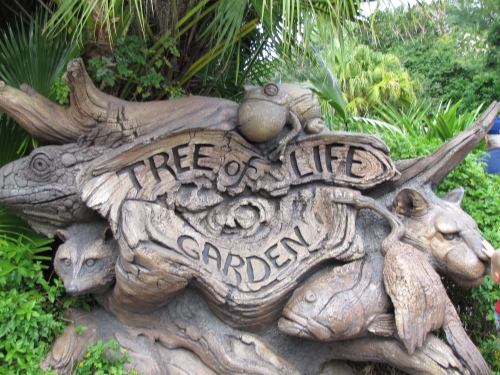 At the center of the Discovery Island stands the 145 foot Tree of Life.  It isn't hard to spot the Tree of Life due largely to its unique design.  Right away people notice the swaying limbs and the huge trunk with gnarled roots covered with more than 325 images of animals. The tree is covered with carved figures across its trunk and roots that were put together by a group of artists.  Most people identify this tree as the icon of Animal Kingdom Park. For Disney, the Tree of Life is a symbol of the ways all of life interconnects here on Earth.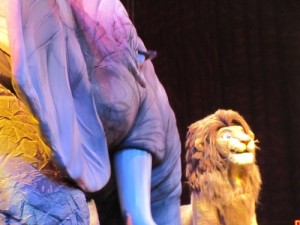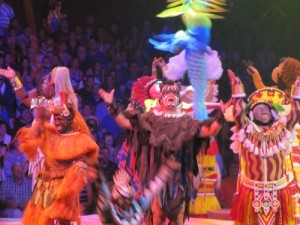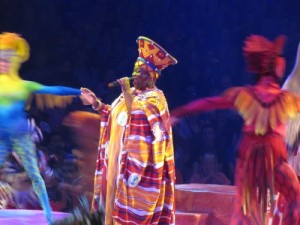 Beyond Discovery Island, cross over a bridge to Camp Minnie-Mickey, and you will find one of the best shows produced within the Disney parks.  Festival of the Lion King, a Broadway style show, is a colorful performance of puppetry, pageantry, and live performers putting together a phenomenal and lavish revue in 30 minutes.  The lead characters, except for Timon, are human performers dressed in bold colorful costumes representative of Africa. A creative and dynamic interpretation of the film comes together in a combination of professionally performed songs, acrobatics, and dances throughout this show.  Festival of the Lion King is a definite must see when visiting Disney Animal Kingdom. Be sure to get a Fast Pass for this show.  It will help you to avoid long lines and wait times to get into the show. The theater is now enclosed with air-conditioning and seating in the round, so all views of the show are great and comfortable as well.
Another must see at Disney World's Animal Kingdom, is Finding Nemo—The Musical in the park area called DinoLand U.S.A.  The creative and colorful interpretation of the film in this show is done using lavish puppetry with human performers, who become as much a part of their character as the beautifully designed oversized puppets they carry and manipulate during the show.   In thirty minutes, the characters move through the story of Finding Nemo—The Musical, acting, singing, and dancing onstage and out in the audience areas.  This intricately dynamic performance is done in an enclosed auditorium style theater that is air-conditioned.  Be sure to get a Fast Pass for this show as well, so you will have an opportunity to pick your seats and avoid waiting in long lines.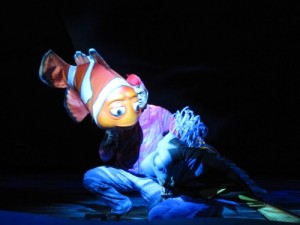 As I said earlier, Disney World's Animal Kingdom includes everything from lions to dinosaurs and more!  There are so many things to do and see in Disney World's Animal Kingdom. Among the many other attractions available, some of the all-time favorites for most people include the extremely popular Kali River Rapids and Expedition Everest—Legend of the Forbidden Mountain in the park area called Asia. Still another popular attraction is the Kilimanjaro Safaris in the park area called Africa.   Finally, two more attractions that rank high on most visitors' list are DINOSAUR and the Primeval Whirl in the park area called DinoLand U.S.A.  These are just some of the attractions to see throughout the entire park, so be sure to plan your time carefully.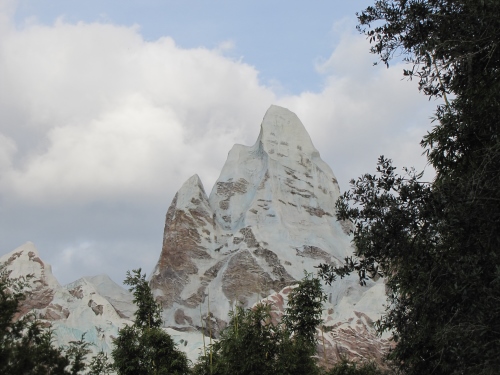 I definitely advise you to get a Fast Pass for as many of the more popular attractions as possible, for this park, in addition to the other parks. Remember, there is a limit on the number of Fast Passes you may request per day per park. Check online for the latest information on this, since it changes from time to time as Disney reviews the Fast Pass process and attempts to improve it.  Plan ahead using the new online and/or mobile app called My Disney Experience to plan out your vacation dining, rides, fast passes, etc.  With the new wristbands being used to store door keys, eating plans, park tickets, and more, you can set up some Fast Passes for your visit before you even arrive at Disney World.  If you plan well before going, you will probably be able to see and do more while there. Remember, Disney World's Animal Kingdom includes everything from lions to dinosaurs and more!  So plan ahead, and enjoy!