By Jodee Weiland
We were getting to ready to have Italian Basil Pesto with pasta, and I decided we needed a salad to go with the pasta. I had some kale in the crisper, so I decided to make it a kale salad.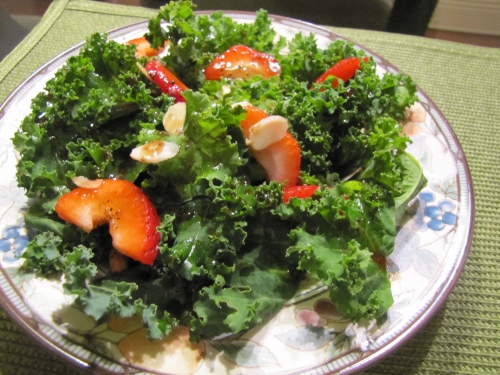 Using kale in a salad is so much better than using lettuce primarily because of all the health benefits of kale. With this in mind, I put together Strawberry Kale Salad with Sliced Almonds…So Healthy and Good!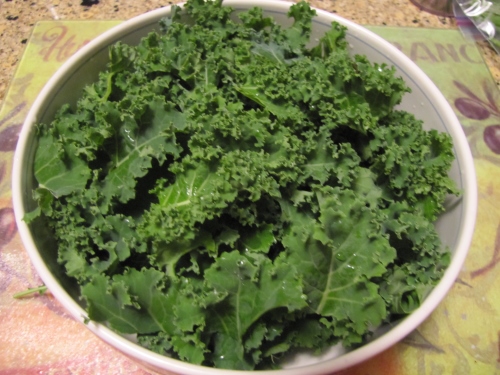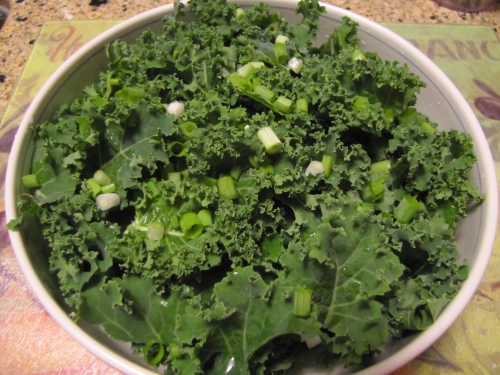 This salad was really easy to put together for our meal.  I took the kale from our garden that I had stored in our refrigerator crisper and started to plan how I would put together my salad. I checked to see what I had in the refrigerator. I had fresh strawberries and some green onions from the garden. I, also, had some sliced almonds on hand. As a result, this is what I came up with for my salad.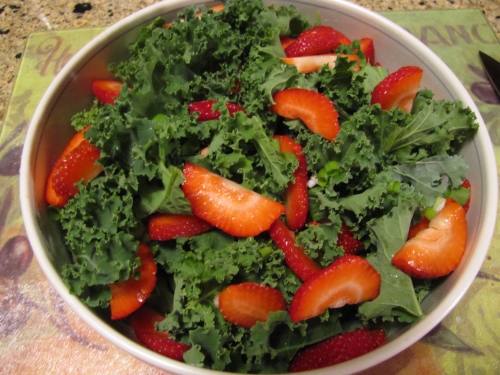 Strawberry Kale Salad with Sliced Almonds…So Healthy and Good!
3 to 4 cups of fresh kale cut up
2 green onions sliced and chopped
3/4 cups strawberries, sliced and halved
1/8 cup sliced almonds
Newman's Own Lite Balsamic Vinaigrette or salad dressing of choice
Cut and tear up the kale leaves. Add chopped green onions, sliced strawberries, and sliced almonds. Add in salad dressing, toss, and serve.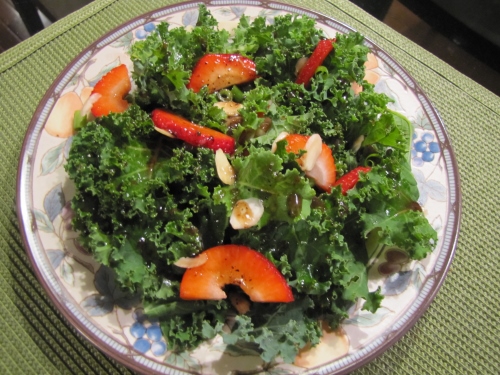 This Strawberry Kale Salad with Sliced Almonds is so healthy and good! It goes well with a balsamic dressing or any other salad dressing of your choice. A kale salad makes a delicious and healthy addition to any meal or even just by itself. Serve this salad before a pasta dish or alongside a meal with chicken or beef. We served it with pasta, and it was great.  Whatever you decide to serve it with, you will love it. So enjoy!